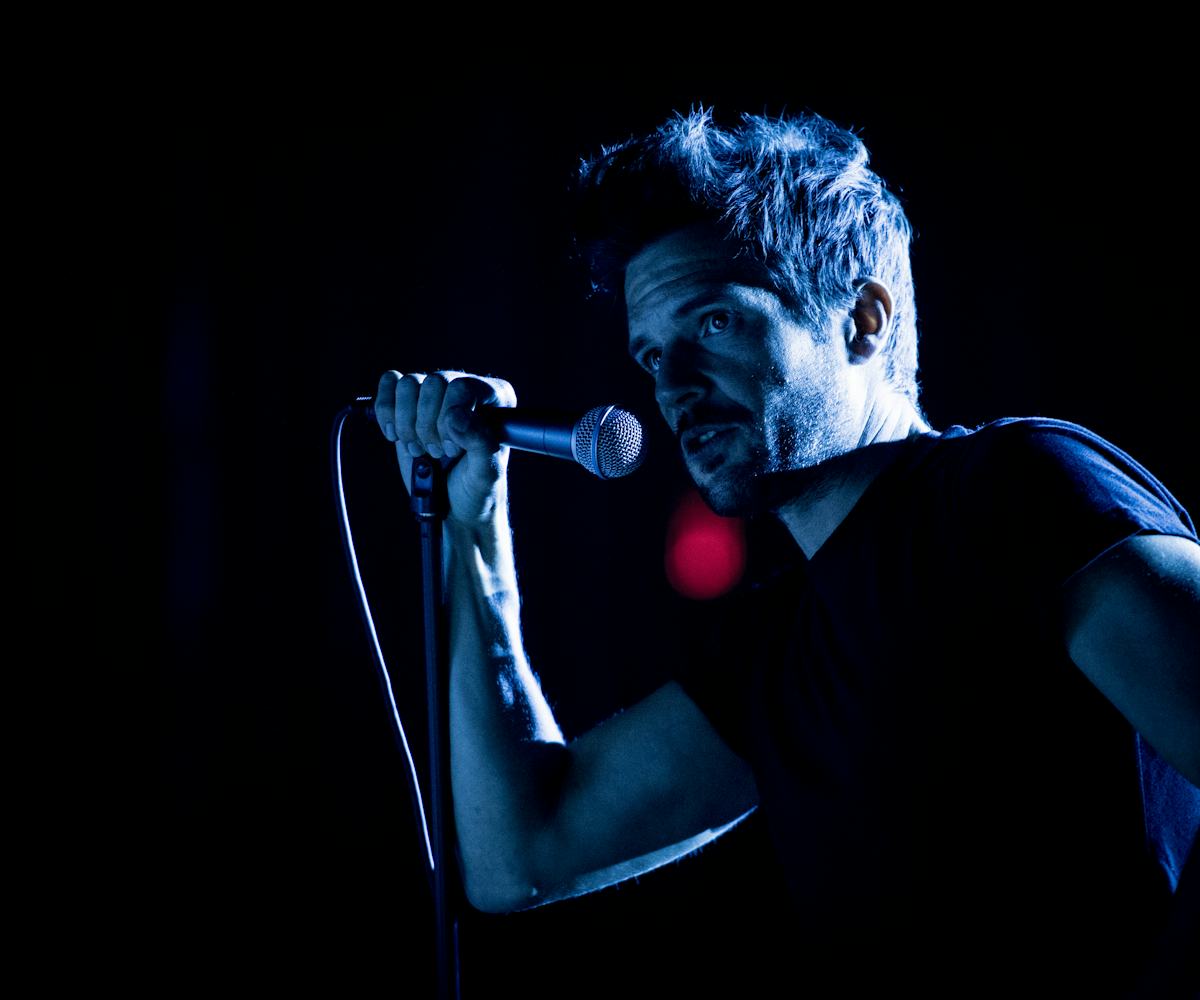 The Killers Frontman Brandon Flowers Looks Back On His Band's Controversial Album 'Sam's Town'
In celebration of its 10th anniversary
The hardest task for any artist is following up an extremely popular, life-altering success, the kind that makes someone a star. Expectations are high, and the pressure to repeat can be crushing. Nobody knows this better than Brandon Flowers, frontman for rock revivalists The Killers. In 2004, the Las Vegas foursome released their debut album, Hot Fuss, which, propelled by singles like "Mr. Brightside" and "Somebody Told Me," made them one of the biggest bands in the world. But when it came time to record their sophomore album, instead of doubling down on the hook-heavy dance rock that made them TRL regulars, Flowers and his bandmates took a detour into the realm of classic American rock and iconography.
The result was Sam's Town, a widescreen record filled with reach-for-the-sky rock 'n' roll anthems that sought to reposition the band—and Flowers specifically—as an heir to Bruce Springsteen. It didn't really work. Despite selling almost 5 million copies worldwide, the record received mixed reviews (Rolling Stone was particularly harsh), and Flowers faced some backlash for what many thought was the singer overshooting the record's (and his own) importance. At one point, he told Giant magazine that Sam's Town would be "one of the best albums in the past 20 years."
But by the end of the aughts, consensus surrounding Sam's Town has shifted. A 2009 Rolling Stone readers poll voted Sam's Town as the most underrated album of the decade and Q magazine named it the 11th best album of the entire decade, just two spots below Radiohead's Kid A. As for Flowers and his bandmates, they stand behind the record, and last weekend celebrated its 10 year anniversary with a two-night performance at Sam's Town Hotel and Gambling Hall, a legendary Vegas locale which the album was named after. The band, who is in the midst of recording a new album, are also reissuing Sam's Town on vinyl on October 7. We caught up with Flowers over email to talk about how his perception of Sam's Town has changed after 10 years, how the reaction affected the band's next album, Day & Age, and how he's different today.
Of all your albums, why celebrate the 10 year anniversary of Sam's Town? What does the record mean to you guys?
It really solidified us as a band. We weren't just a flash in the pan. It also just worked out with us being off the road at the moment. The people at Sam's Town have been great about working with us and accommodating us. We are literally taking the place over.
How has your opinion of Sam's Town evolved over 10 years? How do you perceive the album today?
I still feel proud of the album 10 years on. When you write a song or record, there is some primitive desire to connect. And with Hot Fuss, we definitely connected. Maybe it was geared more toward the erogenous zones, but we connected. With Sam's Town we went in through the heart, and it really created a bond between us and our fans.
Today Sam's Town is known as a record that is both "misunderstood" and "underrated." Why do you think that is?
I think it was misunderstood because it was hard for people to swallow that the same four anglophiles in Dior suits from Hot Fuss were now positioning themselves as American rock 'n' roll saviors. Maybe from the outside it seemed put on. But it really was more authentic and sincere than people realized at the time.
When Sam's Town was released, the comparisons to Bruce Springsteen were ubiquitous. Did you anticipate that reaction? 
You always get asked what you're listening to when you're doing an "in studio" piece for a magazine about your upcoming record. I was still getting used to being interviewed and did not have the foresight to keep my cards close to my chest. It definitely became a real talking point for people. But I wouldn't say I regret it.
Has Las Vegas changed at all in the 10 years since Sam's Town has been released? If so, how?
Obviously, the DJ culture has exploded here. Their faces are everywhere. That's one of the big differences on the Strip. Also, hotels are starting to charge for valet and self-parking. This is very un-Vegas and takes away from the basic foundation that the city was built on. I know a lot of people are still trying to get their bearings after the recession. Las Vegas was hit pretty hard by that.
When Sam's Town came out, you had claimed that you recorded one of the best albums of the last 20 years. Do you think that remark changed how some people reacted to the record and do you stand by it?
Every band thinks that their record is special. But again, I was still getting used to the spotlight and we had just made what I felt was a really great record. I wasn't trying to hype it up or grab a quick headline. I genuinely felt that excited about it. If you don't think you're doing something great, why put it out? That being said, it did put a big target on the band and we took a bit of a beating.
Does a band's previous album affect their follow-up? If so, how did Sam's Town and the reaction to it affect Day & Age?
I have been pretty honest about Day & Age being a reaction to the bad reviews of Sam's Town. I started to feel inadequate and unworthy of finishing the path that we had started to go down with Sam's Town. It took me a while to get my confidence back. But there are traces of Sam's Town to be found on Day & Age. "A Dustland Fairytale" is definitely one of them.
How are you different now than when you wrote and recorded Sam's Town?
I have three sons now! That's the biggest difference. So I guess my priorities have shifted quite a bit. But I am still excited about contributing creatively. Music has given me so much, and I feel like I'm going spend a lot of this life trying to repay the favor.