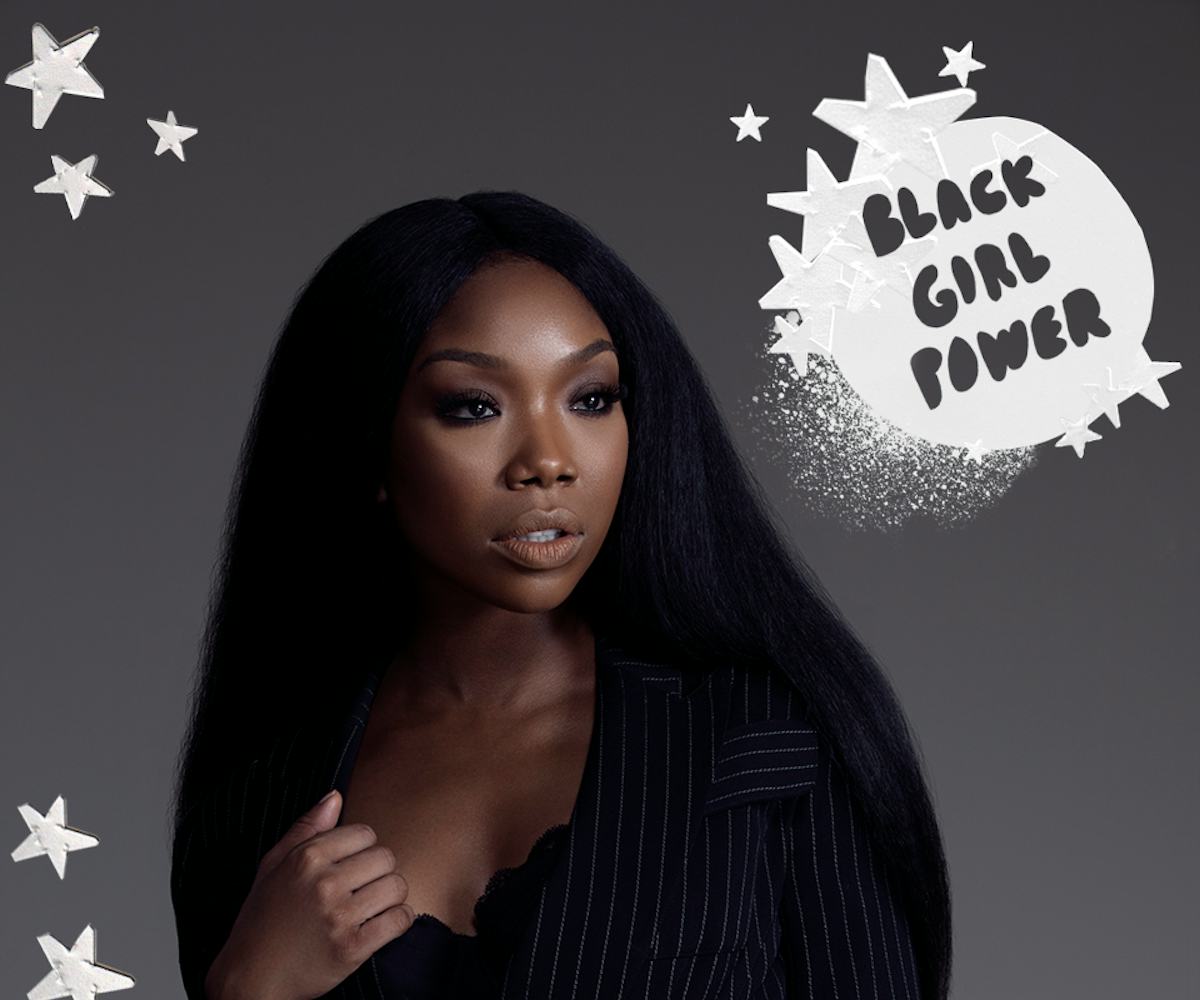 Photographed by Kat Morgan
Brandy Norwood Only Wanted To Sing… Instead Brandy Became A Star
a comeback worth waiting for
If history has taught us anything, it's that important people need only be known by their first names. For many families (and especially black families), Brandy Norwood was a household name during the '90s. As a child, I did not realize the magnitude of the impact that Brandy made when she graced the screen as the first black princess when she played Cinderella in 1997, across from her idol Whitney Houston. Obviously, it mattered in my own little world, but what Brandy accomplished was more monumental than that. Brandy wasn't the exception—she was the example for girls who looked like me. She demonstrated what we could achieve if we believed in ourselves. With her in the spotlight, we shined too.
Throughout her career, Brandy has accomplished countless commercial successes—she starred in television shows like Moesha, The Game, and Dancing with the Stars, became the face of mainstream brands like CoverGirl, DKNY, and Candie's, and even had her own Barbie doll. (I cannot remember exactly how old I was when I was given this doll, but I still have it sitting on the dresser in the bedroom of my childhood home.) Brandy's music has earned her a Grammy Award, three American Music Awards, and seven Billboard Music Awards. ("The Boy Is Mine" is a forever favorite.) As far as philanthropic endeavors are concerned, Brandy created the Norwood Kids Foundation with her brother Ray J in 1996, became the first international spokesperson for youth for UNICEF in 1999, and was named honorary co-chairman of the Unstoppable Foundation in 2014. Brandy managed to do it all, and she did so, while wearing her signature hairstyle: box braids.
"At the end of the day, I'm proud to be black, I'm proud to be a woman, I'm proud to have access to the magic that is God," says Brandy. "It's bigger than that, though. It's about expression, it's about beliefs, it's about faith, it's about work ethic, and it's about seeing yourself where you want to be and realizing that where you want to be is really where you really are. It's having the faith to be patient with the process. We all have access to that. It's that faith that can take us anywhere that we need to go or where we want to go."
In 2015, Brandy made her Broadway debut as Roxie Hart in "Chicago." Last month, she broke her silence by announcing her return to music with the release of "Beggin & Pleadin." Naturally, more music is on the way to follow up the single, but that's not all! Brandy recently wrapped up production for the first season of her new sitcom Zoe Ever After on BET. All of this at age 37, while raising her teenage daughter, Sy'rai, who she absolutely adores.
Read more about the legacy that Brandy continues to build and observe how her perspective has changed through the years in the interview, below. We couldn't think of a more magical way to close the Black Girl Power... The Future Is Bright series.
You paved the way for so many black women in the entertainment industry by breaking down barriers that were set in music, television, theater, and film. How did you manage to maneuver everything simultaneously? What was it like to go through that during the '90s?
Well, with a lot of the things that I did, I would never have dreamed of doing. All I really wanted to do was be a singer, and I wanted to share my music all over the world. I wanted to do everything that Whitney Houston did. It started from there. I was just blessed with everything else that came with it. I think that I had a spirit of being open and doing everything I could to discover different parts of myself, and I was open to it. At that age, I think I was fearless in a way. I wasn't afraid to try new things, you know? I wanted to make my music reach everyone, everyone that I could reach. So I did what I could to get the reach, and I was blessed with opportunities like
Moesha
and
Thea
. Being side by side with Whitney Houston, being the first black princess, and working with Diana Ross… Just striving. I just had a fearless attitude, and that's how more things started to come to me that I never dreamt of having when I was a little baby girl.
You have accomplished so much throughout your career. Was there a specific moment when you felt like you had defied the odds?
I think when I look back now, in hindsight, I see things like that. When I look back, I see a lot of the things that I was able to do and a lot of the things that I was able to accomplish with braids in my hair. Something as defining as that, I can look back now and really appreciate that, and be grateful for those experiences. But while it was happening, I didn't really know what was happening. When you're in something, you don't really know who you are at that age. You're just kind of going with the flow, and you're buying into what everyone else is telling you that you are and [what] you should do. I don't think you really see what's really happening. So, when I look back now, it's like 'Oh my god, I really did a lot.' I have a lot now to share with my daughter. I am now a possibility in her life; if you do your thing, those things happen, no matter what color you are. 
Can
you share any of the details about the new material that you have been working on? Is there an album on the way?
I'm really proud of the new single. It has definitely sparked what I call a movement, a jump into my career as an artist and just as a person. Everything there is about myself; I'm really sitting in it and living in it. This song and this record was so much of where I was at a point, and being brave enough to sing about it. And then, on the artist track, just going forward, and doing something new and completely out of the box. I'm really excited about the new sound and the new wave of who I am, and I'm just working at putting out more music. I'm grateful to perform, grateful to act, and do other things, but my heart and my soul is into my music right now. It's therapy for me.
After I finish this phase in my life, in terms of the movement of music, I definitely want to go on tour. For me, this is the most personal volume of music that I'm doing. I'm a completely different artist than I was two years ago. It's got to tap into something different. We've been kind of feeling I could take that on the road. There are a lot of things that I don't really want to get into detail about because I've done that before in the past, and somehow things didn't go the way I said it. But I'm really here, I'm not going anywhere, and I'm really working on everything that I'm passionate about, which is really my music. It's all happening at the right time.
Your daughter must be in awe of you. Does she think she has the coolest mom?
When she expresses her admiration for me, as a person and as an artist, her opinion and her thoughts about me really matter to me. When she's expressing how she feels about me, it feels better than anything. When I had the whole doll phase, it was another moment when I didn't really appreciate it or truly know what was happening. And then the doll comes and looks exactly like me—it felt like a quick moment that went by. But when I look back it's like, 'Wow, okay, you didn't have any doll.' Now, my daughter has a doll. You look at that and go, 'Woah.' At the same time, as a mom, you see the other side of me. Like, is this someone else? It's so strange, but it's beautiful to look back at the end and appreciate everything. Just to hear people say it and show appreciation, it's really a good feeling.
Given everything that you've been through over the years, what personal or professional advice would you give to your younger self now?
It's a hard one because I would say a lot. But to make it an overarching element for my younger self: everything is going to be okay. Being yourself is enough. It's enough. I went through a phase where I felt like I needed to be something else outside of me, in order to be successful, and those times were like, long moods. I would just tell my younger self, and I would tell my young adult self, too. Everything about you is perfect just the way you are, even in the imperfection, even that's perfect. So chill.
What does "black girl magic" mean to you?
I'm so proud to be black and I'm proud to be a woman. But to really have the magic, you have to have the faith in order to activate the magic. That's something we all have, but if we don't know that we have it, it's almost like not having it. That's it. You know it, and you got it, you know? That's how I can sum it up, but it's so much more. I wish I could find better words to really express that.