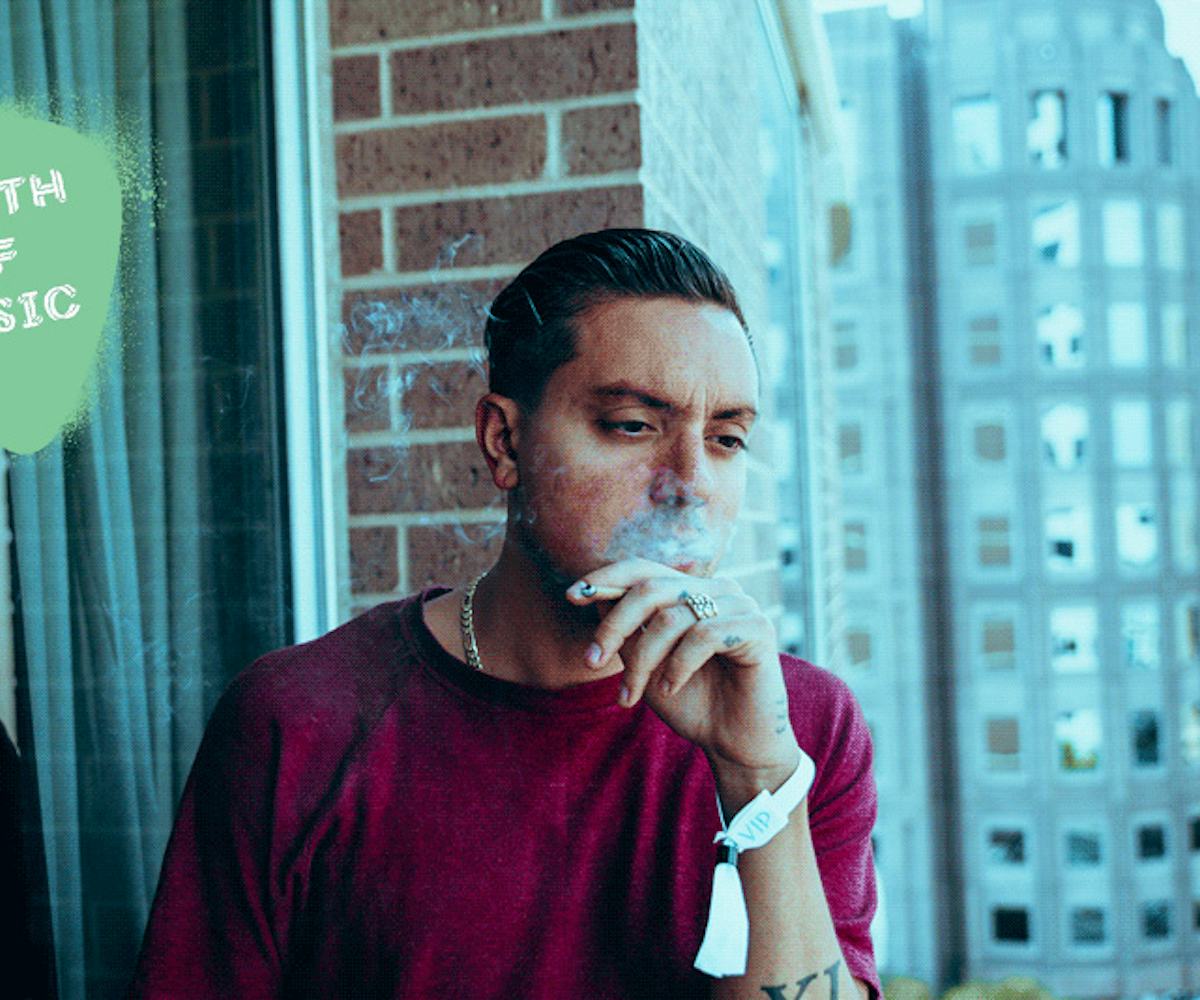 Photographed by Kara Smarsh.
Brenmar's Music Is All About That Bass
Club beats for the here and now
We share music because we want to connect with others on a deeper level. We want to relay and relate to a message that can't be said with just words. This April, NYLON is dedicating six days a week to introducing you to new artists and budding favorites. With interviews and GIF portraits done down at SXSW, NYLON's Month of Music is an exercise in finding aural pleasures outside of the Top 40. It's an exercise in challenging you and ourselves to not stick to one genre. But above all, it's a celebration of bold voices and sheer talent. Enjoy.
The moment you hear that slightly faded laugh at the beginning of a Brenmar song, you know he's about to unleash something floor-shaking. The Brooklyn-by-way-of-Chicago DJ and producer has been grinding away at the music scene for nearly a decade. Brenmar (real name: Bill Salas) is responsible for hits, like Mykki Blanco's "Wavvy" and a countless number of remixes that bump the bass and trap you. It's triumphant dance music that's made for the here and the now. If there's a turn-up function, you better believe Brenmar's had his hand in it. Red eyes, low brims, and liquored lips go hand-in-hand with his music—body rolling and shaking, too. There's an element of danger to Brenmar's tracks that pack the same allure the bad boys we all fall for do. Only unlike those bad boys, Brenmar's music won't leave you high and dry. It may leave you high, but definitely not dry. Get lifted (and lit) to this.
What song of yours fits the following situations?
Getting ready in the morning?
I did a Charli XCX remix to "Famous." It's poppy and up-tempo. It'd be good to wake up to.
Me time?
"Hula Hoop." You can hula-hoop by yourself.
Hooking up?
"She Already Know It." Why not? It's ratchet. That's the last single off Fool's Gold.
Can you recall a moment in your life—whether it's a song, a show, a video—that convinced you, you wanted to be doing music?
I went to a lot of shows. I went to a lot of parties growing up. I've always had access to live music, even though it was Spanish music because of my parents. It was still live and they'd take me around to parties and DJs. There isn't a specific artist or song. It's more about moments, house parties, and seeing the reactions of friends. I don't have a favorite producer or rapper. I like a lot of rappers. I remember playing around with my friend's turntables at 14, and we'd buy records, and things just escalated. I was bitten by the music bug. I have friends who have had those moments, though. I'm thinking of them because they've told me, but I haven't had it.
If any artist, dead or alive, could cover your music, who would you want it to be?
I have a few people that come to mind. If Miles Davis or John Coltrane played some stuff over beats, that'd be sick. I listen to jazz a lot. Prince could do some crazy shit, too. Aaliyah. Let's get Kurt Cobain, Aaliyah, Bob Marley, let's get 'em all on a super-huge track. Like, three hooks. Twelve minutes long.
Have you ever been starstruck?
Beyoncé, a little bit. I can't even lie. She came to a party I was playing in New York City—some unannounced fan-type thing. She came and stood close. It was crazy. She knocked the power out twice because she stepped on the power cord and stopped the party for 30 seconds. It was intimidating. You couldn't avoid the fact that she was there. The whole party was talking about it. "That's Beyoncé." Suddenly, everyone was thinking, "Is Beyoncé having fun?" The party wouldn't be popping if Beyoncé wasn't having fun. I tried to DJ like I knew her. "Was this song okay? Will she like this?"
At the end of the day, how do you wind down and ground yourself?
I smoke, watch a little TV, and I visualize, too. I think that's important. You've got to figure out where you're going. If you visualize that, then the world will slowly come together for you. I've been doing it for a little while and I know it helps. Visualize yourself winning and you're going to win. You're not helping your chances of winning if you're thinking about losing. I get lost in that train of thought. Put out good vibes, get good vibes back.
Photographed by Kara Smarsh.