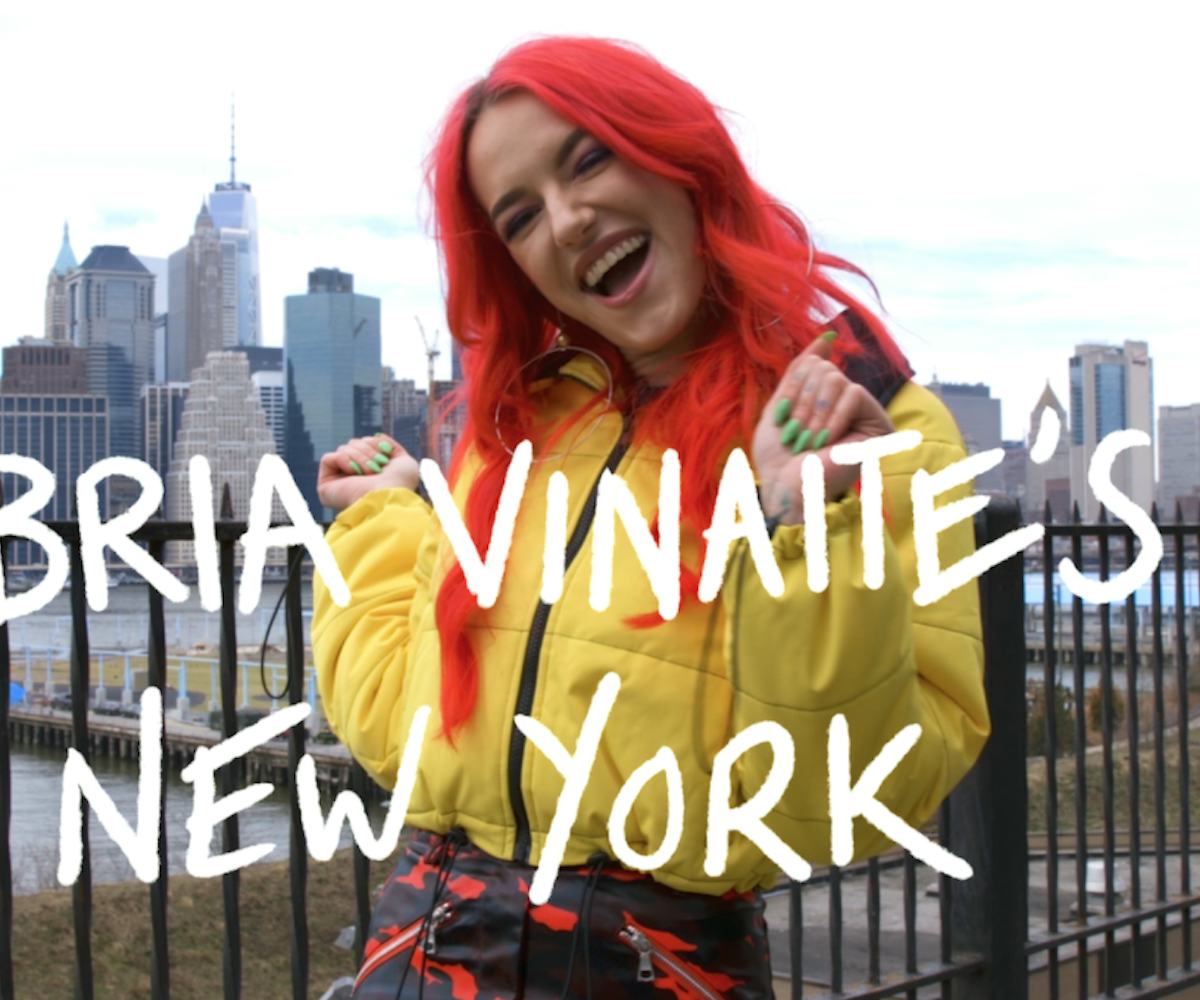 Bria Vinaite Will Make You Believe Again In The Magic Of New York
'The Florida Project' star takes us around town
The mythology surrounding a young star's "discovery" is a pretty familiar one. We've grown used to hearing about how this mega-celebrity was first spotted by a talent agent while dining with her parents at a pizza place in Long Island (Natalie Portman), or how that mega-celebrity was discovered walking through an airport (Kate Moss). It's an understandably appealing narrative element; it adds an element of it-could-happen-to-you fairy-tale magic to a star's origin story. It also helps mask the reality that, even after being discovered, countless hours of hard work and untold numbers of rejections are probably still in these stars' futures before they really get their happy ending—and that's if they get a happy ending at all. But what else the "discovery" narrative usually omits is any sense of agency for the star themselves. It implies that they didn't work for their success or status, but rather that it was handed to them.
One of the most-talked-about "discovery" stories in the last year was that of Bria Vinaite who, as impoverished young mother Halley in Sean Baker's The Florida Project, gave one of the most magnetic, viscerally felt performances seen all year. (The fact that neither Vinaite nor The Florida Project was nominated for an Oscar is still profoundly upsetting to me.) It's almost impossible to read a profile of Vinaite without hearing about how Baker reached out to her via Instagram (perhaps the best story ever of a strange dude sliding into your DMs) and asked her to audition for the film. There's something inherently fateful-sounding about that story, like Baker was Vinaite's filmic fairy godmother or something, and, without him, she would still be toiling away in obscurity. 
Only nothing could be further from the truth because if you spend even one minute with Vinaite, you realize that "obscurity" is not something she will ever be burdened with. The reason Baker even knew enough to contact Vinaite is because she had built up a substantial Instagram presence thanks to her feed (she's @chronicflowers; prepare to lose a few hours perusing it in its entirety) and her entrepreneurial spirit (she started her own weed-themed clothing line, Chronical Designs, a few years ago). So Vinaite was already someone who was on a lot of people's radars, even before she started walking the red carpet. 
Beyond that, though? As I learned recently from spending a blustery day with Vinaite, visiting her favorite New York City spots (the Brooklyn Cat Cafe, the Brooklyn Heights Promenade, Artichoke Basille's Pizza, and McNally Jackson Books), blending into the background is something that is near impossible for her. In part, this is to do with her natural (or, I guess, natural isn't exactly the right word here) vividness: Her hair is the brilliant red of Hawaiian Punch; her puffer jacket and the fishnet socks peeping out of her high-heeled Gucci boots are a stop-you-in-your-tracks yellow. It's hard not to notice her as she walks down the street just for sartorial reasons alone. 
But, really, it's so much more than that. Vinaite has the kind of magnetism that made people young and old approach her all day as we made our way around the city. Without knowing precisely who she was, people asked her to take pictures with them or pose for their cameras, because she was such a bright spot—literally and figuratively—on such a gray, winter day. While we were walking on the Brooklyn Heights Promenade—Vinaite's favorite park in the city—a married couple in their 80s, who were walking down the promenade arm-in-arm, paused to ask if they could take her photo. Vinaite happily obliged (later saying how much she loved this moment), and each snapped away on their respective iPhones, before thanking Vinaite and continuing on their way, arm-in-arm once more. 
And it wasn't just them. Everywhere we went, people were drawn to Vinaite, just wanting to talk with her about... anything, even themselves. (At McNally Jackson, a woman approached Vinaite to tell her that she had a book coming out soon, and wondered if Vinaite knew about another independent bookstore on New York's Upper East Side, and so on.) Even the cats at the Brooklyn Cat Cafe were enamored, approaching Vinaite at a far higher frequency than they did everyone else.
This makes sense. Vinaite is in possession of a preternaturally glowing... I guess aura is the right word. She radiates. She is open. Her mouth is almost never without its mile-wide smile, and her eyes smile along with it. She has a generosity of spirit and a receptiveness to what is going on around her that makes it easy to see why strangers are comfortable approaching her. She is also a keen observer; she sees the magic happening around her, and, by being with her, you see it too. Toward the end of our day together, we stood on a busy SoHo sidewalk, and Vinaite called out to a man passing by, "Hey! I love your beard." The man was about 60 and had a long, gray beard that was clipped in the middle with a bright purple bow. He stopped in his tracks, and pulled out a plastic bag of similar bows, and handed a pink one to Vinaite, who immediately put it in her riotous red hair. 
It was a small, special moment in a day of special moments. It was the kind of thing that reminds you of the beauty in a place like New York, where millions of people come together, each with small, special stories of their own, each waiting, in a sense, to be discovered. But, of course, all these stories and people exist even if they're never projected onto the big screen. It's just about opening your eyes to the weird and wild things around you every day. That's where the real fairy tale takes place.
Don't believe me? See for yourself in our video with Vinaite, as she takes us along with her to her favorite spots in New York City, and shows us how the magic happens.
Credits:
Camera: Charlotte Prager and Dani Okon
Editor: Dani Okon