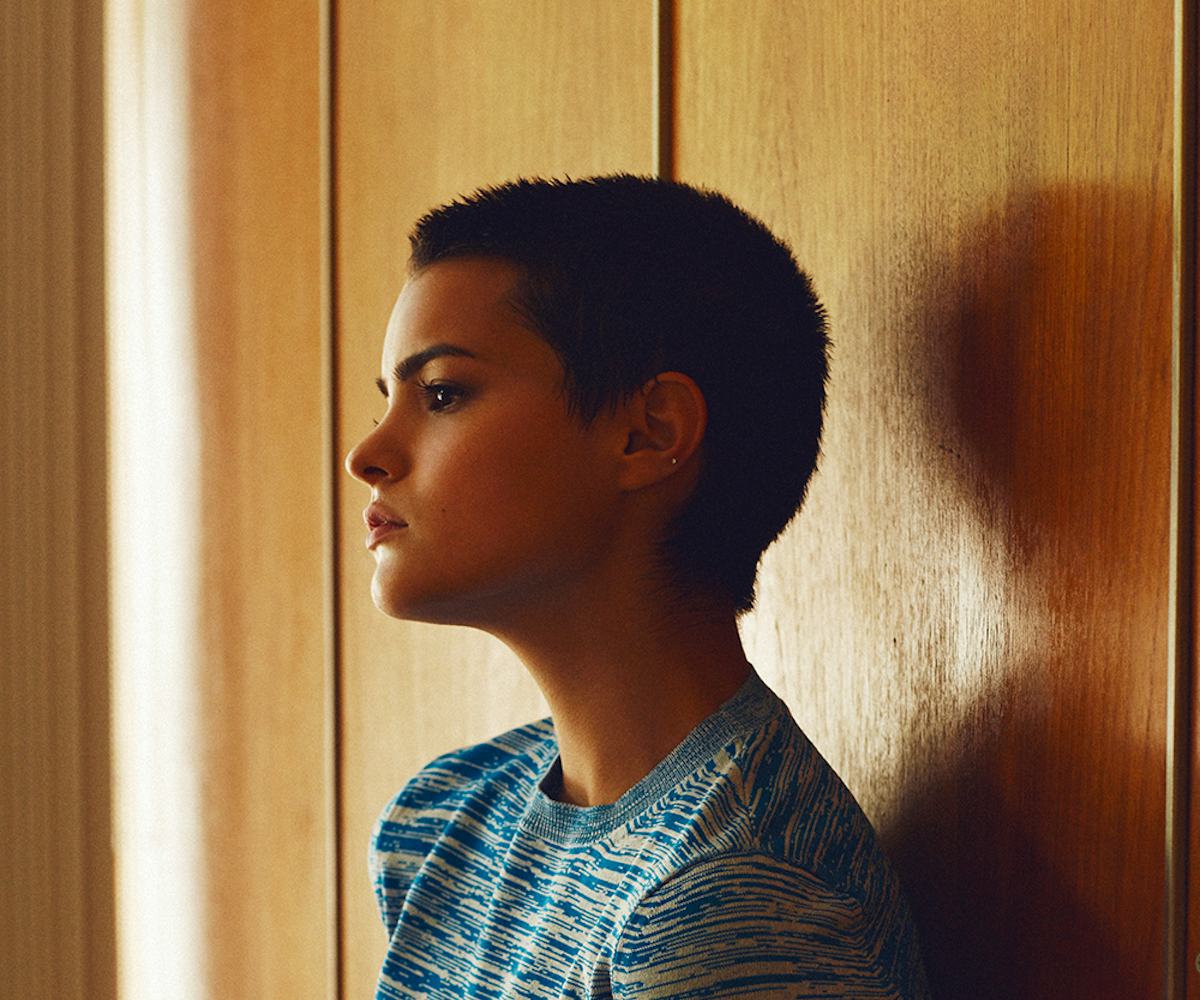 Photographed by Guy Lowndes. Top by Jil Sander Navy, skirt by Sonia by Sonia Rykiel. Stylist: Skye Stewart-Short. Hair and makeup: Christine Nelli at Exclusive Artists using Chanel and bumble&bumble. Manicurist: Blondie at Exclusive Artists using OPI.
Deadpool's Brianna Hildebrand Is Pretty Tough
…in the february 2016 issue of nylon
The first time the world heard the name Brianna Hildebrand was when it was announced that the newcomer actress had been cast in Marvel's upcoming film Deadpool as goth clairvoyant Negasonic Teenage Warhead. In the accompanying head shot, Hildebrand certainly looked the part of the cynical teen mutant: a dark buzz cut with a smattering of silver hardware lining each ear and deep brown eyes that bore into you with a dangerous don't-fuck-with-me expression.
In real life, however, the 19-year-old College Station, Texas, native is anything but ornery. Sure, the all-black-everything wardrobe suits her, as does the sarcasm. But sitting on a bright orange couch in Venice Beach, sporting sweatpants and furry Birkenstocks, Hildebrand is engaging and friendly, chatting about everything from adjusting to life as a young actress in L.A. to her childhood crush on Deadpool co-star Ryan Reynolds. She even busts out goofy, animated voices on the
regular. (What to do with countless hours spent alone in your on-set trailer? "Sudoku, gurrrrrl. I did. So. Much. Sudoku.")
Negasonic Teenage Warhead, a.k.a. Ellie Phimister, originally appeared in just a handful of Marvel's X-Men comics, but will now stand alongside Reynolds's titular character, a spec ops veteran turned cancer patient who gains superhuman healing powers in a secret experiment, when Deadpool hits theaters on February 12. This backstory, however, was one Hildebrand had to learn. "I'm not a superhero kind of gal," she admits, shrugging. "Not to say that I don't care about superhero movies, but I didn't know much about them. So it was easy to tap into the 'Oh, you're all stupid' kind of attitude," she explains of eliciting Warhead's devil-may-care disposition. (Don't worry, though, she also borrowed stacks and stacks of comics from co-star Ed Skrein, who plays the villain Ajax, before hitting the set.)
Being an outsider to the Hollywood machine didn't hurt, either. Originally (and still!) an aspiring singer-songwriter, Hildebrand moved to Los Angeles two years ago after being scouted by her now-manager at a multi-talent competition in Texas; within months, she'd landed Deadpool, as well as a second part, as the star of First Girl I Loved, an indie high school romance about two lesbian teens coming into their sexuality. She says the combination of these projects—the latter of which recently premiered at the Sundance Film Festival—comprise exactly the kind of impression she wants to make with her Hollywood debut.
"[Playing] the rebellious gothic girl is cool, but I just feel like it's easy to be typecast as something like that, especially when your head is shaved," says Hildebrand. (Although, tragically, she's in the process of growing out the buzz cut, if only to make wearing wigs less prickly.) And while she loved being on set with Reynolds, Skrein, and the Marvel crew—she says she even got to do about 25 percent of her own stunts—the way she talks about First Girl makes it clear she's just as proud of this more "intimate" film. "I think it's a really important movie for the LGBT community in general," she says. "A lot of the time, the media portrays a message that everyone knows who they are and what they want and how they feel, when the reality is that there are so many young kids who don't. Nobody does, really. If I had had this movie growing up, I would [have felt] less alone."
Going forward, Deadpool likely won't be the last you hear of Negasonic Teenage Warhead—while Hildebrand says there's nothing sequel-related in the works so far, she and the studio have "definitely been talking about future stuff" when it comes to appearances in the X-Men/Marvel Universe. She also has some gender-bending aspirations for her acting. "I really want to play a boy," she says. "I just love androgyny. I've already tried to get my manager to submit me [for] all these boy roles, but I keep being denied because I don't look like a boy in my head shot." Not that this roadblock will stop her, of course. "I'm going to dress up like a boy and take some head shots and send them in," she declares. "That's going to happen."