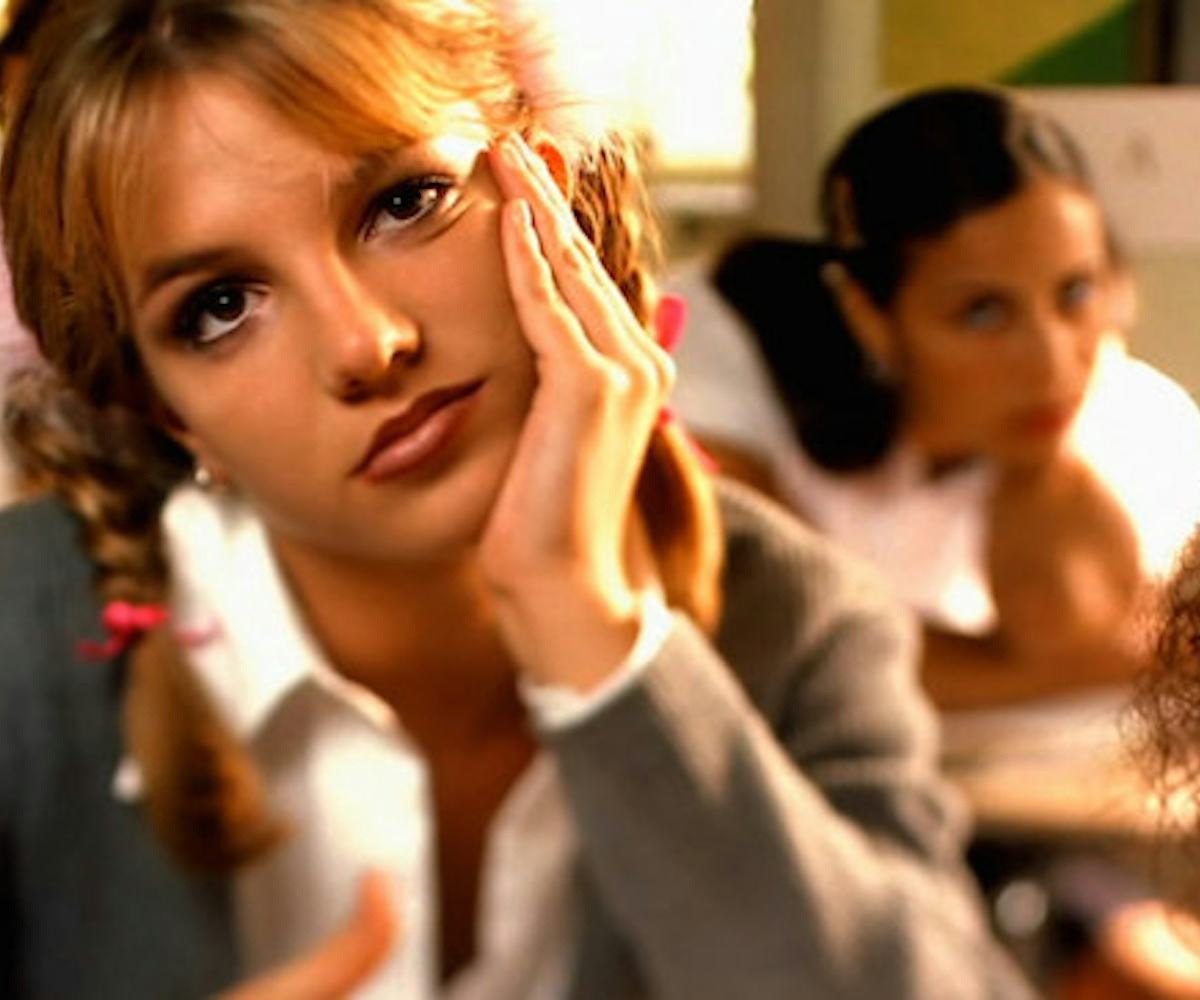 Image Via Jive Records
The Meaning Of "Hit Me" In Britney's "…Baby One More Time" Revealed!
Not to get all supercereal on you, but ever since it was released 17 (yes, 17) years ago, there's been speculation and quite a good deal of criticism surrounding the meaning of the lyric "hit me" in Britney Spears' breakthrough single, "…Baby One More Time". Much like Matchbox 20's "Push" only a few years before it, "hit me" brought up issues of domestic abuse, male domination, and female subjugation.
Was the 16-year-old Spears asking to be struck by the male object of the song? Was she submitting herself to his will? Was it just that the lyrics were innocent but in really bad taste? These were questions fans and critics alike have entertained from 1998 all the way to the present. Well, now there's an answer of sorts, and it's totally not what you were expecting.
As reported at Huffington Post and elsewhere, songwriters Max Martin and Rami Yacoub opened up about the development of "…Baby One More Time" in John Seabrook's new book, The Song Machine. Seems the two Swedish-speaking writers felt that "hit me" was American teen slang for "call me" (as in "hit me on the cell, yo.") While this was and is more or less accurate, it's also an awkward, problematic turn of phrase. Indeed, the American producers of Spears' album noticed the loaded term and changed the song's title from "Hit Me Baby (One More Time)" to "…Baby One More Time", which eventually became her album's title. Despite these efforts, the single still drew controversy. 
So what is one to make of all this? Well, if these claims are true, it's clear it was an honest, innocent attempt to parrot the way teens speak that, unfortunately, produced a very off-tone result. It's forgivable and understandable, even if it should have been stopped well before recording.
That said, while the clarification of "hit me" fixes that one line, it actually brings the full tone of the much-beloved song back into focus. Yes, "hit me" is not as problematic as it could have been, but the entire single is a minefield of tropes about female passivity. While we can shoo away the specter of domestic abuse, the lyrics still point to a lopsided relationship where the female asks the male to, "show me how you want it to be." Granted, these lyrics speak to the desperate, genuine emotions almost all women and men have felt at one time or another. Still, with these male-written lyrics coming out of the mouth of a female high-schooler, it's quite troubling in retrospect.
That's not to say we don't totally love "…Baby One More Time". We totally do. It's just that we also recognize that—for a bouncy pop trifle—it's a very loaded song. Actually, let's all take a minute or three out to enjoy it right now.
Now, if you want to clean your palate of all that theory, head on over to Huff Post to find out the very surprising artist who turned down the opportunity to record "…Baby One More Time" herself. No, not TLC. It's a nice little bit of alternative pop history.