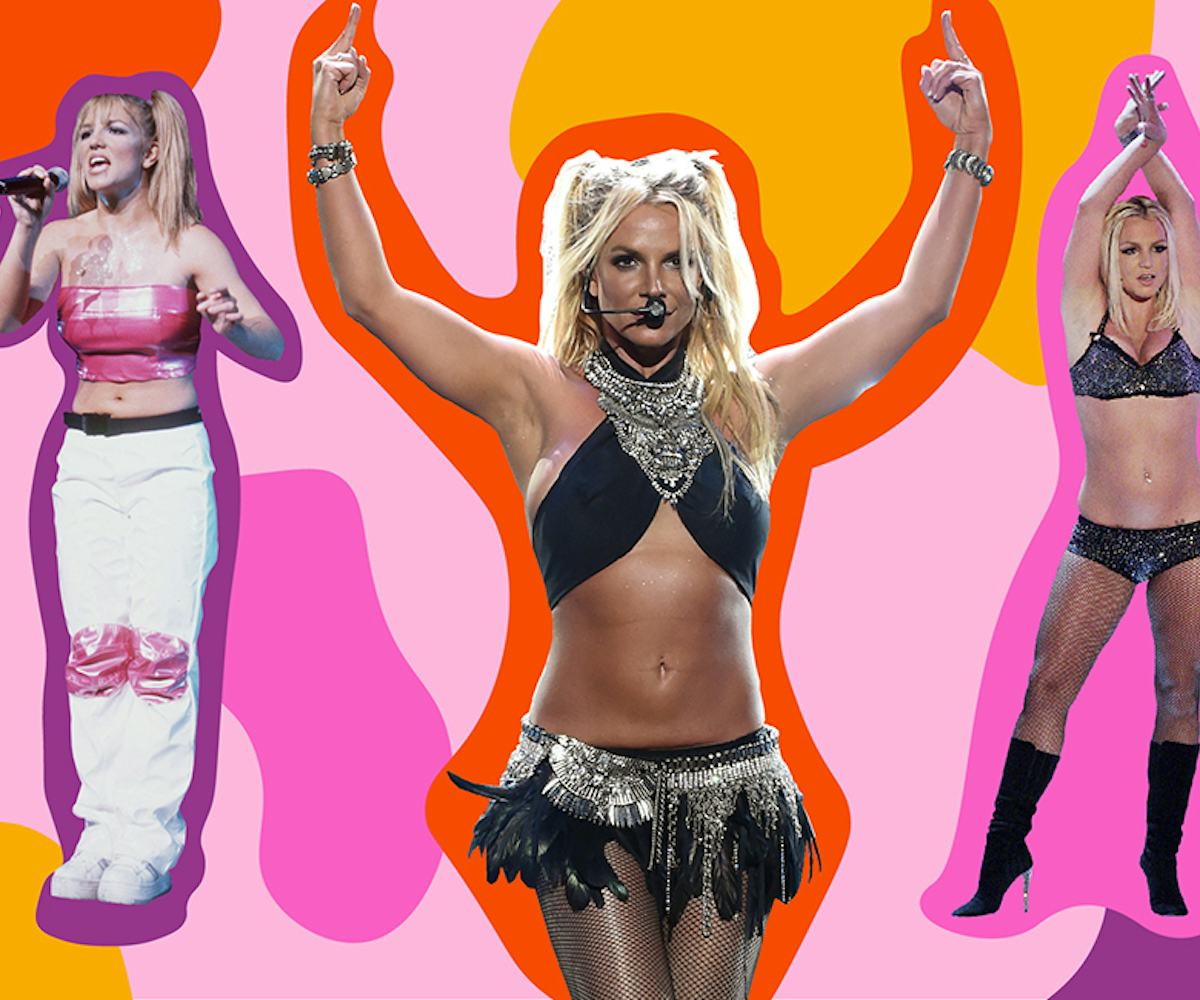 Photos by Getty Images
What Happens When Britney Spears' Biggest Fan Sees Her In Concert
When in Atlantic City for the weekend, things will get wild. That's what weekends in Atlantic City are for. Everyone knows that! I know this better than most, though, because, on a recent weekend in A.C., I lost my damn mind. But I can't totally blame Atlantic City—I also blame that other icon of all things wild: Britney Spears, who brought her Piece of Me show to Borgata Hotel Casino & Spa for three sold-out evenings of total transcendence.
But back to getting wild: Can you really... Hold It Against Me? (Spoiler alert: Several more Britney references to follow.) In true Brit Brit fan form—why, yes, I have been on two Brit Brit fan specials on MTV—I was embracing the theme of her best album, Blackout. The Holy Spear(s)it was clearly in the Atlantic City air that weekend, and it was infusing me with a totally different energy than I'd ever felt before.
But it wasn't just me: All true Britney fans know how to honor their queen. I wasn't too surprised when I spotted a few of those cherry red "Oops!... I Did It Again!" cat-suits. But I was still impressed. Great job, girls! And even the go-go dancers at Borgata's Premier Nightclub were outfitted in an array of Britney looks. But my winner for the most memorable look in A.C. was a T-shirt that read, "BRITNEY'S INSTAGRAM IS ART." (I obviously need that.) Britney was everywhere, so I never even left the Britney paradise of a hotel. You wouldn't either if you kept running into  Britney's backup dancers, who were as chiseled as Mount Rushmore. 
So it's fair to say I was distracted before the show—so distracted that, when dining with a group of Britney stans at Angeline for a pre-show bite, I couldn't really eat, let alone breathe. I chose not to drink because I wanted to be present for the show… but I was a bit dizzy at first. Then, a lot dizzy. And yet, I couldn't chug water! There's no damn way that I'd be that person running to the bathroom during the certain-to-be-soul-slaying show. That'd be fucking criminal. I would rather faint, I thought, since I probably was going to faint at some point anyway. 
Why was I so panic attack-y? I had taken my morning meds, dammit. But as one of the most trusted voices in my head said to me, You're nervous for Britney. This did make semi-sense because I was about to witness the living legend strutting across a stage in a  theater with a capacity of just 2,400. But there was nothing at all to worry about! I mean, she's done the Piece Of Me show since 2013 (the performance is essentially a stripped-down version of her recently-wrapped-up-but-allegedly-returning-soon Vegas residency). To be fair, my concern was based in the fact that, as she had told the audience the night before, she'd been battling a fever of 102.
I felt feverish too, clearly, but no thermometer could accurately capture the heat of my pre-show meltdown. General euphoria-induced anxiety aside, I was worried about one thing: Would Britney feel the love? I want nothing but good things for this woman, who had truly changed my life, especially circa my Not A Straight, Not Yet An Openly Gay days. And so I worried: Is she exhausted? IS SHE HAPPY? I care so much about her! All true Britney fans do! We grew up with her! (I'm thirty-fucking-one.) When she wins, we win! When she cries, we cry! We were horrified during that let's-never-talk-about-it-again media shitshow circa 2007 and some of 2008. And even though she's obviously gotten stronger, we still worry about her. Though, luckily, we don't really have to.
Over the past several years, Britney has proven she can do exactly what she tells us to do in trying times in her anthemic "Work Bitch": 
Hold your head high, fingers to the sky
They gonna try to try ya', but they can't deny ya'
Keep it moving higher, and higher 
And so, as the novelty mugs say, if Britney could get through 2007, I could get through this concert without succumbing to my empathetic anxiety. And in fact, I didn't have much time to panic once I entered the theater because, in true professional pop star form, Brit didn't keep us waiting, and took the stage right when she was supposed to. More quickly than I realized, my terror transformed into soul-levitating joy, as Britney sang, "You want a hot body?" from the thrilling show-opening jam, "Work Bitch." And oh honey, did Britney work… bitch. She gifted us with all of the hits. She extensions-whipped, pelvic-thrusted, slayed-the-shimmying, briefly pole-danced during "I'm A Slave 4 U," and even demanded a fan to bow down to her, then proceeded to walk him on a leash and gently whip him during the S&M-themed number, "Freakshow." (My favorite number was probably "Me Against The Music"—she was feeling it.) 
Of course, Britney also looked amazing, which you already know if you follow the aforementioned work of art that is her Instagram, where she perma-posts workout videos with a side of fairy illustrations. But it was the 10-to-12 combined seconds where she smiled and talked to the crowd in her high-pitched Southern drawl that was the most profound part of the show, and most Britney. 
"What's up Atlantic City?! This place reminds me of Louisiana! Are you ready to... break the ice?" Which, if you don't get those references: Britney Jean Spears hails from Kentwood, Louisiana, which, according to its Wiki, has about the same amount of residents as the Borgata venue's capacity, and "Break The Ice" is one of Britney's most underrated songs. Not many people knew what she was talking about, but not a soul cared. 
Another Britney-is-human highlight was Brit Brit adjusting her ponytail about a million times. Maybe it was part of the choreography? As the show neared its end, the humble queen gave a shout-out to the most "amazing dancers in the world!" and to "the most amazing band in the world!" She closed the show aptly with "Till The World Ends." And it sure felt like my world was ending, particularly as confetti aggressively poured from the rafters. It all felt so surreal, and I felt like Winona Ryder in that showered-in-snowflakes scene in Edward Scissorhands. And, hey, that analogy makes a ton of sense because, just like Queen Britney, Winona is also a Comeback Queen, with a famous ex whose allure has not aged well!
The night ended with a quick: "Thank you Atlantic City! You were amazing!" And then the amazing Britney ran off stage, probably to go be an amazing mom. 
There's a sugary bop on Britney's 1998 debut LP called "Born To Make You Happy," that, 20 years later, rings truer than ever before. And yet, it's Britney's happiness that real fans care about. We know that after everything she's been through and everything she's given us, it's what she deserves. And it looks like she's gotten it.