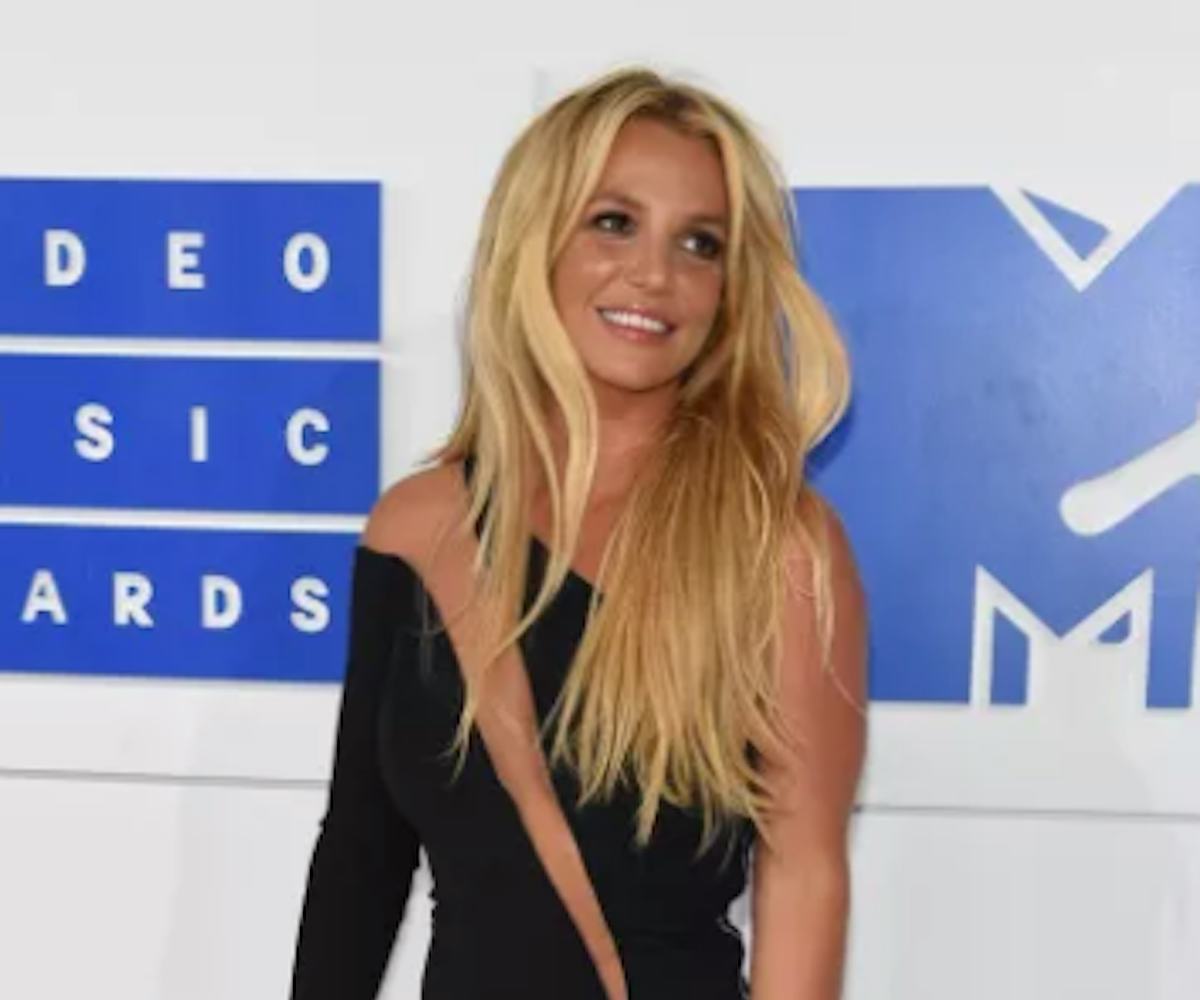 Photo by Jamie McCarthy/Getty Images
Britney Spears Proved That She Is The Ultimate Survivor At Last Night's VMAs
There's a pretty popular internet saying: If Britney can make it through 2007, then you can make it through today. Truer words have never been printed on a novelty mug. 
But if that statement were ever in need of an update, Spears fans need look no further than to her performance at last night's MTV Video Music Awards. The 21st century's premiere pop princess was taking the VMAs stage following a nine-year absence (since a widely scrutinized—and criticized—performance in, obviously, 2007), and there was a lot of speculation—and a lot of related hopes and fears—about whether or not she'd be able to pull it off. Sure, Spears has been honing her skills with her now-years-long residency in Las Vegas for her "Britney: Piece of Me" show, and, sure, Britney is currently riding the incredibly positive buzz off of her recently dropped new album, Glory.
But people's memories are long when it comes to public meltdowns, and few have been as dramatic as that of Spears. So while everyone loves a good redemption arc, it was still hard to know whether or not Spears would be able to give us one. And to make things even more difficult for Spears? She'd be performing after the one and only Beyoncé, who manages to make every stage she even briefly comes into contact with utterly and completely her own.
While Queen Bey would prove to be a virtually impossible act to follow (we still can't stop thinking about basically every second of it), as soon as Spears' instantly recognizable figure was silhouetted upon the stage, signature moves sharper than we'd seen them in a long time, it was clear that Spears has not only survived, but has grown stronger, building upon the foundation that she laid for herself so many years ago.
Spears' performance was chock-full of references to not just the past, but her past. Her sheer, sparkly bodysuit was a riff off the bodysuit she wore at the 2000 VMAs, this year's version was slashed with acid green. Her iconic, whiplash-inducing (at least for mere mortals) hair flips and fully extended dancer's arms were a welcome sight, all the more so because of how familiar they were. Few are the pop stars who can speak to their fans in a physical shorthand; the ones who can number among the greats, and Spears is undoubtedly in their ranks.
The beauty of this Spears performance was not that it was revolutionary; it had nothing to do with the artist showing us anything new. Rather, the beauty of this performance was in its celebration of continuity, of consistency, of health. 
Spears is not usually seen as a particularly radical figure; she operates far away from the political and socially conscious discourse of many of her contemporaries. There will be no Lemonade coming from Ms. Spears. But that's okay. Britney and Beyoncé might share a birth year and semi-similar childhoods in that they were both performing from early ages, both pushed by driven parents, both even in possession of younger sisters for whom they served as role models. That's pretty much where it ends, though. Beyoncé's evolution and emergence as one of the most important artistic voices and figures in contemporary culture is a journey all her own, one which inspires—and frankly deserves—something akin to worship from all corners of society. There is no comparing Britney to Beyoncé, because there is no one like Beyoncé. There is only Beyoncé.
But there are, in a sense, many Britneys. There are countless young women who find themselves lost at some point in their young adulthood, struggling with everything from mental health issues to bad relationships to the type of existential crises that, yes, might lead a person to spontaneously shave her head and have a nervous breakdown. In 2007, Spears showed all of us what it was like to lose control and it was, for many of us, an all too recognizable phenomenon. In 2016, though, Spears has shown all of us that it is possible to regain control; it's possible to work hard, to accept support from family and friends, to rebuild what you might have feared was lost forever, to find strength from within, and to come back as the best possible version of yourself. That's what Spears gave us with her performance last night, a look at what it means to stay true to yourself, no matter how many trials you've gone through.
And also, she gave us a pretty great curve on G-Eazy. Check it out in all its glory below. 
All I needed was Britney Spears + G-Eazy to ~ get me through the night ~ Posted by MTV on Sunday, August 28, 2016