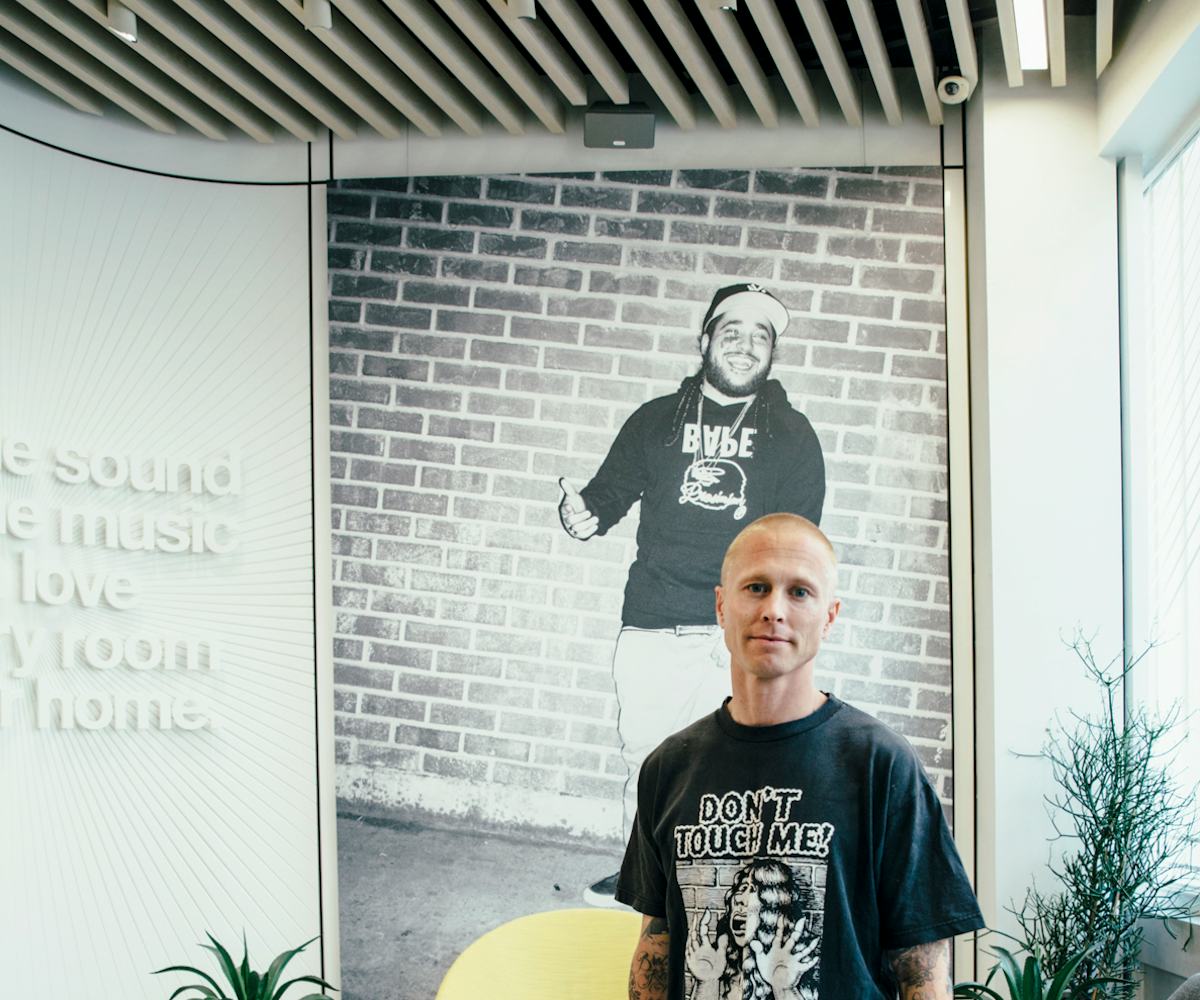 Brock Fetch. Photo courtesy of Sonos.
Brock Fetch Reflects On His Iconic Images Of A$AP Mob and More
The music photographer's work is currently on display at Sonos' NYC flagship store
For music fans—real fans, the types to study lyrics and production credits with the voraciousness of prepping for the MCAT—the behind-the-scenes moments of artists' lives are just as important as the songs they create. Though the rise of social media has helped us feel closer to our most beloved musicians, there's just something more intimate about the behind-the-scenes images, especially those captured by photographers who have been trusted to document their everyday lives. For the A$AP Mob and other mainstays in East Coast rap, Brock Fetch has long been tasked to do exactly that. This summer, the fruits of his labor will be on display through the summer at Sonos' flagship store in the New York City neighborhood of SoHo.
The photo installation comprises black-and-white images that Fetch captured on film as well as Polaroids, of artists such as A$AP Rocky, Joey Badass, Wiz Khalifa, Asher Roth, and more. It's an ode to the Washington native's career, which blossomed from an admiration of his grandfather's interest in the photography into his personal quest to capture perfect moments, rather than perfect pictures. "That photo of A$AP Yams when you first walk in, it's crooked as hell!" Fetch says with a laugh of the colossal photo of the late music executive and A$AP Mob co-founder. "It's not straight by any means, but Yams' smile is fucking perfect. I'm not an artist. I'm still learning how to use a camera and make it work right. But no matter how you capture certain moments, it's still a moment. So if you're around for those moments, like I am, you get lucky. It doesn't really matter how good you are with a camera because there's still magic."
Here, Fetch reminisces on the moments that went into creating some of that magic. To see it IRL, the installation will be on display at Sonos' flagship at 101 Greene Street—otherwise, you can live vicariously through the clip below, of the installation's grand opening.  
A$AP Bari, 2011"This is from when we were staying up on Columbus Circle, and the guys were finishing [Rocky's debut mixtape] Live. Love. A$AP. I had flown out to shoot Rocky for the cover, and I stayed with them for about four nights in this apartment. We were all staying in, the whole Mob and me. We would just hang out at the flat, and Bari would hang out the window. At the time, he was still figuring out what he was doing. Now, he's putting on shows at fashion week."
A$AP Rocky and A$AP Yams, 2011"This is one of my favorite photos ever. I was never told not to take photos [while with ASAP Mob], but on that trip, Yams was not really into getting photos taken. He told me, 'After we hit up this chick, and my hair is braided, then we'll get back to the pictures.' So that's really one of the only photos I have of Yams from that trip, which makes it special. That's the exact setup where we shot the cover photo for Live. Love. A$AP. I begged Yams to just let me get one photo while Rocky was there in front of that flag. There was just something about the way that they both had no expression on their face. We all knew what was happening, but I don't think they had any idea how fast [their success] was gonna happen."
Asher Roth, 2011"I met Asher through our mutual friend from TV on the Radio. We just clicked, kinda like I did with Rocky. Asher's very chill, very mellow. At the time, I don't know if he had a lot of people around to shoot photos for him, but it was a time when he had a lot of things happening. He'd hit me up, I'd come to the city, we'd go around Lower East Side and fool around. He was doing a video that day at a restaurant with The Cool Kids. We were walking from the apartment to the video shoot and got a smoothie, and I was like, 'Let's get this picture.' It's really the most boring shit ever, but I love that photo. That is Asher, 100 percent: calm, cool, collected, healthy, crunchy."
A$AP Ferg, 2012"Ferg hit me up and wanted me to come uptown to Harlem, where the Mob is from, and meet this kid named Bodega Bamz. So I went uptown, and we did this very impromptu photo shoot in Ferg's local bodega. It's below his mom's crib, so it's very local. We kind of got the run of the place and shot a bunch of photos. Bodega Bamz is a cool rapper himself, so it was a fun day."
Action Bronson, 2013"I honestly don't fully remember why this photo even happened. But Action pulled up, and he had the window down, and he was on the phone. It was the perfect photo. I don't have any [photos from] before or after that, so I have no photos for backup or anything. All of [my photos] are like that. I shot them on film, which expensive, and I was poor. Now I have kids, so I still don't have money like that, but back then I was preserving what film I had left, so I wouldn't take two shots of, like, Rocky's cover photo for the mixtape—one shot. And right after it, I took that photo of him and Yams. There was no, 'Okay, let's do one more just in case.' That's why they're so special. They're like Polaroids to me. There's only one of each photo—there's only one photo of Action in the back of that car holding that phone. There's not 15 digital photos, where you pick the best one with the screen just right. The photo of Yams in the entrance [below], Sonos asked me if we had couple other ones to choose from, but I was like, 'Nah, that's the only one I got.' If it's crooked, that's it. There's no perfection."
Flatbush Zombies, 2013"I got a call from Phil Annand, who I believe was managing them at the time, and he asked if I would shoot a photo real quick. I was already in town, shooting fashion week stuff. We waited until it was dark and went to the Broadway Junction A train stop [in Brooklyn, New York]. There's a cemetery there, and since it was at night I had to shoot with a flash, so we could only take a few photos, so the cops don't show up—there's a lot of cops there, not because it's gnarly or anything, I think there's a [precinct] down there. We ran in, shot about three photos, and ran out. Then it ended up being the cover for their BetterOffDead mixtape."
A$AP Yams, circa 2014"Yams' mother told me this photo must've been pretty recent because he has an A$AP ring on, and it had been given to him within the last six months before he passed. I had a group shot of the Mob in front of that brick wall, and then I must have made Yams do a solo. I remember he was cracking up because everyone was behind me, and A$AP Nast or somebody else was making jokes. It's one of the only photos I have of him where he smiled that big. I have a lot of serious ones, but I don't really remember [him as being] that—that kid was always laughing, always smiling. I got a lot of photos of other people with him that are maybe more powerful [for the exhibit], but this one is the one that needs to be out there right now. People need to be able to walk into the store and see this one, because Yams was about being happy."