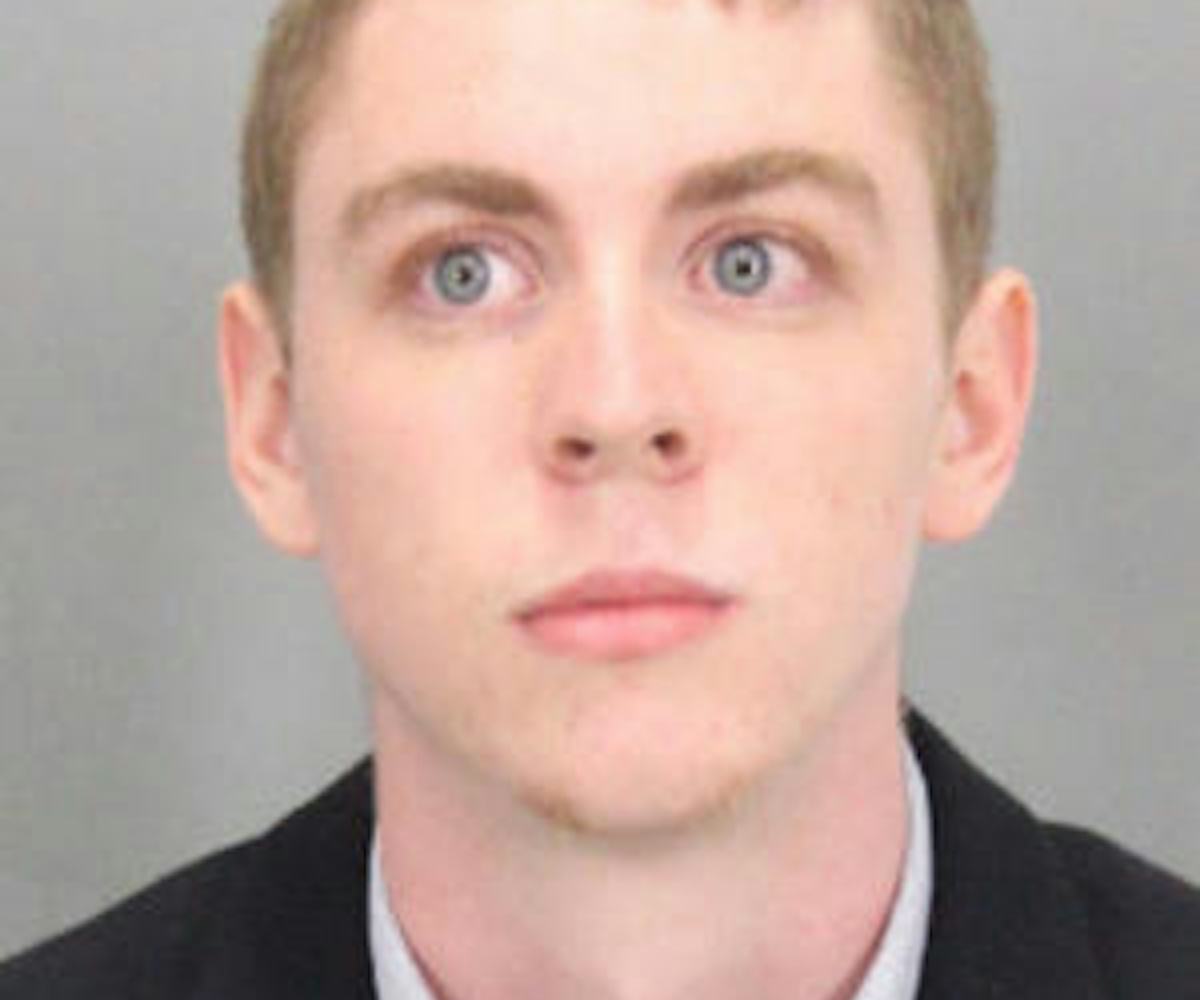 Photo via Santa Clara Sheriff's Department
Brock Turner's Mother Thinks He Did No Wrong
Over the past few weeks, hundreds of thousands of people, including the Vice President of the United States, have joined in supporting the anonymous woman who was raped by ex-Stanford student Brock Turner. Although the verdict and its implications alone have rightfully created an uproar on a global scale, what's even more infuriating are the tone-deaf statements released by every member of Turner's family, who have continually absolved him of guilt. Rounding out the trend of passing the buck is a letter from his mother, Carleen Turner, which does not mention the victim or even a glimpse of the crime Brock committed. Not even once.
The four-page plea to the judge, which can be read in its entirety at Heavy.com, was released last night along with a hundreds of other documents from the trial. In it, Carleen Turner describes in intimate detail her son's life and good deeds. His smile and shyness. His love for swimming. How Carleen Turner can't even decorate her new home because she's too distraught. She can't even hang pictures on the wall! How her son was "just trying to fit in with the swimmers he idolized." How the verdict destroyed her family and her son. How unfair it is that he has to be registered as a Tier III sex offender and how that will mark him for the rest of his life. She says, "If he ever has children, he won't be able to take them to a public park and push them on the swing… I beg of you, please don't send him to jail/prison. Look at him. He won't survive it. He will be damaged forever and I fear he would be a major target. Stanford boy, college kid, college athlete, all the publicity… this would be a death sentence for him. His dreams have been shattered by this. No NCAA Championships. No Stanford degree. No swimming in the Olympics (and I honestly know he would have made a future team), no medical school, no becoming an orthopedic surgeon… all gone."
Lest we forget the choice words other Turner family members and friends have shared: His father said that the punishment is a "steep price to pay" for "20 minutes of action." His grandparents have said, "Brock is the only person being held accountable for the actions of other irresponsible adults." His sister has said, "A series of alcohol-fueled decisions that he made within an hour time span will define him for the rest of his life." His friend has said, "we need to stop worrying about being politically correct every second of the day and see that rape on campuses isn't always because people are rapists."
Carleen Turner and the rest of Brock Turner's family and friends don't seem to understand that you don't get a pass because you took AP classes. Unfortunately, their son received far less than the minimum sentence for his crime, which proves how pervasive the "nice guy" narrative still works, not just within the public, but the judicial system as well. The actions and words of Brock Turner, the statements by his family, and the resulting minimized judgement, all perpetuate a culture of blame and denial that cause women to fear not being believed if they are sexually assaulted and try to seek justice. 
We can only hope that the outpouring of love and support the victim has received will help her know she is not alone. However, we also have to remember that Brock Turner will fade from the news cycle and when that happens, we cannot give up the fight against this culture of injustice and blame. And we will be complicit by the silence that has, for too long, allowed "nice guys" to keep skating by after committing heinous crimes. If Brock Turner and his family have taught us anything, it's that we clearly still have a lot of work to do. 
(Via Heavy.com)