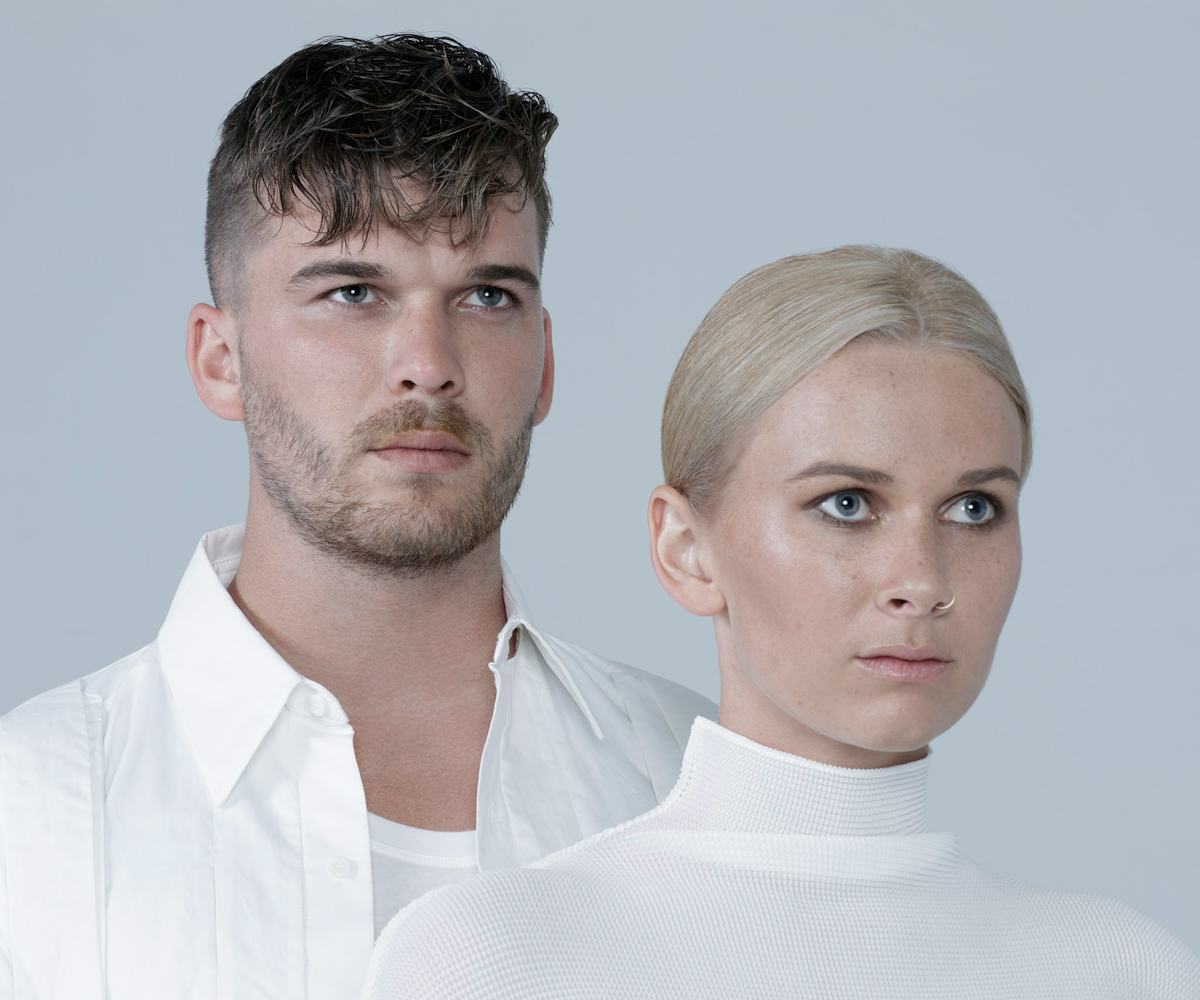 Photo by Renata Raksha
Broods Are Back With a New Sound
With a little help from Lorde
Back in 2014, New Zealand synthpop duo Broods made a huge splash with their ethereal track "Bridges" and later with their debut record Evergreen. Now, Georgia and Caleb Nott are back with a new song and a new sound. The brother-sister duo's first single off of their upcoming album is called "Free," and it's an anthemic, pulsating pop track that shows the band moving away from their stripped-down songs. Instead, Broods' focus this time around was on creating songs that would soar during live performances. The band's newfound sound is in part due to the help of Grammy Award-winning songwriter and producer Joel Little, who has worked with Lorde, Sam Smith and Ellie Goulding, just to name a few. As the release of their sophomore record nears, we spoke to the band about their new single, taking a new approach to recording this time around, and how they ended up working with Lorde.
How did you approach your sophomore record differently than your debut?
For one thing, we had more time to write it. The first record we did, we had five weeks in the studio in between touring and we kind of fleshed out as many songs as we could.This time, we had time off, so we had gone into the studio throughout the past year and a half. We've been writing since we finished the tour. It gave us a chance to experiment and put out stuff you'd really want to put out on the record.
You wrote with Lorde and Ellie Goulding this time around. What was that like?
It's a pretty tight-knit industry. The [music] industry is very concentrated. So, with the music industry back home, everyone kind of supports everybody and knows everybody. We happened to be in the studio, Lorde had the day off, and we wrote one song. It happened randomly. It was an awesome experience.
Is your upcoming record a concept record? What will people notice that's more unique?
There's not really a theme or anything, but it doesn't sound like the last record. It's not as stripped back as Evergreen was, which is cool. We definitely wrote it with playing live in mind. When you start playing shows, those songs you play [live] become your favorite. I think it's a lot more honest, lyrically than the last record. It's very straightforward.
Is there anything you worry about when it comes to putting out your second record?
I think it's hard not to at first when you're taking on a second record and figuring out your sound. There are a bunch of songs that we thought could have gone on our second record. We wanted to develop our sound and evolve as artists. We did a lot of experimenting before we got there. However [putting out your second record] is scary because you want to please the people that supported you. You want the people that loved your music to love the record, but you want to do something different—even if it's in a small way. It's something you create from your own experiences and opinions. That's why I feel pressure and feel nervous. When you care about something, you're gonna be nervous about it.
What were you listening to when you were making this record?
I like the same kind of singer-songwriter music that I always do. I was listening to a lot of Lykke Li and KATE BOY. KATE BOY is this Australian chick and two Swedish guys. They make insanely cool pop music. Caleb has been listening to Kanye West and KATE BOY as well—really this electronic, industrial stuff.
Tell me about the first single off of the new record, "Free."
"Free" is an industrial electronic track. It's a song about a situation where you want people to know that you're not going to compromise yourself, your creativity, and your values for the sake of material. It's just trying to make it obvious that you don't need all of these consequences of making good pop music. You don't need the wild side of it to define the music you're making. When we were in a lull, we were trying to figure out what direction we're trying to go in. We tried to think of the reasons why we did music and started releasing music. Then "Free" happened.
Do you feel like there's a lot of competition in the electropop scene? Does that affect you guys when you make music?
I think there's always competition in whatever industry you work in. Whether it's a genre of music or whatever else, there's always competition. The way we think about it is that we wanted to find stuff that was 100 percent true to us and what we wanted to do as artists. It's totally honest to who we are and what we feel.
Who would you love to collaborate with coming up?
I'd love to work with some of the female pop artists. I'd love to work with Julia Michaels—she works a lot with Selena Gomez. She's an amazing top writer. She wrote that song "Love Myself" by Hailee Steinfeld.