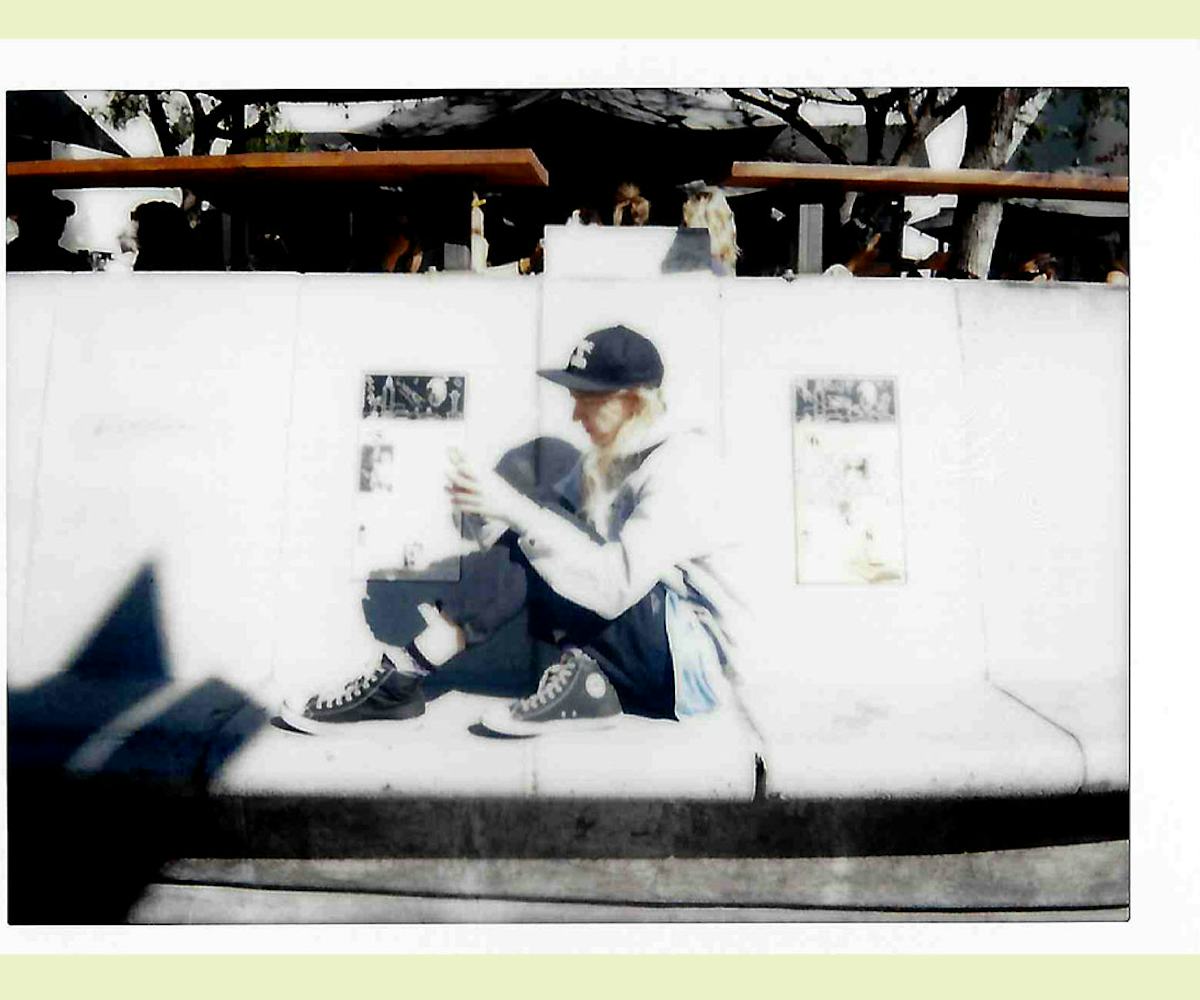 Photos by Cashmere Cat
Tagging Along With Cashmere Cat, As He Makes New Friends In L.A.
"He'll take something pop but make it a little twisted"
It's moments into meeting Magnus August Høiberg, better known as Cashmere Cat, and I feel like I've already failed him. The Norwegian producer is politely nodding along as I ask my question about whether or not he's enjoying touring behind his own material. But it's clear, from the fact we can read his name on the marque of Los Angeles' Wiltern Theatre from where we're sitting and his general upbeat attitude, that the answer will probably be a resounding, "Yes. Duh." Thankfully we're saved from dull interview fodder by a busker with a fashion game that rivals Jack Sparrow, who has just karate-kicked the doors of the coffee shop.
"Whoa, this guy's a badass!" Høiberg says, eyes wide. "Did you see this shit? I'm so boring, why don't you invite this guy in? He's a beast!"
Let the record show: Høiberg is not boring. But the 29-year-old producer is very laid-back. So much, in fact, that given his casual tone, I'm actually shocked to later learn that our meeting is one of the few times Høiberg has agreed to an in-person interview. He seems to like being in the presence of other humans. Ditto for talking about the people surrounding him, a topic that ranks above both dissecting the mechanics of his burgeoning music career. Every answer, even to the most casual questions, always seems to point back to other people.
I learn a lot. He and his media trainer have a conversational relationship—often Høiberg will call her up to talk about non-PR related issues. His Uber drivers are always rewarded with five stars, "even if we almost die in an accident." He gets momentarily bummed when I tell him I plan on transcribing the interview myself because it means one less chance to send a secret message to the cubical dwellers tasked with turning his voice into words on the screen. (Twice, he notes, with no small amount of satisfaction, he left his number in interview audio and was rewarded with selfies.) That still doesn't stop him from whispering conspiratorially into my voice recorder. Later I find a greeting aimed at my golden retriever.
Had the chips fallen differently, I might have been talking to "DJ Final" the turntable expert rather than "Cashmere Cat." It was under the former guise that Høiberg began clawing his way onto the international scene, most notably representing his native Norway in the DMC World Championships in 2007 and 2009. But his own work, remixing for Lana Del and 2 Chainz, and later on 2012's Mirror Maru and 2014's Wedding Bells, signaled an artist more interested in production than simply scratching. He rechristened himself Cashmere Cat (a name chosen for its anonymity and femininity) and doubled down on his new sounds, a romantic, fairytale-like take on electronic hip-hop. According to him, he's still proud of those initial releases (and they do make appearances in his set every night), but 2012 was a long time ago.
"I really feel like I kind of found my own sound twice,"Høiberg says. "With the first records, I did something I felt was really real and new to me at the time; I was making these huge songs with 808s and harps, a lot of autotune vocals. I finally felt like it was a sound that was my own. A plucky thing, an 808, and a thing that goes, 'Duh.' Those were my first eight songs."
It was working with other people, he says, that began to help him refine the Cashmere Cat sound. On the strength of his initial EPs, Høiberg began collecting strings of producing gigs: Creating bratty beats for Charli XCX's "Break the Rules, adding an atmospheric layer of sound to Britney Spears' gossamer single "Just Luv Me," crafting the sparse soundtrack on Kayne West's Life of Pablo slow burner "Wolves." Confronted with so many musical ideas, he decided against crawling back into the box he had initially created for Cashmere Cat.
"I feel like I had a lot of stuff that I wanted to say," Høiberg says of the desire to write his first full-length. "I felt like I had a lot of sounds I wanted to show. It was easy to do 10 tracks this time. The last few times I had been struggling to get past three or four. It would drive me crazy. I felt like I had a lot of stuff I wanted to put into album form. I guess that sounds kind of boring. It should be some deeper motivation: 'Oh, it's about my mother's ex-girlfriend's dog dying!' But, it's just about me having a lot of cool sounds I wanted to show and make sounds with."
Cashmere Cat's first full-length album, 9, was inspired by new equipment discovered while working with Francis and the Lights, Björk's Vulnicura, and his enduring love of Arca, who Høiberg considers to be one of the best producers working today. (When I point out people have said that about him, he rates himself in the top 300. I counter with the top 10 before we settle on top 50. "That should be the title of your article," he jokes.) The raw materials are familiar to any club kid; vocoders, drops, and topline vocals from Kehlani, Selena Gomez, and Ariana Grande all featuring prominently in the mix. But his approach makes for a through-the-looking-glass view of mainstream pop.
It's that left-of-the-dial vibe that Karen Marie Aagaard Ørsted, who appears on album track "9 (After Coachella)" as MØ, immediately appreciated when the two met in 2013. Even she, as she recalls, was mildly intimidated and convinced "he wouldn't want to work with me in the future if I said something lame."
"Cashmere Cat has this sound that I am so drawn to," she says. "He uses different and unconventional sounds, but he does it so naturally that it never feels like it's trying too hard. He'll take something pop but make it a little twisted. It has this sweet pop side, but it still looks back at you and challenges you. It's never obvious. I loved working with him so much because of that."
Also appreciative of his fractured musical view was Rick Rubin. As Høiberg describes it, the legendary producer took it upon himself to offer up some valuable eleventh hour advice.
"When I was finishing this album with two weeks left, I went to Rick's house," he recounts. "I played him the album. The way he listens is he lays back on the couch with his shorts. He's looking all cool with his beard and stuff. When you play him music, it becomes very apparent if it's a good or bad song. In some way—when you're in that room with him—you can totally tell what's wrong with the song. For most of the songs I played him, the music would stop, and he'd go—"
Høiberg pauses, clapping with great ceremony.
"And other songs, he'd go 'nah,'" he continues. "Those songs I would change them in some capacity. He's a true wizard. I'm really thankful for all the advice I got from him. I also stole an orange from his garden, too. I don't know if he knows about that." (Cue sheepish pause.)
Musical godfathers aside, Høiberg cares about his fans and their experience. Cashmere Cat began touring two weeks before 9 came out. Fun, mainly because headlining gigs allow him to "get weirder than I could get at a festival." But he also began slipping new tracks into his experimentations. He's not precious about the Cashmere Cat legacy. "Shitty YouTube videos" were actually the endgame.
"We were hoping that someone would catch there's a new song and upload it," he says with a shrug. Mission accomplished.
There are plenty phones capturing the Cashmere Cat show later that night. By the time Høiberg takes the stage after Kingdom and SOPHIE, the venue is dotted with light from screens, both aimed at the stage and at fellow attendees. It's a different experience seeing a DJ than a band. Fans in the pit seem thrilled to be in the presence of the Scandinavian artist, but the set is just as much about creating a community experience, thrilling at the drop and dancing with your friends, as it is about dissecting the live music experience. Regardless, presentation is something that Høiberg does consider. He bemoans that it took him four years to learn how to stand on the table without feeling like a fraud—but when MØ joins him during the encore, he pulls off the move, looking every bit as comfortable as the Danish pop star.
Later backstage, with only Høiberg and his friends left, the party atmosphere continues, albeit at a much slower pace. Friends snack on the leftover veggie tray and Chris Sansom, who mastered 9, describes how tricky it was to capture the producer's vision. (Spoiler alert: It takes time and multiple conversations to get on the Cashmere Cat wavelength.) Høiberg video chats with his mom to show her the scene.
"I feel like I'm really fortunate to have lots of people around me who aren't scared to tell me if I'm being an asshole or if I'm making bad music," Høiberg had admitted several hours earlier. But now, at 2am, it's clear, going on six months since he's had any real time in his New York digs, that his collection of pals also provides a sense of home. Even though it's late, even though they clear out in three hours in order to make it to the next tour stop, and even though he still hasn't managed to slip away for a shower after the gig, Høiberg insists on snapping several silly photos in front of the bus with his manager and getting in several rounds of hugs.