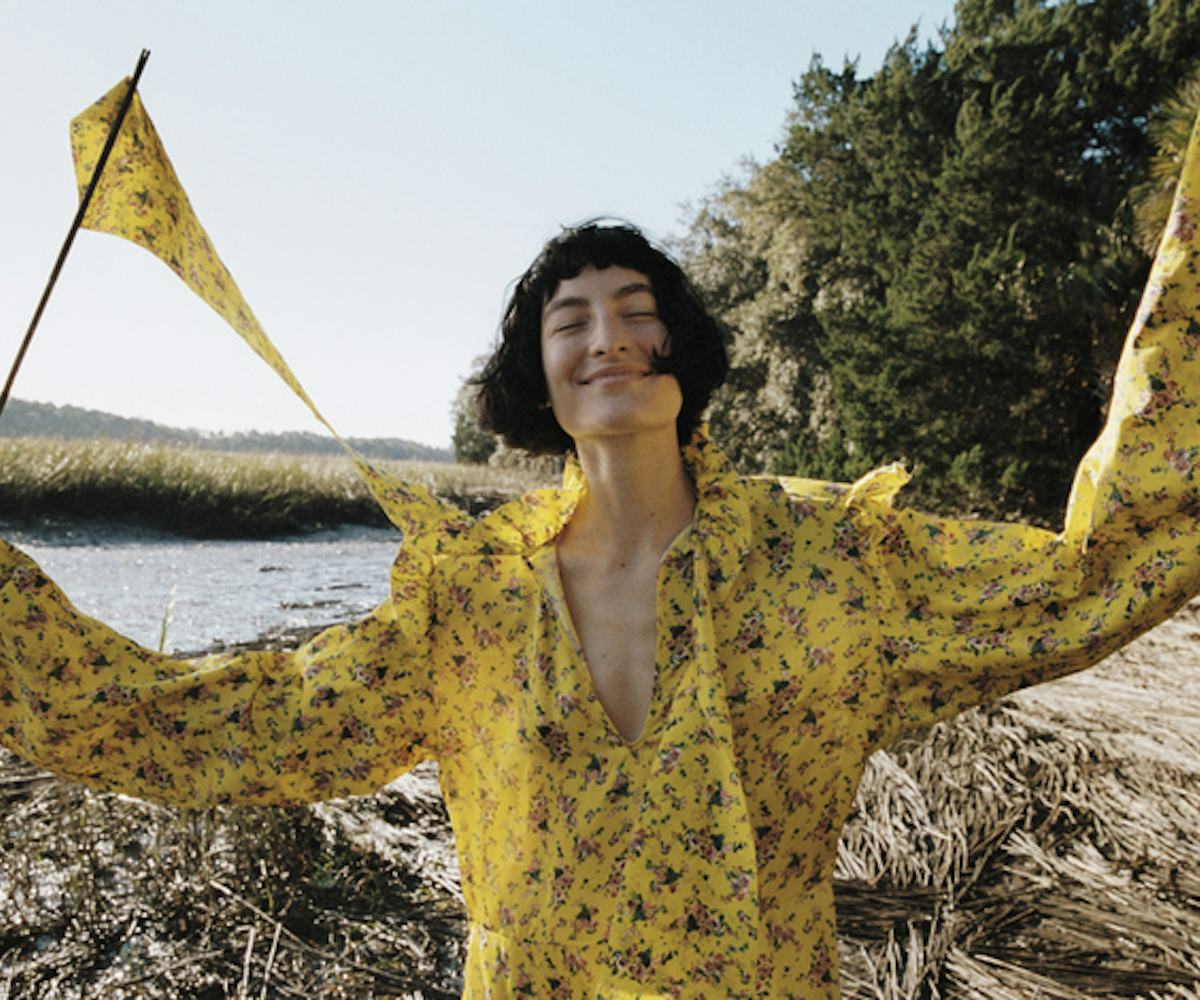 Courtesy of Cass Bird and Red Hook Labs
Cass Bird's New Solo Exhibit Invites You Into Her Bedroom
"In Bed" will be available to the public until September 24
If you've been searching for a new exhibit to fall in love with, Cass Bird's latest installation is the one for you. The highly regarded fashion editorial and advertising photographer debuted her solo exhibition, "In Bed," Wednesday night in her "bedroom" at the Red Hook Labs in Brooklyn, New York. The waterside gallery's huge empty space is now filled with work from Bird's extensive archive and features personal photographs that she has taken of her friends, as well as her partner Ali and their two children Leo and Mae. Constructed in the middle of the space, the exhibit features a makeshift bedroom composed of a dresser, comfy chairs, and, of course, a bed.
Pictures can be found in scattered clusters across the bedroom's interior walls. Milk crates double as bedside tables for books, one of which is titled My Lesbian Agenda. The photos in the bedroom are unframed and grouped together, giving the viewer an intimate glimpse into her family's private life. The authenticity and love are especially felt in the photos with Bird's partner and their children.
Although the show's title can be taken literally, the exhibition operates on a much deeper level. Bird makes it clear that a bed's function is limitless, which creates a space for the viewer to delve into an emotional exploration and connection with the presentation. She also does not shy away from nudity, and often uses unclothed subjects to exude a sense of intimate understanding and respect. Her gaze is always cultivated with care and awareness of all her subjects, leading the viewer to feel as though they are never intruding or acting as a voyeur, but are rather, welcome to become familiar with her life.
Besides images of her family and loved ones, well-known faces also line the walls of Red Hook Labs—model Freja Beha Erichsen is captured in the middle of an uninhibited laugh, actress India Salvor-Menuez is pictured with DJ-photographer Petra Collins together in a bathtub, and model Binx Walton is seen playing fondly with Bird's daughter in a backyard. Other works capture the Bird family dynamic—a shot of Ali and Mae in the bath, a picture of Cass that is framed by Ali's bare legs (amusingly titled "A Bird in the Bush"), a self-portrait in which Mae poses on Cass' shoulders with her legs covering her bare chest.
The most striking moment in her collection of photographs is the emotional charge behind all of them. It's almost as if her feelings have been transported inside you, as you look upon her subjects through her eyes. There is no power imbalance between photographer and photographed—it is a fair collaboration between the two. In capturing the emotions of her subjects, we, then, are given an innate understanding of Bird's own feelings—as each photograph exudes her love, happiness, humor, and personal connection to those in each frame. The viewer won't be able to help but to internalize those feelings.
These visceral emotional responses to the images are achieved due to the fact that Bird lays everything bare for the viewer. There is nothing covered up or subverted—it's all unapologetically there, authentic and honest.
"In Bed" runs through September 24. See some of the images from the exhibit, below.
"Self Portrait With Mae"
"Riane & Heels"
"Ali In Treehouse"