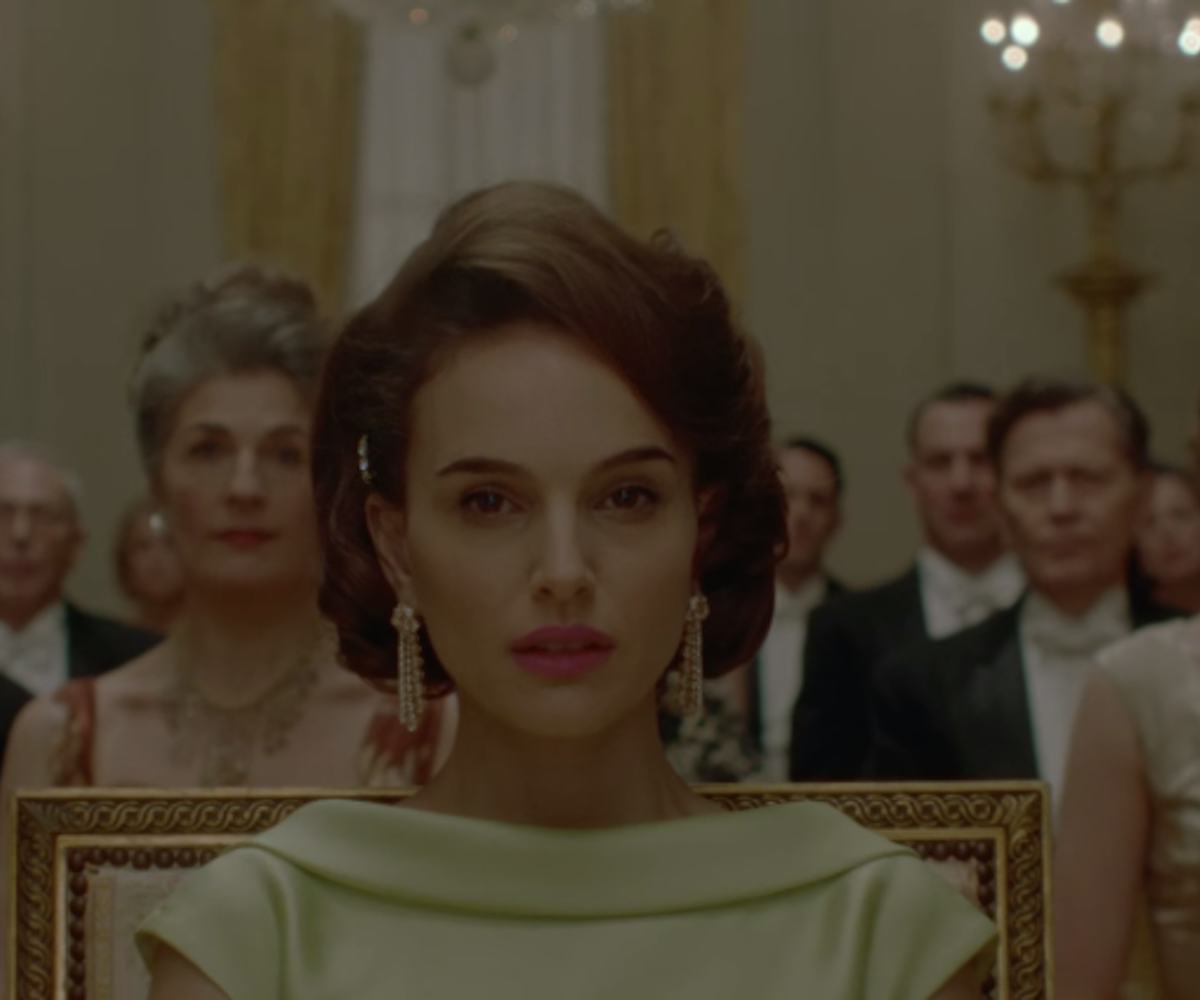 Photo via Fox Searchlight Pictures
10 First Lady Biopics And The Actresses Who Should Star In Them
This Friday, audiences will get to see Natalie Portman give one of the most talked about performances of the year in Jackie, a movie that charts the life of Jackie Kennedy in the stormy days following her husband's assassination. Portman, who is earning career-best reviews and is a frontrunner to win Best Actress at the Oscars, doesn't necessarily look the part of Kennedy, but according to her, the wig went a long way in increasing the resemblance. "I never really thought of myself as someone who can do imitations of a real person," Portman told Jimmy Fallon the other night. "The thing that was remarkable is when you put the wig on, everyone can look like her." Still, what really sells the performance is Portman's uncanny mastery of Kennedy's accent and voice, a reminder that the best actors don't need to look like the real-life subjects they portray in order to embody them. So, with that in mind, we selected 10 other First Ladies who deserve their own biopics and the actresses who'd be perfect to play them.
Scarlett Johansson as Martha Washington
Although ScarJo might seem too young to play the white-haired first First Lady that appears in most paintings, Martha Dandridge actually married George Washington when they were both 27. It was her second marriage, after losing her first husband at the age of 25. So rather than a fiery saga about the founding of the United States of America from Martha's perspective, we're imagining this to be more of a love story, where the coming revolution looms larger and larger in the background as the movie progresses. Of course, this biopic wouldn't be just a rosy love tale; Martha and her husband were slave owners, and while most history books like to focus on the fact that the first president freed his slaves upon his death, the reality was more complicated. First, George Washington's will only allowed for his slaves' emancipation upon the death of his wife; Martha's will did not allow for emancipation at all. The couple also worked around existing laws of the time to maintain their slave-holding and served as slave catchers as well. A film would need to address this, rather than gloss over it. Martin Scorsese's rumored George Washington biopic, The General, may or may not serve as a proper blueprint on how to pay tribute to one of our nation's founding fathers while remaining faithful to his seriously sordid history. 
Amy Adams as Abigail Adams
Besides sharing a last name, which is reason enough to cast Amy Adams as America's second First Lady, Abigail Adams was one of the most consequential First Ladies in history, and any story about her life will require some heavy lifting from whoever plays her. It makes sense, then, to cast Adams in a film that will include scenes where she openly rejects slavery, making her one of the first prominent Americans to do so. But if we're being completely honest, it's mostly the last name thing.
Kate Winslet as Dolley Madison
Casting a Brit to play one of our finest First Ladies might seem blasphemous, but we already have them playing Superman and Spider-man, so what is one more American hero? Madison is credited with rescuing the iconic Lansdowne portrait of George Washington from the White House, before it was set ablaze during the War of 1812, becoming a national hero because of it. But like the Washingtons, the Madisons were also slave owners, and some historians believe that it was actually those slaves who were the ones that stayed behind and rescued the portrait, a prospect that has the makings of a good mystery.
Sally Field as Mary Todd Lincoln
As of this writing, the definitive Mary Todd Lincoln performance belongs to Sally Field in Steven Spielberg's Lincoln. (An Oscar nomination will have that effect.) But all the awards love that Field deservedly got for her role opposite Daniel Day-Lewis fell in the supporting category, which is fair to her, but not to Mary Todd. The 16th First Lady of the United States was an iconic figure in her own right, and while the years following the death of her husband are filled with tragedy and deteriorating health, we'd like to see a Jackie-style movie about Mary Todd's life in the immediate aftermath of her husband's death, when a nation that had just emerged from the Civil War was once again plunged into turmoil. And if Cate Blanchett can play Queen Elizabeth I in two separate films, there's no reason why Field can't pull double duty as well.
Meryl Streep as Eleanor Roosevelt
Eleanor Roosevelt is routinely chosen by historians as one of the best First Ladies ever, thanks to her human rights activism—her support of African-American rights made her deeply unpopular in the South—which she continued well after her husband's death. By the time she died in 1962, Roosevelt was a global figure who symbolized human decency. So it only makes sense that the GOAT is played by the GOAT.
Melissa Leo as Lady Bird Johnson
Despite the uncanny physical resemblance, Melissa Leo is an Oscar-nominated actress who has played many ambitious, no-nonsense women in movies like Flight and The Big Short. That experience would serve her well while portraying Johnson, who was a politician in her own right, playing an instrumental role in promoting the Highway Beautification Act, as well as the Civil Right Act. Another experience that would serve Leo well is the fact that she happened to already play Johnson opposite Bryan Cranston's Lyndon in the recent HBO movie All The Way, so there's that.
Jessica Chastain as Rosalynn Carter
As a president, Jimmy Carter gets a bad rap. Not true for his better half, Rosalynn, who was very politically active during her husband's administration, sitting in on his Cabinet meetings and acting as one of his closest advisers. Carter made mental health research one of her top priorities, and just two years into her tenure in the White House, Time magazine named her the second most powerful person in the United States. Jessica Chastain—from her role as a relentless CIA agent in Zero Dark Thirty to her most recent one as a relentless anti-gun activist in Miss Sloane—exudes power. The red hair doesn't hurt either.
Annette Bening as Nancy Reagan
There is perhaps no other living figure who best approximates Ronald Reagan than Warren Beatty—other than their actual, diametrically opposite political beliefs, of course. Still, though, there is that movie star pedigree, the political ambitions, and the everlasting romance with an equally glamorous wife. That wife, Annette Bening, also happens to be one of America's greatest living actresses and have experience in a fictional White House, as Michael Douglas' love interest in The American President. Much like her husband, Nancy was a complicated and controversial figure in her own right, and not just because of her decision to replace the White House china. Reagan, who brought with her to the White House a degree of Hollywood glamour, was known for her anti-drug campaign, "Just Say No," which is now considered to be a massive failure. And while some obituaries and world leaders celebrated her life—which included a winning battle against breast cancer—when she died earlier this year, others made sure to take note of the massive failure of the Reagan administration, including Nancy's role in it, to address the rise of the AIDS epidemic. Nancy famously refused to help her longtime friend Rock Hudson, who died from AIDS, when he asked for it in the '80s. It ultimately took actress Elizabeth Taylor to convince the Reagans that their actions regarding the disease were unconscionable for them to eventually fall down on the right side of history. So maybe the real question is: Who should play Taylor in this film?
Laura Linney as Hillary Clinton
Despite losing the Electoral College vote and thus the presidential election, it feels like Hillary Clinton has never been more popular than she is at this exact moment. Some of that has to do with her two million-plus lead in the popular vote, and some of that has to do with the fact that we really, really wish she was our president. If Hollywood producers want to strike while the iron is hot—something they're known to want—may we suggest locking up Laura Linney right now? She not only looks the part but also has the acting chops to sell Clinton's considerable ups and downs, from public humiliation at the hands of her husband to—despite its tragic ending—what we think was an ultimately triumphant presidential run. 
Regina King as Michelle Obama
Tika Sumpter had the honor of being the first actress to portray our current First Lady on the big screen in this year's Southside With You, a movie that chronicles Barack and Michelle's first date. But for a film about the following chapters of Michelle Obama's remarkable life—from Chicago lawyer, to mother, to public figure, to global icon—we nominate Regina King, who is one of the best actresses in America, but who, until now, has mostly made her mark on television shows like The Leftovers and American Crime, a performance that has earned her two Emmy Awards. It's time she carries her own movie, and this would be the perfect one.