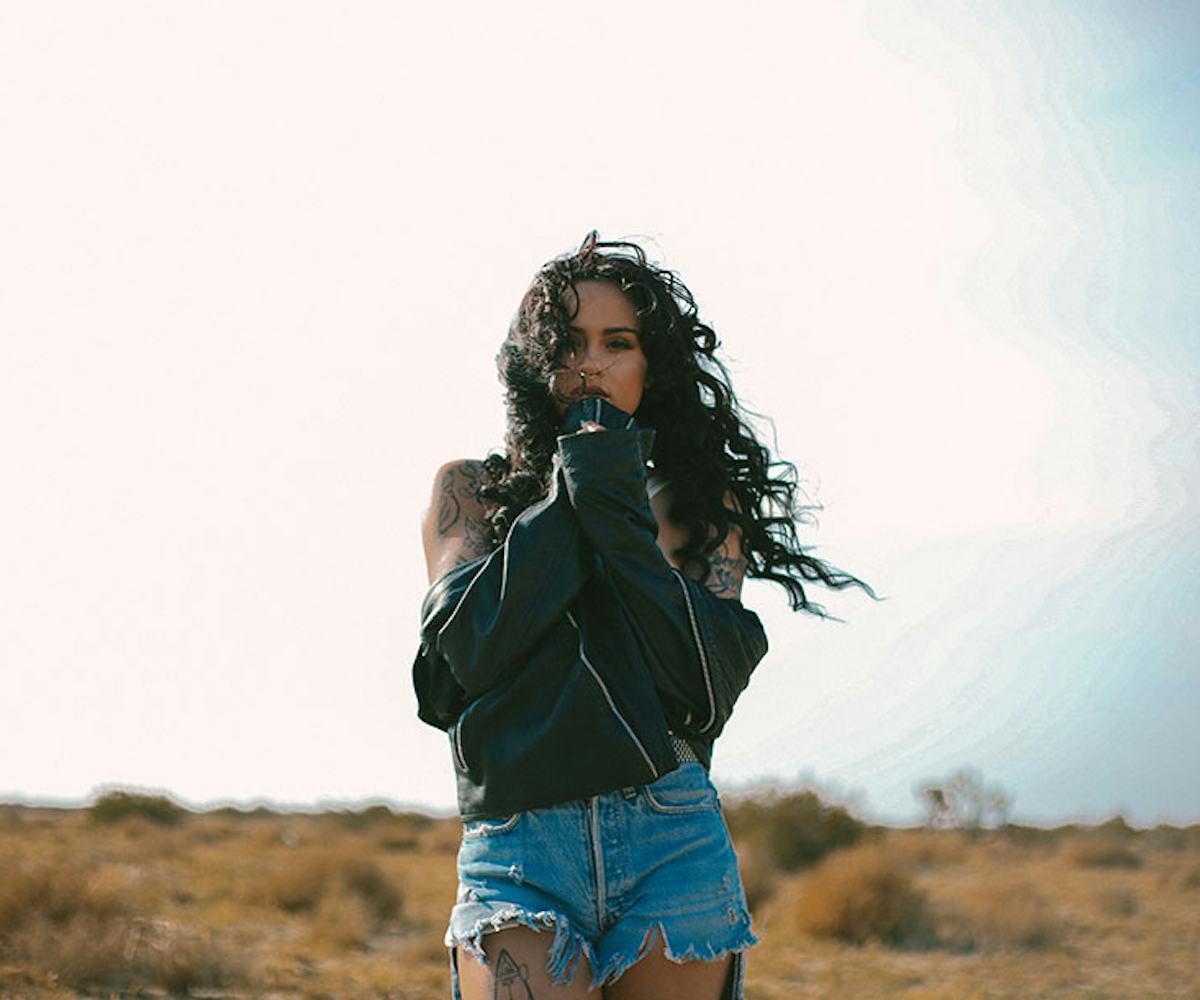 Photo by Brianna Agcaoilli via Atlantic Records
Catching Up With Kehlani
she discusses her writing process, being inspired by partynextdoor, and rainy days
"Sorry, I'm just writing a song," Kehlani says between interview questions as her French tips clack away at her iPhone screen. Her genuine apology proves two things: One, that she has enviable multitasking skills, and two, that even with all of the attention she's gained, the R&B singer hasn't lost sight of what it is that drew her dedicated fanbase—her uncanny ability to write lyrics that strike a chord within her listeners, and to sing them with a raw and moving emotion. She first caught our eye back in April, and she's come a long way even since then, from dropping her second mixtape You Should Be Here—and selling out its accompanying North American tour—to turning just 20 years old.
We braved the pre-Hurricane Joaquin storm to catch up with her backstage at The FADER and Vitaminwater's #uncapped concert series in New York City and, trust us, you should've been there.
You sold out a couple of shows from the European extension of your You Should Be Here tour.
Yeah! I sold out [the North American leg] and I sold out London in eight hours, so we added another show. We sold out the second show in four hours. I'm excited to go out of the States. I've never left the country, except for Canada.
Any funny stories from the road?
In Hawaii, after the show they were like, "Okay, we're gonna do this dramatic thing where you're gonna run off the stage and we're gonna film you." So I ran off the stage, and all of a sudden they yell, "Surprise!" and they pop and pour eight bottles of Champagne all over me! It ended up being used for the "Alive" video. That was a good moment.
Even with all of the attention you've been getting, you've still maintained a close connection with your fans. What do you attribute that to?
Having idols that I couldn't get in contact with. It's not necessarily because they didn't want to. We're just in a different time. When I was growing up, looking up to Aaliyah, TLC, Jill Scott, Lauryn Hill, we didn't have Twitter, Instagram, or Snapchat. There was a cool mystery that celebrities had, but you wanted to know more. I wasn't reading magazines when I was little. I wasn't reading people's interviews online. I didn't really have that connection, but we have that now. My whole purpose of making music is for people who have similar stories and can relate. It would make no sense that my music offers so much help to other people, but I don't actually make connections [with my fans].
When did you realize that that connection was so important?
When I started getting feedback. People would say, "You had the courage to tell your story and you saved my life." At first, I said, "There's no way. I made this song in this random room and I just thought it was tight, and it saved your life?" But it just kept happening. People started telling me I fueled their weight-loss journey, or their coming out to their parents, or things like that. So, once I got the feedback and I knew that I was doing good for other people, then I realized I could only keep going.
A huge part of that connection with your fans is the fact you write your own songs—you're literally doing it right now! How has your writing process changed over time?
At first, I used to only be able to write based on whether I was going through something. Recently, I've been able to just tell stories. I've been able to challenge myself like, let me think of a situation—say a guy goes to the army, his legs get chopped off and he gets sent home, and his wife has these crazy feelings; "Well, now, I have a husband who's paralyzed, but I love him to death, but I have to help him get his self-confidence back." I've never met a man with his legs chopped off, or loved him, or had to nurse him back to being confident. But I'm able to put myself in that perspective and write from that perspective.
How will that translate to your next project?
My next project definitely has a consistent theme and it all flows into each other, rather than just a bunch of collections of stories.
You've worked with a good number of artists. Who's been the most insightful?
We didn't collab, but PARTYNEXTDOOR gives me the best advice. He knows what he's doing. It's calculated, but also there's so much talent involved that half of it just comes naturally. He's just always teaching me to be mindful and be aware of what I'm doing. He's a very smart man.
One of your collabs we've had on repeat is your "Hotline Bling" remix with Charlie Puth. How did that come about?
We were at the studio. It was the last 30 minutes of our session and I said, "We should make a cover. Your song is crackin' right now, my mixtape's gonna be good. Let's just do it for the fans." We thought of "Hotline Bling" and we made a remix. Somebody got the instrumental and put our version on Drake's version, and it's been playing on the radio. I actually got into an Uber the other day in San Francisco literally two days ago, and it was playing. I told the Uber driver, "That's me!" He was like, "I don't believe you! You're a liar!" Like, I don't think I'd be frantically Snapchatting myself if it wasn't me, sir, but I'll take that. [Laughs]
There have been so many good covers of that song, too.
Erykah Badu just dropped one. It's ridiculous. I'm a fan.
Who else have you been listening to?
Bryson Tiller's [TRAPSOUL] is so good. But when you're in album-mode as an artist, you try not to listen to too many things that are currently going on, so I'm pretty much listening to my friends, people that I know, and my music. I downloaded a bunch of albums that were sonically different, that could challenge my ear—a lot of old Amy Winehouse, a lot of Jazmine Sullivan, a lot of old Musiq Soulchild. I have a brand-new computer, so I had to download a lot of stuff anyways, but I have an inspiration folder with old stuff that'll just remind me of golden times in music that I'm trying to get back to.
You mention your friends a lot, and there's a stigma associated with having your friends on your team as you break into the industry. How have you guys maintained your balance?
One, none of my friends are yes-men. When they became part of my team, I told them I will not allow them to ever put me on a pedestal. Even if I say things the wrong way, they let me know because I never want to become crazy. It's just so opposite of me right now, I couldn't even imagine transforming into that. But we keep each other grounded. We're going to all of these places, but we count our blessings and remember that we should be very thankful for this because we're lucky to even be able to do any of these things. And we always team meetings and talk about problems as they come up—things always go wrong with people's teams when they stop talking to each other. If everyone knows everything, it's gonna be fine.
Last question: Considering the weather we're having in New York today, what's your rainy-day routine like?
Man, I love rainy days. I live in Los Angeles and we're in a drought, so we really don't get too much rain. I'd rather write and record in the rain, as dramatic as that sounds. It's a beautiful thing for an R&B singer to be able to sit by a window, watch it rain, listen to it rain, smell the rain, and just write and think. I like to clean when it rains, stay in and clean. Burn incense, write. It's an excuse to not be outside being crazy, so it's my time to just reflect. People say weather and time really affect people's moods: You're completely different in the morning than you are before you go to sleep. You are completely different in the rain than you are in the heat, as you are in the snow, or anything else. It's also why I choose to make certain music at certain times in certain places. So on rainy days, I just wanna write.