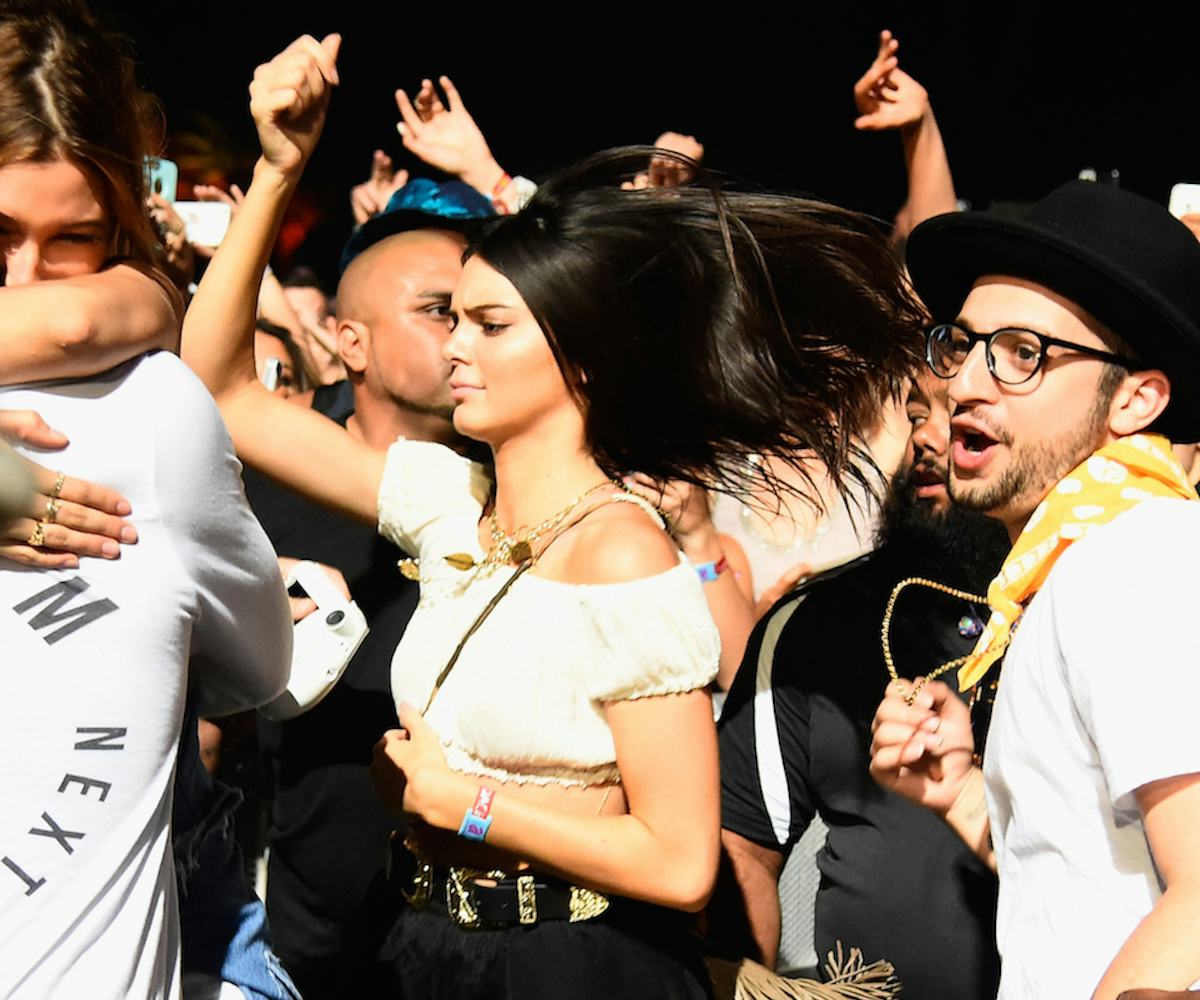 Photo by Frazer Harrison/Getty Images
Forget Street Style, Coachella Is For Awkward Celebrity Dances
Years and years ago, music festivals were safe spaces. You could go about your business, partake in whatever substances you wanted to, and vibe out to your favorite artists without any hassle or bother. But then camera phones were released, and nothing was sacred. TMZ came on the scene, and the general Internet boom hit, spawning memes, viral videos, and entire Tumblrs devoted to celebrities doing normal, everyday things. All of a sudden, Coachella became a star-studded spectacle not just for its attendees, but also for anyone with a little bit of Wi-Fi. While it's depressing how privacy hardly exists anymore, it also makes us all feel a little closer to the celebrities who would otherwise seem so unattainable. Partake in the bittersweet nature of it all by watching videos of celebrities dancing their asses off in the gallery, below.
Robert Pattinson
Last year, Robert Pattinson showed up at Coachella to support his beautiful, ethereal girlfriend FKA twigs. And on the festival's last night, the couple snuck down into the throes of the crowd to experience Drake's headlining performance and bestow us all with Pattinson's signature move: the captivating dad-goes-gangster lean.
Leonardo DiCaprio
For as much as he's gawked over and held up on a pedestal, Leonardo DiCaprio leads a surprisingly chill life among the people. He selfie sticks, he rides Citi Bikes, and he even dances among them. In 2014, DiCaprio and his trusty newsboy hat took to the Coachella crowds during MGMT's set. What happened next is the thing of legend, as he tried his best to enact a choreographed dance routine with his friend.
Hailey Baldwin + Kylie Jenner
When you get together with your best friend, sometimes all you want to do is dance like no one's watching. And so when Hailey Baldwin and Kylie Jenner decided to dance together knowing full well that people were staring at them, they just went for it. Is this the modern-day version of the waltz? Can it rival the foxtrot? We'll leave the answer up to you.
Kendall Jenner
If anyone has mastered the art of the awkward dance, it's Kendall Jenner. And the model brought her expertise to Coachella, where she dazzled us all with her offbeat realness.
Beyoncé + Solange Knowles
Honestly, Beyoncé and Solange are just both pure magical beings who can do no wrong. And when they're together, their combined force is just so powerful that you can't help but smile and start dancing yourself. And when Beyoncé joined her sister onstage during her 2014 Coachella set, they set the festival metaphorically ablaze with their choreographed dance routine (which we like to think that they crafted at home on Christmas Day). 
Justin Bieber
Former YouTuber Justin Bieber does know how to dance. There are many, many music videos and live performances to prove that much. But sometimes the music just takes you over, and you have no choice but to give in and convulse to every beat. That happened to Bieber at last year's Coachella, and to be honest, we're pretty surprised it hasn't been turned into some sort of lightening beam meme. He's so turnt my god HAHHAHA pic.twitter.com/cv0jKPINre — Amanda (@ItsMandizzle) April 12, 2015