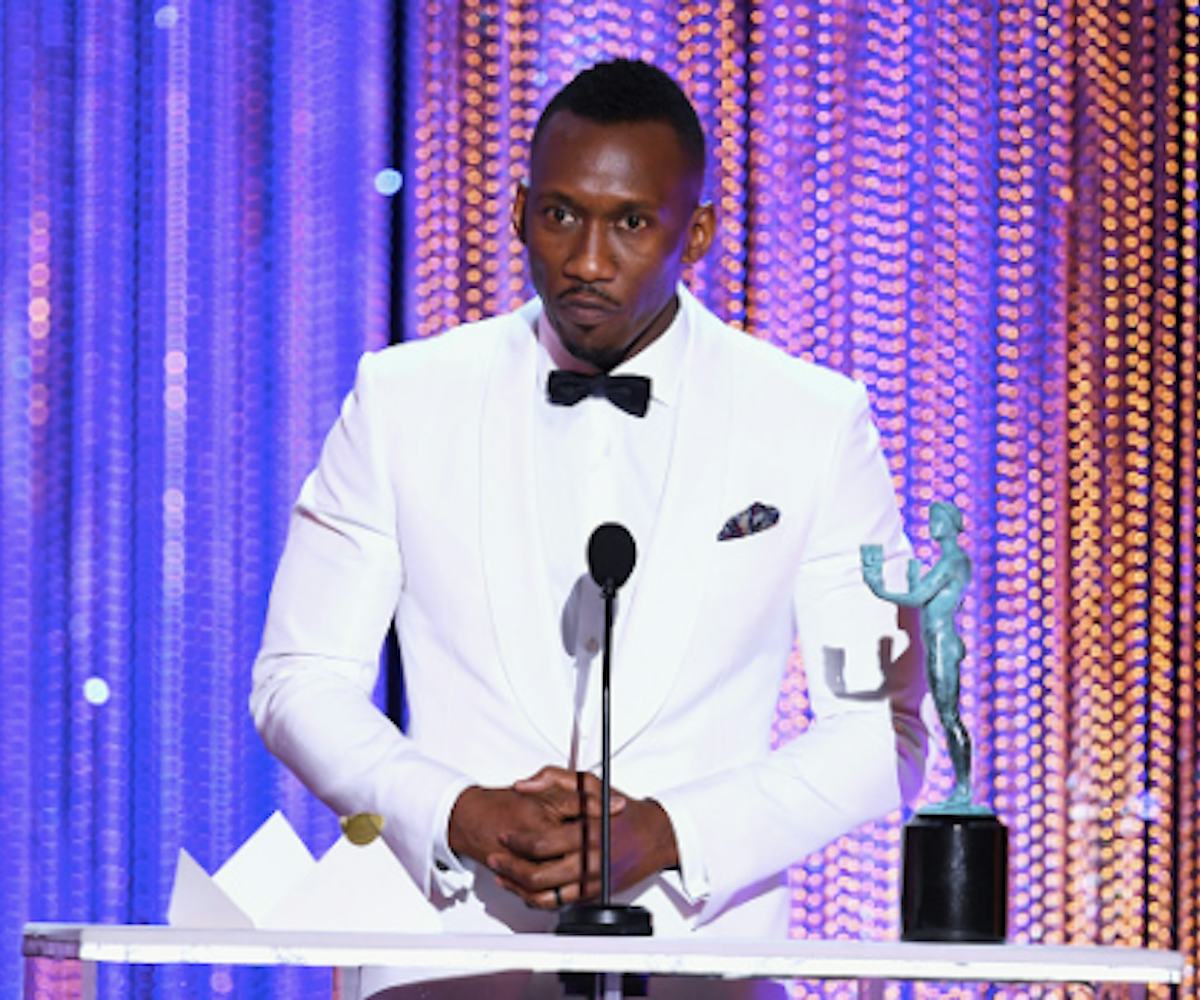 Photo courtesy of Kevin Winter / Getty images
Actors Speak Out Against Trump Immigration Ban At The SAG Awards
Ashton Kutcher, Julia Louis-Dreyfus, Taylor Schilling, and more.
While the actors who gathered for Sunday's SAG Awards were nominally on hand to celebrate this year's achievements in their craft, the powerful protests that unfolded all over the country this past weekend left many of the night's presenters and winners feeling compelled to address Donald Trump's despicable Muslim ban.
The night began with presenter Ashton Kutcher, who welcomed "everyone in airports that belong in my America," while adding, "You are a part of the fabric of who we are, and we love you, and we welcome you."
One of the night's first winners, Julia Louis-Dreyfus, used her comedic chops to mock Trump while accepting her award for Outstanding Female Actor in a Comedy Series for Veep. "Whether the Russians did or did not hack the voting of tonight's SAG awards, I look out on the million or probably even a million and a half people in this room, and I say this award is legitimate and I won," she began. "I'm the winner, the winner is me—landslide!" she joked. The actress then struck a serious note when she told the audience that her father was an immigrant who fled Nazi-occupied France during the Second World War. "This immigrant ban is a blemish and it is un-American," she added.
One of the night's most poignant speeches came courtesy of Mahershala Ali, who took home the award for Best Male Actor in a Supporting Role for Moonlight. "What I've learned from working on Moonlight is we see what happens when we persecute people," Ali said while fighting back tears. "They fold into themselves, and what I was so grateful about in having the opportunity to play Juan, was playing a gentleman who saw a young man folding into himself as a result of the persecution of his community, and taking that opportunity to uplift him and tell him that he mattered and that he was okay, and accept him. And I hope that we do a better job of that."
Next up, it was the cast of Orange is The New Black's Turn to make their position known, when they took the stage to accept the award for Best Ensemble in a Comedy Series. "We'd like to say that we stand up here representing a diverse group of people, representing generations of families who have sought a better life here, from places like Nigeria, the Dominican Republic, Puerto Rico, Colombia, Ireland, Brooklyn," the show's star, Taylor Schilling said, "and we know that it's going to be up to us and all of you probably, too, to keep telling stories that show what unites us is stronger than the forces that seek to divide us."
When William H. Macy took the stage to accept the award for outstanding performance by a male actor in a comedy series for his role as the oddball deadbeat dad Frank Gallagher on Shameless, he felt compelled to actually thank Trump for making his character "seem so normal."
Bryan Cranston pulled no punches when he accepted his award for Best Male Actor in a Television Movie or Limited Series for playing Lyndon B. Johnson in All the Way, by quoting a powerful line from the former president. "I'm often asked how would Lyndon Johnson think about Donald Trump, and I honestly feel that 36 would put his arm around 45 and earnestly wish him success," he said. "And he would also whisper in his ear something he said often as a form of encouragement, and a cautionary tale, 'Just don't piss in the soup all of us gotta eat.'"
One of the most memorable moments of the night came courtesy of the Stranger Things cast, who shocked the room by winning Best Ensemble in a Drama Series. And while the sheer joy of the show's child actors was contagious, it was David Harbour's impassioned speech about the role of artists in these trying times that really galvanized the room. "We are united in that we are all human beings and we are all together on this horrible, painful, joyous, exciting, and mysterious ride that is being alive," he said. "Now, as we act in the continuing narrative of Stranger Things, we 1983 Midwesterners will repel bullies. We will shelter freaks and outcasts, those who have no home. We will get past the lies. We will hunt monsters. And when we are at a loss amidst the hypocrisy and casual violence of certain individuals and institutions, we will, as per Chief Jim Hopper, punch some people in the face when they seek to destroy what we have envisioned for ourselves and the marginalized."
Even Emma Stone, who was totally freaking out when she won Best Female Actor in a Leading Role for La La Land, managed to address the controversy. "We're in a really tricky time in the world and our country and things are very inexcusable and scary and need action, and I'm so grateful to be part of a group of people that cares and that wants to reflect things back to society," Stone said.
This year's Oscars should be very interesting.