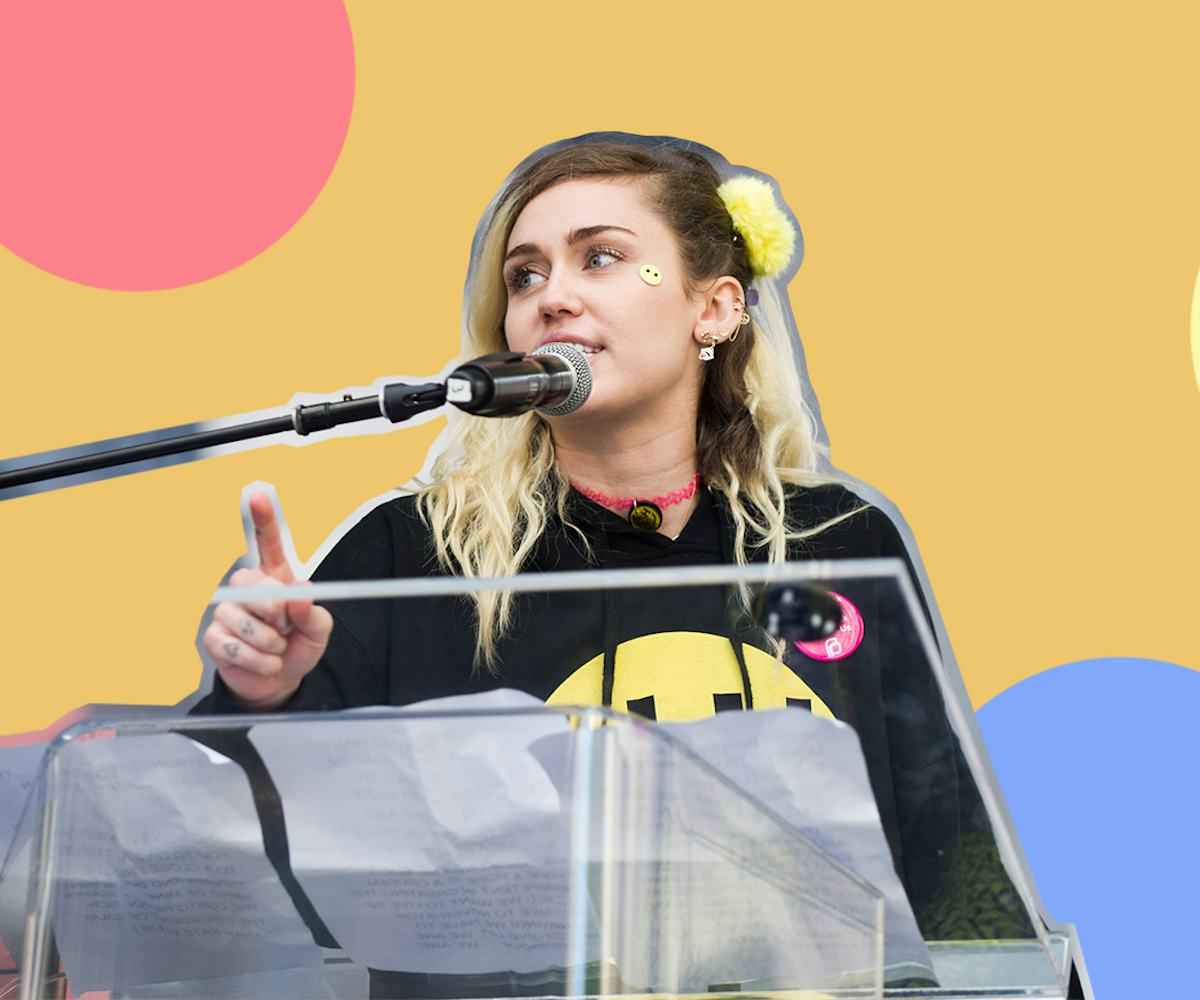 Photo by Emma McIntyre/Getty Images
5 Celebrity Causes Worth Getting Behind
If there is a silver lining to be found during these politically charged times, it's the impulse many have felt to act and stand up for the rights of disenfranchised and marginalized people which the new presidential administration threatens. January's Women's Marches showed that there is strength in numbers and those privileged enough with a platform to reach millions are using it to enact change and inspire their followers to rise up and resist. Silence, at this point, is not a luxury. It means complicity.
Many celebrities, thankfully, aren't remaining silent—even though it might not be as opportunistic as, say, promoting something of their own. Halsey promised to donate one dollar for each retweet she received, up to $100,000, and you know what? She donated $100,000 to Planned Parenthood. Not only does that bring women's rights to the forefront of her fans' minds, it benefits a real, valuable cause. By using their platform to spread awareness of political and social causes, celebrities are helping many who may feel overwhelmed by the task of getting involved become agents of change. That's where the following five causes come into play. They're here to help you participate and shape our future. It's what President Obama called on us to do during his farewell address. We can. We will.
Alicia Keys and the We Are Here Movement
We all question our existence and why we're here on this planet. Rather than wallow in that existential crisis, Keys believes the question can be a call to action. With this in mind, in 2014, she created the We Are Here movement to inspire and mobilize others to donate and get involved. Her cause benefits a variety of nonprofit organizations, ranging from gun violence prevention and immigration to LGBTQI+ rights and racial justice. She recently took her cause to the Women's March on Washington, alongside fellow Voice judge Miley Cyrus and her foundation, Happy Hippie.
For more information on how to get involved, head on over here.
Shailene Woodley and All It Takes
The Fault In Our Stars actor is one of Hollywood's most outspoken. Woodley has been protesting the North Dakota Access Pipeline for months, even getting arrested for doing so back in October 2016. Woodley's taken her activism to Washington, too. What's more, she and her mother, Lori, started a nonprofit organization called All It Takes in 2010. The organization encourages sustainable and positive change for individual communities and the planet at large. In addition to the DAPL, All It Takes' mission will be imperative in the coming months (and years) as the realities of global warming set in and educating others on how to reduce their carbon footprint becomes more and more necessary.  
For more information on All It Takes, head here. To donate, head here. 
Lady Gaga and the Born This Way Foundation
Lady Gaga has always been a vocal supporter of and advocate for LGBTQI+ rights. She uses her platform to encourage self-love, self-acceptance, and camaraderie of others. Her and her mom, Cynthia Germanotta's, Born This Way Foundation, named after her LGBTQI+ anthem, seeks to empower and embolden today's youth to live honest, safe, and loving lives. It aids in mental health research and helps foster supportive communities around the nation. With more and more young people today feeling galvanized by the political climate, Gaga's foundation's cause has never felt more necessary.
For more information on the Born This Way foundation, head here. To donate, head here.
Rosario Dawson and VotoLatino
Dawson is one of the co-founders and chairwomen of VotoLatino, an organization aimed at empowering the Latino community to be agents of change. With a grassroots mentality, VotoLatino provides the tools for Latino voices to enrich and uplift democratic ideals through voting and other programs. Wilmer Valderrama is a board member, and America Ferrera and Jessica Alba are among the organization's most vocal supporters.
For more information, head here. Donation forms can be found here; volunteer applications can be found here.
Miley Cyrus and the Happy Hippie Foundation
Miley Cyrus is truly a beacon of goodwill and hope. Her nonprofit, Happy Hippie Foundation, calls on young people to stand up for injustices around homeless youth, LGBTQI+ youth, and other causes, like the Women's March on Washington. So far, it has been a major advocate for LGBTQI+ equality, mental health and suicide prevention, and women's rights. Its vast resources page helps guide supporters to a variety of causes and how to get involved. Think of it as a platform for good.