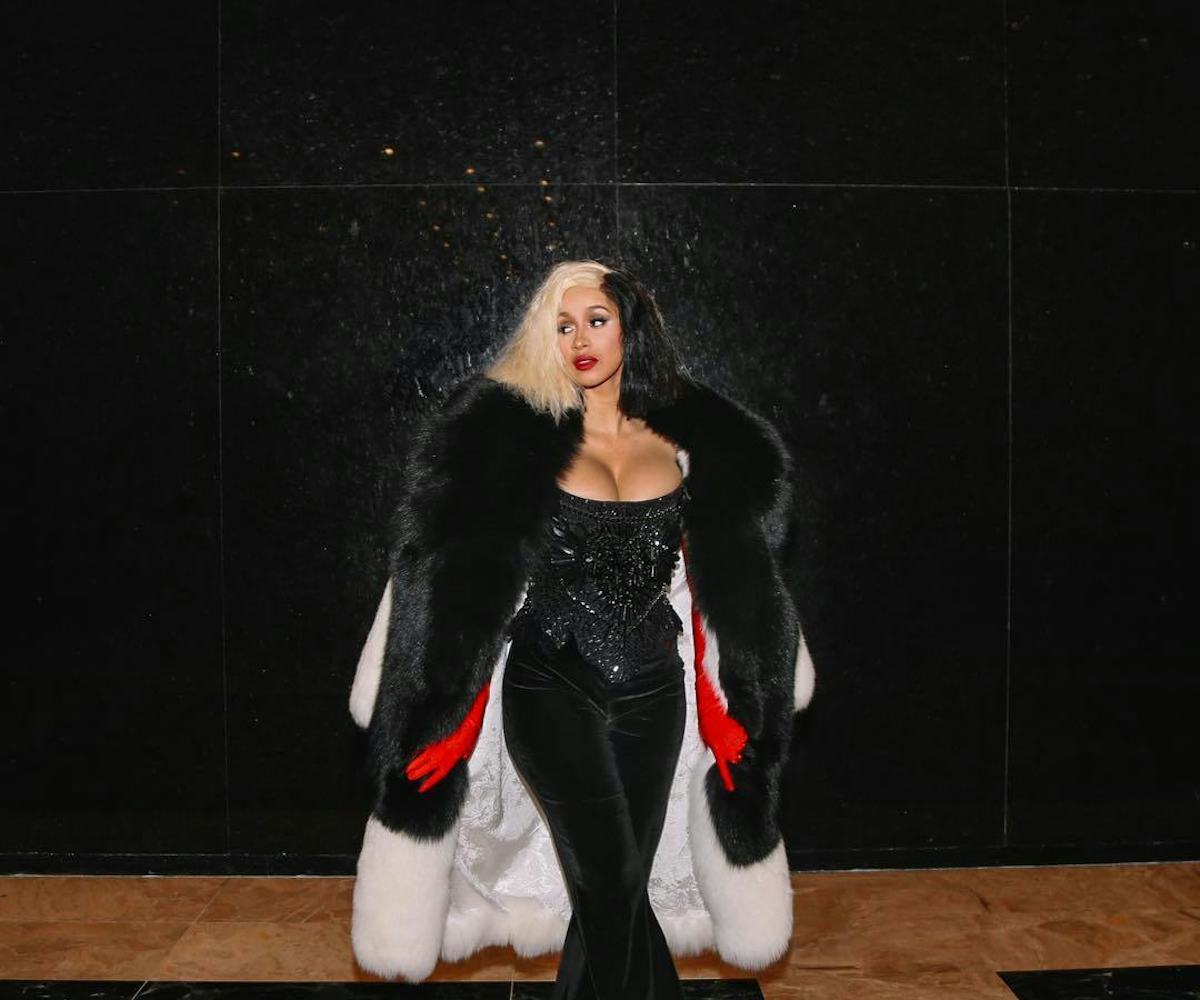 photo via instagram.com/cardib
30 Celebrity Halloween Costumes That Will Make You Do A Double Take
There are two types of people in this world: those who don't do Halloween at all, and those who do the absolute most. And even though we've seen some pretty horrible costumes ahead of the holiday today, our favorite celebrities came through this past Halloweekend to showcase some of the very best. Some so good, you might even do a double take.
It's hard to imagine this year topping last year's incredible costume roundup, but celebs like Demi Lovato and Kehlani make a pretty strong case for 2017 being the best Halloween ever.
Decide for yourself and see the 30 best celebrity costumes this year, below. 
Kehlani as Flaca in Orange Is The New Black is probably one of the most convincing costumes of the year. It was so good, Flaca herself (played by Jackie Cruz) reposted the photo with the caption, "Never felt so cool. 100 % #Flaca approved!"
LeBron James as Pennywise the Clown is truly something out of our nightmares.
Halsey and G-Eazy are too cute for words as Daisy and Gatsby.
Rita Ora got us under her spell as Poison Ivy.
Cardi B's "Bruella" Deville costume is the best we've seen in years. And that over-the-shoulder look? Iconic.
Are you there, Jesus? It's me, Kendrick Lamar.
We're still not over how much Demi Lovato resembles Selena. Talk about a doppelgänger!
Zoë Kravitz as Marla in Fight Club is the most accurate recreation of the iconic character we've ever seen.
Ellen DeGeneres as "Karla" Kardashian is peak Halloween.
Jessica Alba and her baby bump make for one adorable Juno costume.
Isla Fisher is actually all of us in her unicorn costume.
We don't know about you, but Aubrey Plaza's sinister Wednesday Addams costume is giving us chills.
Rowan Blanchard as Marie Antoinette? A million times yes.
Beyoncé and Jay Z attended Kelly Rowland's Halloween bash as two other music icons: Biggie and Lil' Kim. Talk about legendary.
Gabrielle Union and Dwyane Wade as Milli Vanilli take the cake. And that choreography? Yes, please!
Model Ebonee Davis goes all in as a literal Black Panther. Power to the people, indeed.
Ashley Tisdale or Maddie Ziegler in Sia's "Chandelier"? The world may never know.
Kim Kardashian pulled out all the stops as Aaliyah and Madonna this Halloweekend, but her Cher costume is certainly her best. Those lashes are fierce AF.
Speaking of Kardashians, can we please discuss how Kourtney Kardashian looks exactly like Michael Jackson?
It was only a matter of time before someone decided to be Cardi B for Halloween, and Eric Andre's costume is definitely the funniest one we've seen.
Amal Clooney is the '70s disco queen of our dreams.
Neil Patrick Harris' adorable family is known to go all out every year, but their latest group ensemble is giving us serious American Horror Story vibes.
We don't know what's better: the fact that Bruce Willis dressed up as one half of the Shining twins, or the fact that Samuel L. Jackson posted this photo on his Twitter. Iconic.
Laverne Cox opened up about her transformation into I Dream Of Jeannie character Major Nelson in a heartfelt Instagram post. She writes:Just a year ago I might not have been comfortable enough to dress in male drag for Halloween. This was kind of a big deal for me. Getting dressed definitely brought back some major trauma. But after all these years I know my womanhood is more than clothes. It's always been spiritual. Halfway through the night I did have to unleash my femme. She can never be contained for long.
Trans is beautiful. And that costume is magnificent.
Dua Lipa blessed us all with her fashionable reimagining of Beetlejuice character Lydia Deetz.
Usher truly brings on the funk as Rick James.
It was hard to narrow down the best Stranger Things costumes from this year, but Kelly Ripa and Ryan Seacrest hit their interpretations of Eleven and Mike right on the Eggo.
Adele is, hands down, the cutest clown we've ever seen.
Ellie Goulding showcases her love for Dolly Parton as the country icon this holiday, and we're loving it.
Spoiler alert! Gwyneth Paltrow's creative Halloween costume reveals a lot about the shocking ending of '90s thriller, Se7en.