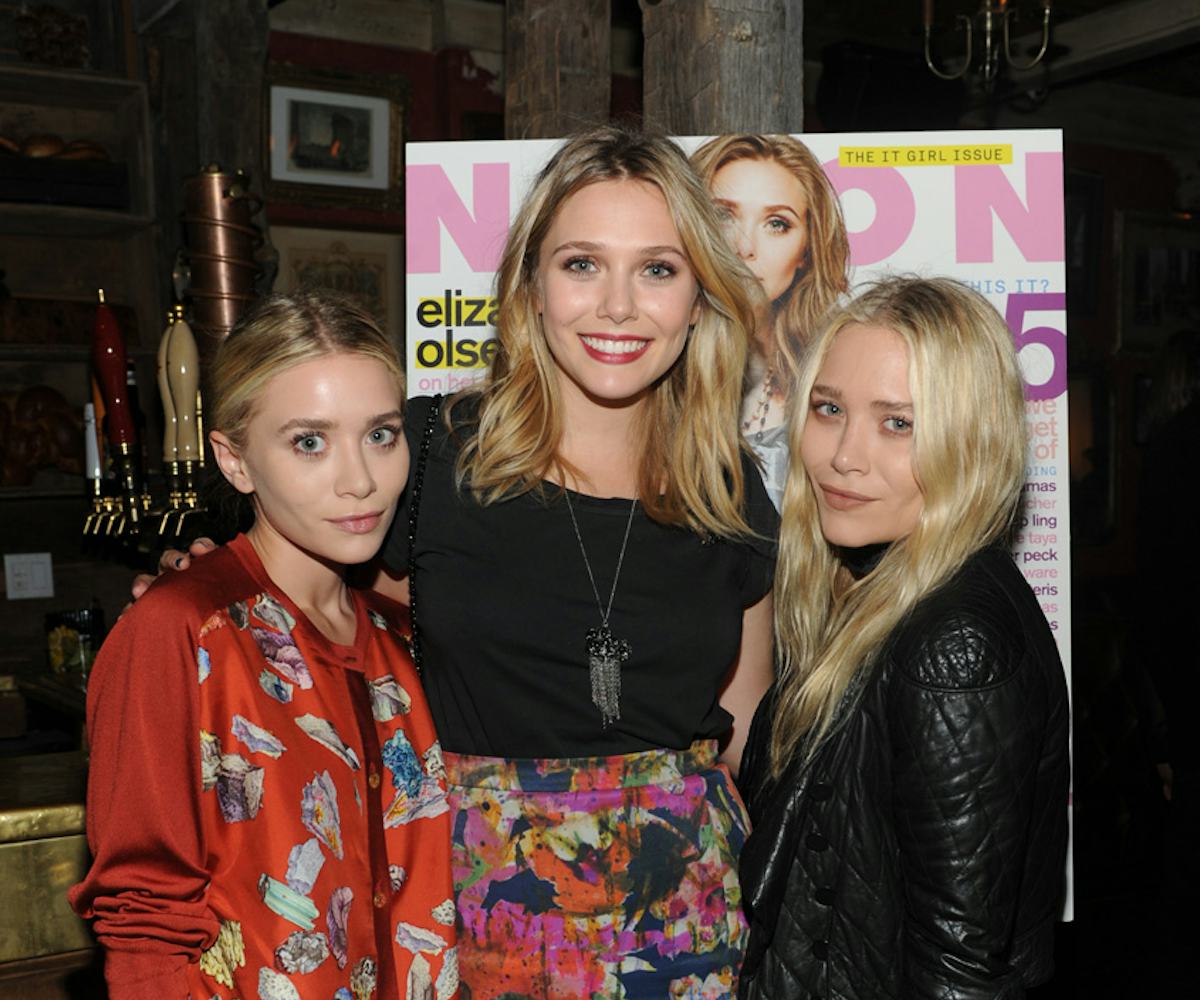 all photos by getty images unless otherwise noted
it's all relative
find out your celebrity siblings match!
by steff yotka and liza darwin
Happy National Siblings Day, everybody!
Obviously, this gives you that perfect opportunity to dig up those embarrassing #TBT photos of your brother or sister to post all over Instagram.
But you know what else it means? This the chance we've all been waiting for to find our dream celebrity siblings soulmates.
So whether you wish you were an Olsen, adopted by Haim, or were the third Knowles sister, check out our guide here to find out to which family you really belong. Hey, dare to dream...right?
If you like oversized black clothing, not using a hair brush, and sing alongs....You are The Olsens.
If you like Rodarte, sunscreen, and your hair straightener....You are Dakota and Elle Fanning.
If you like flower crowns, super eight film, and California...You are Lana Del Rey and Chuck Grant.
If you like football, center parts, and minimalism/monochrome...You are Kate and Rooney Mara.
If you like Taylor Swift, pumpkin spice lattes, and Peter Sarsgard...You are Jake and Maggie Gyllenhaal.
If you like Wes Anderson, Texas, and dead pan comedy...You are Owen and Luke Wilson.
If you like bangs, sitcoms, and Twin Peaks...You are Emily and Zooey Deschanel.
If you like Seth Rogen, school, and Judd Apatow movies...You are James and Dave Franco.
If you like eyebrows, Burberry, and Instagram...You are Poppy and Cara Delevingne.
If you like London, Andy Warhol, and music festivals...You are Sienna and Savannah Miller.
If you like dance parties, ab workouts, and stillettos....You are Beyonce and Solange.
If you like Lena Dunham, funny Instagram selfies, and New Jersey...You are Jack and Rachel Antonoff.
If you like leather, long hair, and Destiny's Child dance moves...You are Haim.
If you like NYLON Guys, Public School, and Demi Lovato....You are the Jonas Brothers.
If you like Australia, working out, and action movies...You are Chris and Liam Hemsworth.
If you like DJing, Kenzo, and pop culture...You are Steve and Devon Aoki.
If you like modeling, illustration, and fashion week...You are Dree and Langley Fox Hemingway.
If you like staying home alone, pizza, and New York City...You are Macaulay, Rory, and Keiran Culkin.
If you like the '90s, pop music, and It Girls...You are Charlotte, Samantha, and Mark Ronson.
If you like collared shirts, hair mousse, and feelings...You are Tegan and Sara.