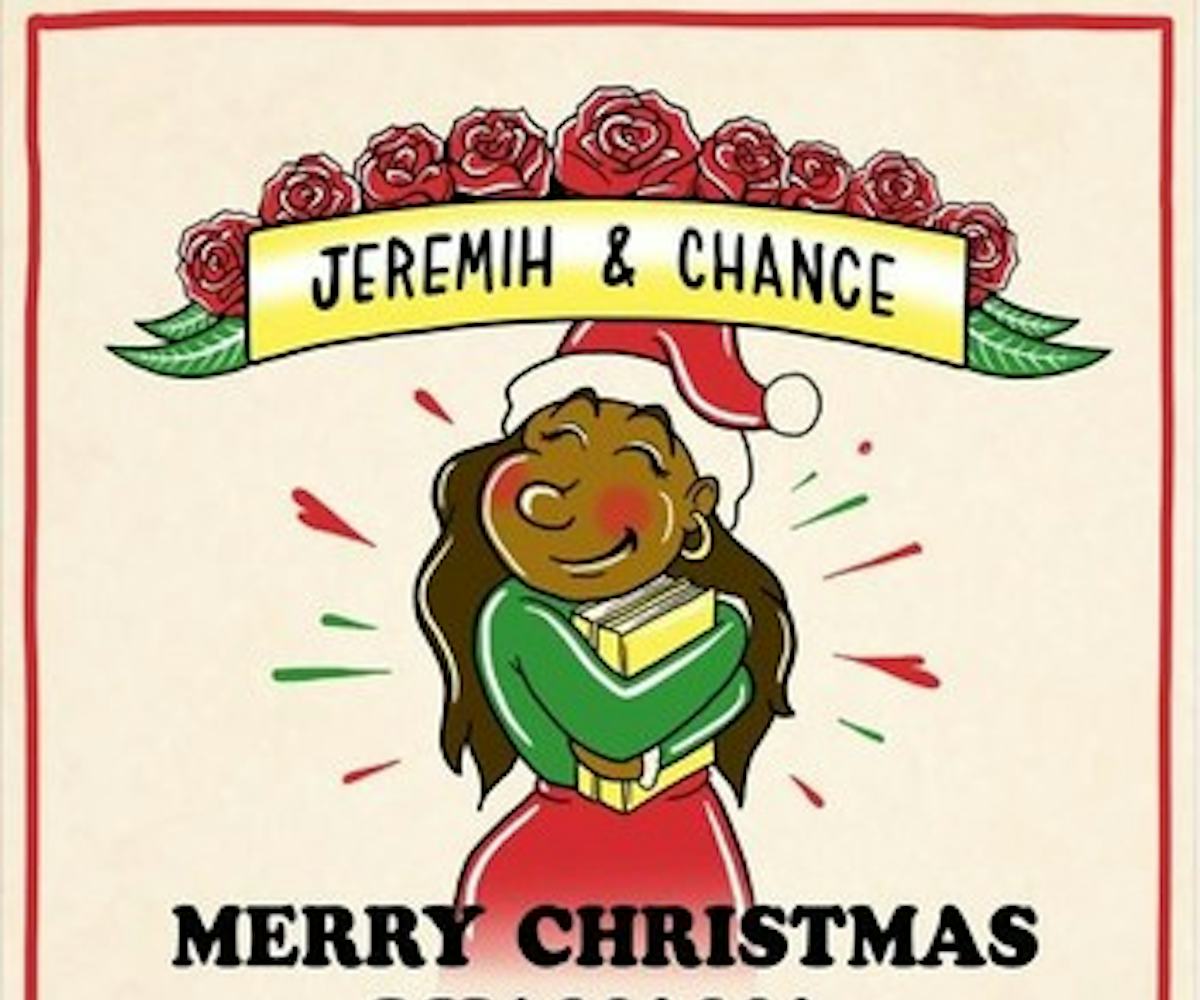 Chance The Rapper And Jeremih Just Saved Christmas
'Merry Christmas Lil' Mama'
In the spirit of giving, Chance The Rapper and Jeremih teamed up to bring us holiday cheer the best way they know how—by dropping a surprise mixtape. Merry Christmas Lil' Mama is dedicated to Chicago, which you should already know is Chance's hometown. (Hence the song "Chi Town Christmas.") The mixtape is stuffed with nine original tracks that will serve different purposes for your holiday weekend. 
"Snowed In" is perfect for getting cozy in your crib, "Stranger at the Table" channels The Ghost of Christmas Past while sampling a riff from the Jackson 5's "I Want You Back." You would think that "Joy" is pretty self-explanatory, but it's actually more about the steps to take in order to get back into that positive state of mind. "I'm Your Santa" will make you want to leave some extra cookies and milk out for a special someone, whereas "I Shoulda Left You" is about doing the polar opposite.
The closing track shares the mixtape's title and essentially outlines what happens after you kiss under the mistletoe. Overall, it's a chill compilation that will have you twerking around the Christmas tree in your best onesie. 
Chance has already been spreading the joy after first performing at the White House for the annual National Christmas Tree lighting ceremony and coming fresh off of a segment for the Saturday Night Live finale. Christmas happens to be his favorite time of year, in case you couldn't tell.
Jeremih has sort of been a walking question mark this year, but we still jam hard to his Late Nights album. Earlier this month, the R&B star was kicked off a co-headlining tour with PARTYNEXTDOOR. However, he has since bounced back by releasing more music like "Living Single," a collaborative effort with Big Sean and Chance The Rapper.
This whole mixtape is truly a Christmas miracle, though; it's a beautiful way to celebrate being alive with the people you love. It's like Chance says time and time again, "Music is all we got." Chance and Jeremih's combined presence is a present, indeed. Scroll down and deck your halls to the sound of Merry Christmas Lil' Mama right now.