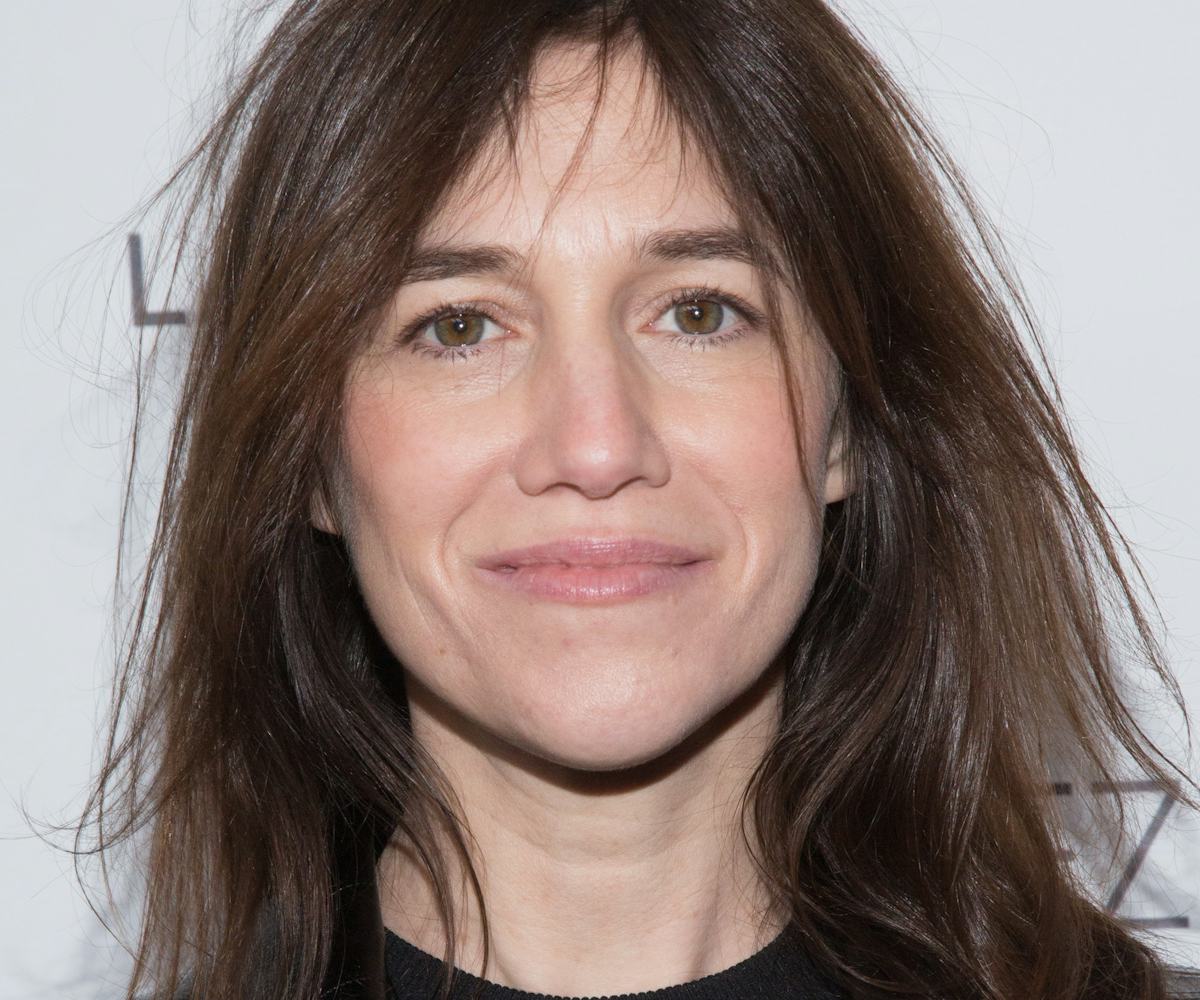 Photo by Jason Carter Rinaldi/Getty Images
the lighter side of charlotte gainsbourg
the french icon on her new comedy and letting go
Renowned for her physically and viscerally complex performances in films like The Tree and Danish auteur/thespian masochist Lars Von Trier's explicit opus Nymphomaniac, Charlotte Gainsbourg is one of cinema's most enigmatic provocateurs, consistently challenging herself and her audience by exploring interwoven themes of familial dissonance, sexuality, and the metaphysical. In the new film Samba, by French directors Olivier Nakache and Eric Toledano, she plays Alice, a workaholic on sabbatical after a nervous breakdown who rediscovers human connection by assisting an illegal Senegalese immigrant (Omar Sy), and takes on a very different challenge: Making audiences smile.
Reviews of Samba said you were cast against type, but I think what rather surprised people was seeing you play such a sweet character in a borderline romantic comedy. Were you driven to play something lighter?
I haven't done a lot of comedies. I've done some in France that I enjoyed so much that I was thrilled to play this character. I'm not going against my nature in reference to the character being very uncomfortable and shy. People in North America don't know me for these films, but I've done a film with Alain Chabat, and it was a big hit in France. It made it legitimate to do [comedy films] in France, anyway.
How do you find shifting into comedy? Is it challenging for you?
I love comedy, it's something I enjoy watching. The only ones I've done were such fun. Just to be able to do something very light—not that the character is light—but just to be able to have fun, to play, for it to be such a game, is great.
Your co-star Omar Sy's background is as a comedic performer. Did you find yourself feeding off his comedic instincts?
He's very generous as an actor. He was having fun himself and that made it fun for everyone. The whole team was so perfect for that film, and they were re-joining after this big hit that they had done all together (Intouchables)—not only Omar and the two directors, but also the whole crew. So the ambience on set was very lively and very welcoming. Omar's way of playing the part was very funny and [he always included you]. I was quite intimidated before we started, because I was wondering if I'd be able to improvise comedy and be on the same tone as he would, and he made it very easy.
Comedy is one side of the film, but it's juxtaposed with a very serious narrative about xenophobia and immigration in France. Your character, Alice, is repeatedly told to "keep her distance" from Samba. Do you feel like this a sentiment that is echoed in France today?
Oh, it's funny because nobody ever referred to that, and it's true. I mean, it's very obvious to say that to someone in order not to become too involved, because it can be very overwhelming in these places where you feel for the people you have in front of you. But I think there's so much to say on the subject, and I think France is not the perfect example, but we can't be completely naïve in thinking there's a perfect country that is welcoming. I would love to imagine that it is possible. Those places where we shot in were the real places, and some of the people are real people who have gone through these kinds of situations, so even if it was a comedy—and I hope it's not pretentious in the sense that it doesn't try to give answers—but I hope it's true enough. For me it felt true.
Did playing a character who is doing volunteer work for immigrants make you reflect on your own charitable pursuits?
Yes, of course. Again, with it not giving any solutions, it does make you feel for those situations and people in despair. Being on set with real people talking about their own lives, we had moments where all of us were very aware that these situations do exist, and we are very privileged and should try and hold out our hands a little more often. 
At one point in the film, you don Samba's lucky shirt. Do you believe in luck? Do you have any similar keepsakes?
I'm quite superstitious, in a stupid way. There are things that I would be ashamed to even start to explain, but you know, little bits and pieces that I've lived with all my life; like things that were given from my mother, little objects that I have and can't let go. But then I feel very stupid with those.
Do you keep mementos from your films, as well?
I keep everything. I keep the scripts, I keep some of the costumes, and then I stack boxes. I'll do that for the whole year—stacking boxes of memories. I have a lot of difficulty letting go. Even putting something in the trash is hard.
You've stayed on the outskirts of Hollywood for years now, but now you've been cast in Independence Day 2. What led you to leap into this blockbuster side of filmmaking?
I have always been very attracted to films like that. It's such fun to be involved in, especially because I've never done it before. It's completely new, and I'm just discovering the scale of such films and it's nothing I could relate to. It's just the scale of things that is so impressive.
You're an acclaimed actress and singer. What's next to conquer for you?
I hope a lot! I'm happy working; whether it's films or music or whatever, I'm happy to be active. So I hope there's a lot for me to do!