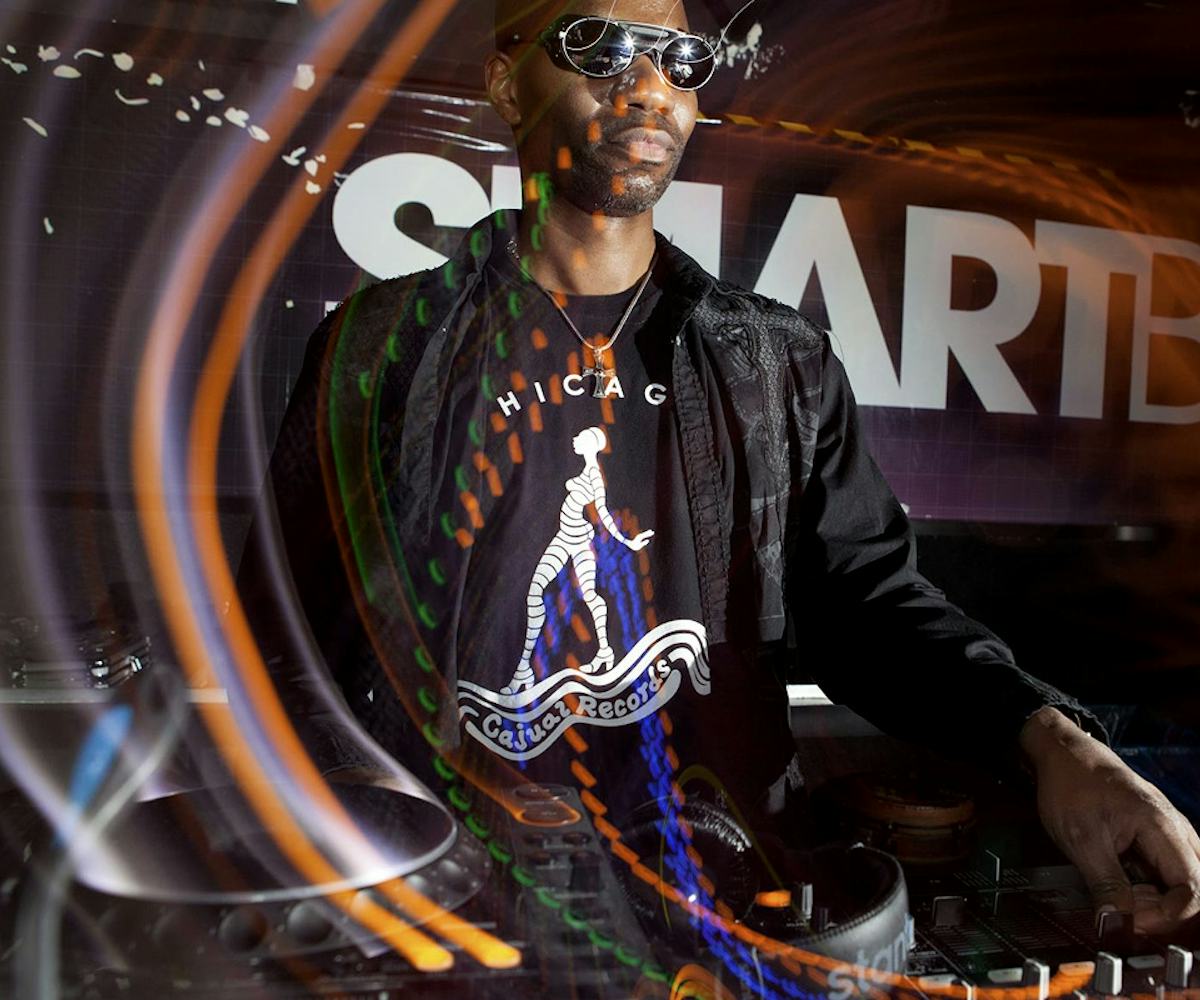 Photo by David Goldman
Updated: When Chicago Says Hip-Hop Isn't Art, It's Not Just Wrong—It's Classist
"Who has the right to classify what fine art is?"
When news broke Monday morning that a Cook County official in Illinois doubled down on what they do—and don't consider fine arts, Chicago erupted in disbelief. Anita Richardson, a hearing officer appointed by the county, told attorneys that live performances of rock, country, rap, and electronic music do not constitute "music" or "culture" as outlined by the county's oft-debated amusement tax ordinance. A decades old, but continuously amended ruling, the amusement tax has raised eyebrows since its inception for levying taxes on "owners, managers, operators of amusements or places where amusements are conducted." For a venue or event to be exempt, it has to be deemed a "live cultural performance."
As culture progresses, so, naturally, does the definition of what is considered culturally relevant—if for no other reason than that new cultural mediums emerge all the time. The definition of culture changes over the years, because what constitutes culture changes over the years. In keeping with this, the amusement tax ordinance has been through several iterations, including one in 2006, which specifically addressed DJ performances, making small venues under 750 capacity exempt if the DJ's activities "substantially add to or otherwise modify the pre-recorded material used by the DJ" (or meet a litany of other requirements). Further, under current code, venues are not subject to the tax if the cover charges or admission fees are for "in person, live theatrical, live musical or other live cultural performances." These additions aren't perfect, but it's an attempt at making an effort to recognize contemporary crafts.
So when Richardson declared that, "rap music, country music, and rock 'n' roll" do not fall under the purview of 'fine art,'" (i.e. cultural performances), and defended the county's actions to seek back taxes in excess of hundreds of thousands of dollars from venues that almost exclusively feature DJs playing hip-hop, rap, house, and other varieties of dance music, it was a slap in the face. We had already settled this.
Also, what? Rap, house, and dance music aren't cultural performances?
If you're wondering what Cook County deems a musical or cultural performance, the code as it stands today defines it as "any of the disciplines which are commonly regarded as part of the fine arts, such as live theater, music, opera, drama, comedy, ballet, modern or traditional dance, and book or poetry readings."
At first glance, as others have reported like the Chicago Reader, this move by Cook County reads as a simple cash grab to utilize a potential loophole in loosely written language, without any specific targets. But all the venues publicly named (Beauty Bar, Evil Olive, and Smart Bar) specialize not in country or rock, but dance and hip-hop.
"I'm going to be looking for some rather persuasive legal arguments that will persuade me," said Richardson during the latest hearing, "that all music falls within the category of any of the disciplines regarded as fine arts." She further added she would be "happy to hear your DJ witnesses," but insisted expert musicologists were needed to argue the definition of "fine art" and "further testify the music talk[ed] about falls within any disciplines considered fine art."
This argument by the county transforms a basic maneuver to collect extra tax revenue into something intensely more sinister: a statement on classism, a division of "us" versus "them," a standpoint where the people's music is deemed lesser than that which exists in a historically upwardly mobile circle. Or, as Chicago house artist, DJ, and record label owner Gene Farris put it more bluntly, "It's musical racism."
"What a total embarrassment the city of Chicago is," local DJ and artist The Black Madonna tweeted, "disowning the music of its people." Quick history lesson: Chicago is the birthplace of house music, a genre whose roots are closely connected to marginalized groups, including the LGBT community and racial and ethnic minorities. In 2004, in an initiative backed by then State Senator Obama, the city named a street after Frankie Knuckles, the man who invented the genre. Upon Knuckles' death in 2014, not only did the White House issue condolences, but Chicago Mayor Rahm Emanuel published a statement saying goodbye to one of the city's "most treasured cultural pioneers." The Chicago Department of Cultural Affairs and Special Events then sponsored a tribute to Knuckles in the center of the city, which attracted tens of thousands of devotees.
Chicago is also a city of stunning rap and hip-hop; the stomping grounds of Common, Lupe Fiasco, Kanye West, Vic Mensa, Flosstradamus, Chance the Rapper, and more. Kanye's production style, dubbed "Chipmunk Soul," had a ripple effect on local hip-hop, influencing albums like Twista's Kamikaze. Drill trap originated in Chicago (think: Chief Keef's "I Don't Like")—a raw genre that creatively came into its own against the area's notorious history of violence, with lyrics focusing on gritty daily life in underprivileged areas of the city.
These genres exist because of the struggles, voices, and stories marginalized groups—specifically people of color, many from impoverished neighborhoods, and the LGBT community—gave to music. They channeled their uniquely Chicago experiences into arts that are arguably the city's greatest contemporary export. And now these are the people being told by the county, as if it were the 1950s, that their contributions don't matter (or that they do, just not as much as a performance at the Lyric Opera). The city is basically saying that the above contributions are null and void; none of it is a discipline. The idea that we need musicologists to determine if a performance by Chance—a musician recently listed on "Forbes 30 Under 30" music list, thanks to critically acclaimed album Acid Rap—is "cultural," is shameful at best, and prejudiced at worst.
The aforementioned Knuckles won a Grammy in 1997. "Straight from the 'Go" Kanye sold out Madison Square Garden on the first day of New York Fashion Week this year with a double debut of his album, The Life of Pablo, and his Yeezy Season 3 collection. Jay Z dabbled in conceptual performance art in 2013 when he performed "Picasso Baby" for six straight hours at Pace Gallery, a blue chip art purveyor in Manhattan's Chelsea. Techno artist Jeff Mills has performed with the Montpelier Philharmonic Orchestra. Vic Mensa grabbed headlines at this year's Lollapalooza when he brought backup dancers in riot gear on stage, dedicating song "Sixteen Shots" to the Chicago Police Department before having drag queen Lucy Stoole marry a same-sex couple on stage during pro-LGBTQ track "Free Love."
In Cook County's eyes, these are all mere attempts at art. "It's a very slippery slope," Farris says on the government defining art. "They're saying certain things are culturally acceptable, and others aren't."
"Who has the right to classify what fine art is?" adds local artist (and Chance the Rapper's brother), Taylor Bennett. "The people making these decisions are not artists themselves. No matter what the cause is, the first people to always be attacked are minorities, those that are lower class, or those in the arts in general. It hurts me because people think we don't have the same capacity for art as everyone else; it shows there are people that still believe in the politics and the power, and that these things come before us."
By levying privilege toward arts that already exist within a bubble of privilege and dismissing those that are born by and large from parts of society that have chronicled struggles with rights and approval, Cook County's stance is about more than just money; it reinforces backward ideologies that feel incredibly antiquated. As The Black Madonna says, "If you drew a diagram of how to unfairly tax the venues of Chicago, based on race and class, this law is what you'd end up with."
The next hearing on the amusement tax is this October. Beauty Bar plans to bring a DJ to the courtroom to provide a live performance. In the meantime, can someone get these county officials a copy of Acid Rap? That might help them understand what culture sounds like in Chicago.
Update August 31, 2016 11:55am: On Tuesday, August 30, Cook County Commissioner John Fritchey filed legislation amending the county's amusement tax ordinance that will have a rational view of "music" while still providing safeguards to prevent businesses from avoiding legitimately owed taxes. 
"I don't believe that government should be playing culture police and deciding what constitutes 'music,'" said Fritchey. "Going after small businesses who have in good faith complied with what should be a common sense reading of the law is just plain wrong and to have it happen in a city that has given the music industry some of its most famous DJs and rappers just adds insult to injury."
Fritchey is also requesting the dismissal of efforts seeking back taxes from venues that can demonstrate they have been in compliance with city policies. The amendment will be introduced at the next county board meeting on September 14, 2016. Read the entire statement on Facebook here.