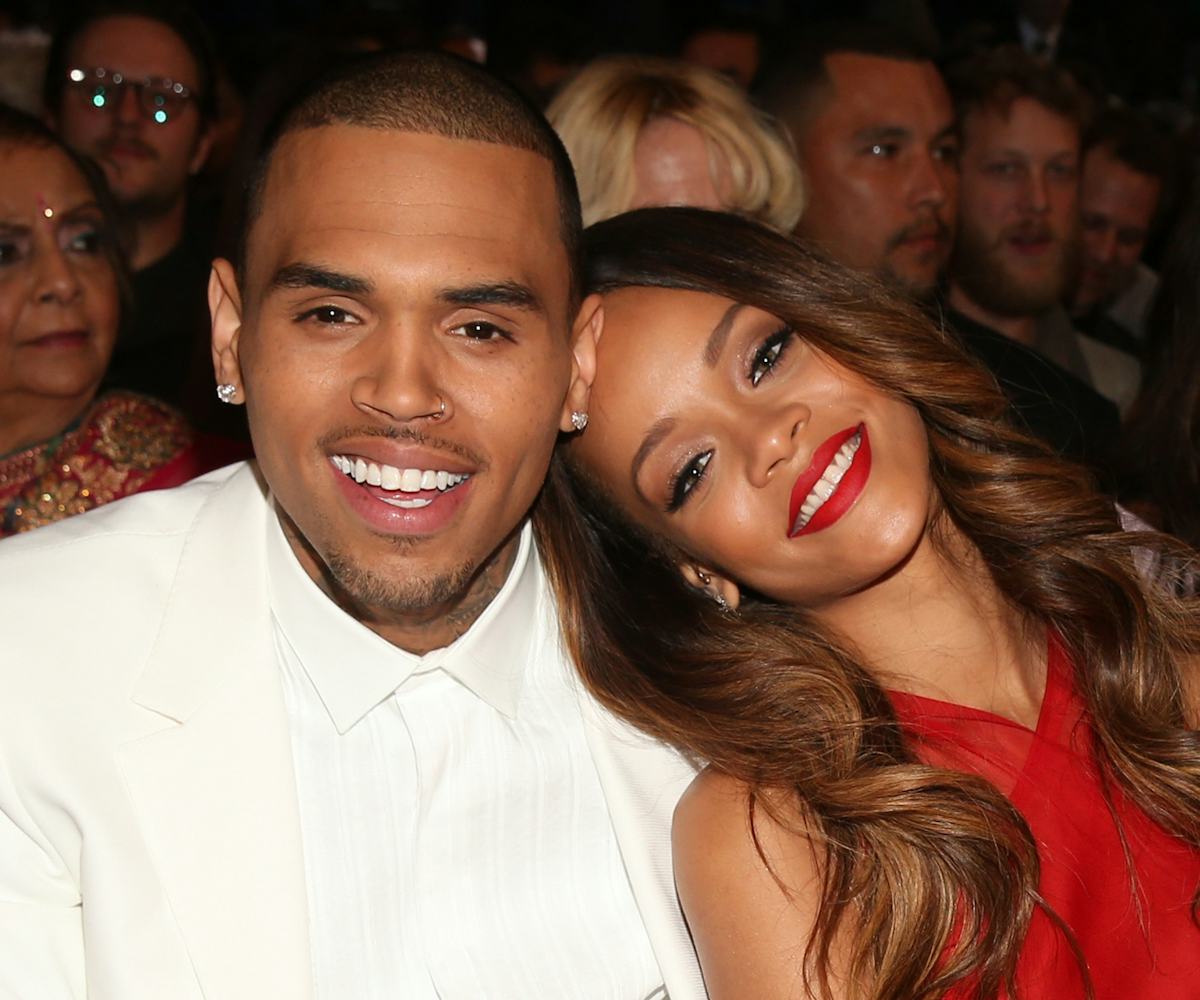 photo by christopher polk/getty images
Why Chris Brown And Rihanna's New Song "Counterfeit" Is Problematic
On Friday, Chris Brown released Before The Party, a 34-track mixtape leading up to his new album, Royalty. It's not too surprising that the songs feature his former collaborators and hip-hop stars like Fetty Wap, French Montana, Wiz Khalifa, and Tyga. What is surprising and unsettling is that one of the songs, "Counterfeit," features Rihanna, who he was charged with physically asaulting in 2009. 
Despite the public apologies he has made, the five-year probation, a trip to anger management rehab, and the fact that he was diagnosed with both bipolar disorder and post-traumatic stress disorder following the notorious attack, Brown's beligerant attitude and violence hasn't ceased. He spent time in jail in 2014 for assaulting a stranger outside a hotel in 2013, and has allegedly had altercations with musicians Drake and Frank Ocean. 
His treatment towards women has not improved, either. In 2012, he was criticized for a new neck tattoo that resembled a battered woman (and Rihanna), and many of the lyrics in his newer music is misogynistic, to say the least. His current relationship is also tumultuous, and he has been battling with Nia Guzman over custody of their daughter, Royalty. 
Since 2009, Rihanna has risen above to become a symbol of the modern-day woman who is strong, powerful, and in control of her sexuality and career. Returning to Brown again, even if it is just for work this time, (they confirmed their brief, on-again relationship in 2013) completely dismisses Brown's mistreatment of women and sends the message that abusive relationships should be forgiven.
What is arguably more unsetlling is the fact that the pair are reuniting for the sake of publicity—again. "Counterfeit" is their fourth collaboration since the domestic violence, following "Bad Girl," "Birthday Cake," and "Nobody's Business." The controversy surrounding their pairing on "Counterfeit" will, without a doubt, spark curiousity and generate more downloads and listens of Brown's mixtape, and also bring him extra attention just in time for his album release. Yes, Rihanna and Brown are artists and it's what they do for a living, but profiting off hype that's generated by past domestic violence—a serious, heartbreaking issue that physically and emotionally hurts so many women—is wrong.