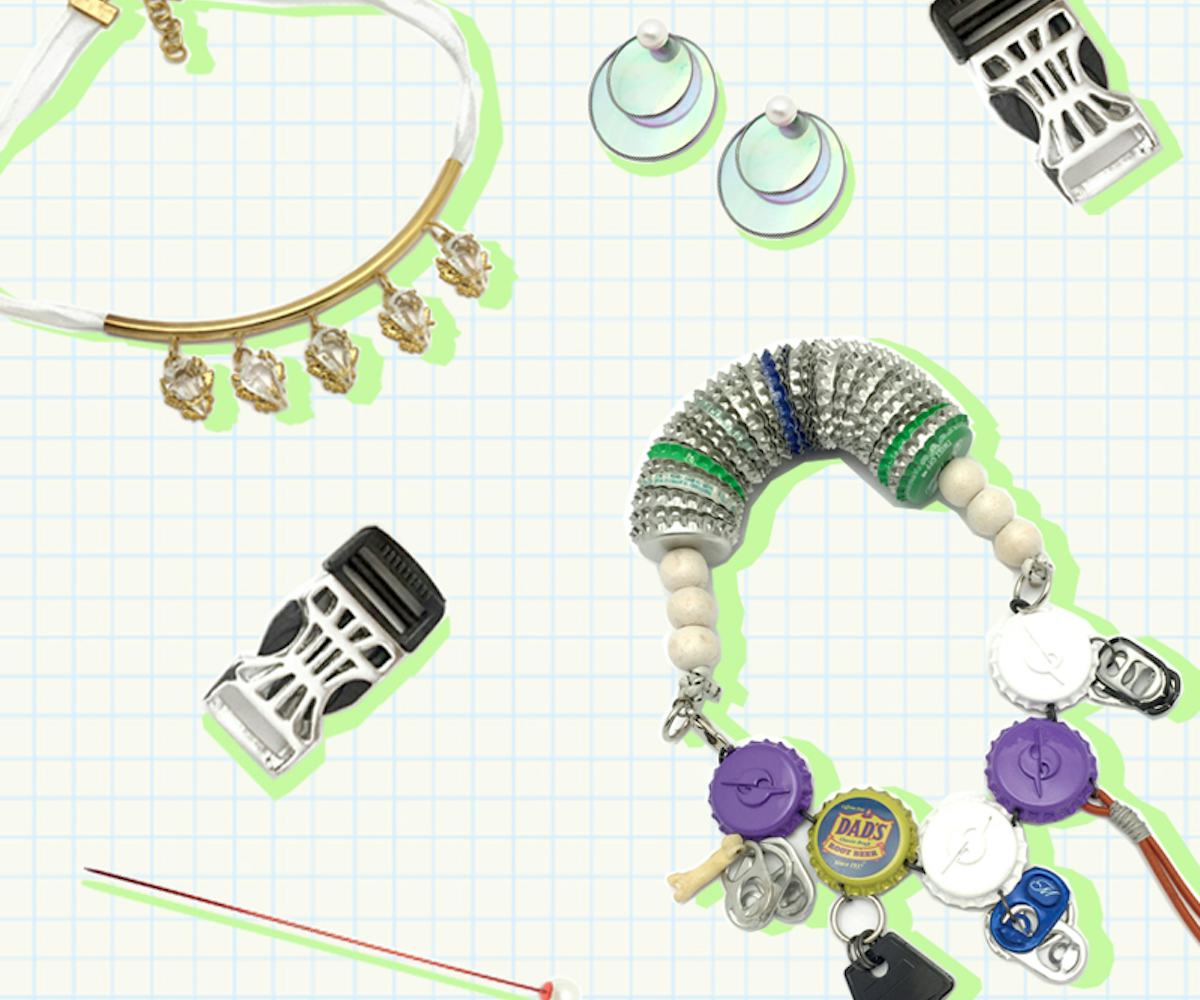 Chris Habana Talks Being An Authentic New York Designer And Balancing Multiple Collections At Once
We chatted with the powerhouse designer during the NYFW craziness
When it comes to multitasking, jewelry designer Chris Habana is so skilled that the word might as well be his middle name.
Known for his stunningly unique and out-there designs, Habana creates pieces inspired by everything from punk to club kid culture for his own lines—CHRISHABANA and My Enemy—as well as special designer collaborations. Multiple collaborations each season, to be exact. 
Habana grew bouncing back and forth between the Philippines and the U.S., finally settling into Manhattan's East Village. While his childhood was spent focusing on religion, fantasy, and sci-fi graphic novels, he grew to revel in '90s club kid and counter culture. Melding elements and inspiration from both of these worlds, CHRISHABANA jewelry was born in 2008. 
After working solely on CHRISHABANA for a few years, he launched a diffusion line in 2012 named My Enemy Jewelry. Described as "the middle finger of all jewelry lines," Habana uses My Enemy to branch out into a more aggressive, in-your-face territory. While Habana maintains his two very unique and iconic jewelry lines, he's also collaborated with fashion powerhouses such as Hood By Air, Gypsy Sort, Prabal Gurung, Opening Ceremony, and more, to create collection-specific pieces.
For Spring 2017, Habana worked on three different designer collaborations to walk down the New York Fashion Week runways: Gypsy Sport, Adam Selman, and Chromat. Curious to know how someone can do so much in such little time (I mean, there are only 24 hours in a day…), I caught up with Habana right in the midst of the craziness, popping backstage to see some of his beautiful work up close and chat about what he's been up to.
For Spring 2017, you collaborated with Chromat, Adam Selman, and Gypsy Sport. What was it like creating pieces for three entirely different labels? 
It was a really awesome experience actually. I always welcome and love collaborative work because it exercises my design muscles in terms of conception and creating. It's funny because up until last year, even though CHRISHABANA has been around since 2008, I still worked other creative jobs in window display and event design. I guess I've always been attracted to juggling different work, and this season's endeavors were no different. The only surprise to me was the level of work involved by taking on Adam Selman, Chromat, and Gypsy Sport while developing new ideas and pieces for my namesake line and diffusion line, My Enemy. Thankfully my team worked so hard to help realize all of this. I truly could not do any of this without them.
What is the design process like when creating pieces for each brand? Do you already have ideas in mind, based on what the designer has done in the past, or do you wait until the designer gives you direction on the inspiration for the upcoming collection?
The collaborative design process usually varies depending on who we're working with. The designers will usually provide me with the theme and inspirations behind their new collections. Some of them may then give me free range to filter these ideas and create sketches of what I envision, influenced by their past work in order to create something that is cohesive, progressive, and on brand for them. Others are more specific about certain styles or elements that they want to see in the jewelry, so I keep that in mind when rendering. 
With Adam Selman, he was inspired by the sculptures of Aaronel deRoy Gruber. While that was the jumping-off point, we really went back and forth on nailing down the final concept. It really helped for us to get together and hang out—he's a very hands-on designer, so I appreciated that way of working. 
For Chromat, designer Becca McCharen-Tran and I worked through renderings to get the ideas flushed out. She was very specific on what she wanted: a universal Chromat hardware piece. I think our creation of a cage slide-buckle was the perfect solution to this. 
Rio Uribe of Gypsy Sport and I have been doing collaborative collections since his fall 2015 collection (before all the CFDA stuff), so it was a very fluid process. For Spring 2017, he wanted to focus on bottle caps and go back to our beginnings when we added a lot of handwork and embellishments to the jewelry. I was all in with that concept, so my team and I had fun with it. 
Where do you draw inspiration for your own personal line?
With CHRISHABANA, my inspiration is always drawn from the lines that combine punk, goth, and tribal cultures. I like to take very intriguing, striking ideas and give them a sense of refinement and elegance. For my diffusion line, My Enemy, I get to express my brattier side and fuck up traditional jewelry ideas and themes and make them our own. That's really where all restrictions fly out the window, and I can go off.
Are there difficulties in finding the balance between focusing on your own line and collaborating with runway designers?
For me, the only challenge is time. There's only so much time out there to complete these projects, so physically getting it done is the issue—and again, I thank my team for helping me accomplish that. Outside of that, it's all fun because the ideas just keep on coming.
Do you ever pull inspiration from some of your past work for your own collection or collaborations?
With my collections, there's a general story that continues each season. I like to experiment with the shapes and styles that the brand is known for using in the past, but in the end, the signature aesthetic is still easily distinguishable. 
With collaborations, I am lucky to work with brands that I identify with and make sense with CHRISHABANA. There are many instances where I'm able to suggest styles that incorporate my past work but are updated in order to represent both sides equally.
I will say, with all of the ideas that don't make it to reality, I now have tons of renderings and sketches for a hundred more collabs to come.
In your opinion, what does it mean to be an authentic New York label?
I love that you said, "authentic New York." I have definitely been feeling the changes NYC has been going through in a palpable way.  There is this "new" New York that has been emerging, and I'm seeing a division between classes more and more. It's like, there's the "bros" and their homogenous girlfriends who worship money, literally right outside my studio door and window on Avenue C, acting like they own New York. Then, thankfully, there's this faction of emerging kids who want to be as alternative as possible, reveling in club kid culture, bucking the system, and creating their own class. I, myself, am team Club Kid. I feel it's more authentic to what New York is supposed to be, what it used to be, and what I used to be. It's the reason why I, and a ton of other people, moved here in the first place.
What piece are you most excited about for this season?
That is a tough question. I know, I know, it's very PC to say you love it all equally—but I really do! Between Adam Selman, Chromat, Gypsy Sport, CHRISHABANA, and My Enemy, each piece tells its own story and has its own unique value. I'll let you and your readers be the judges of what you like most.
CHRISHABANA
CHRISHABANA
My Enemy by CHRISHABANA
My Enemy by CHRISHABANA
CHRISHABANA for Adam Selman
CHRISHABANA for Adam Selman
CHRISHABANA for Gypsy Sport
CHRISHABANA for Gypsy Sport
CHRISHABANA for Chromat