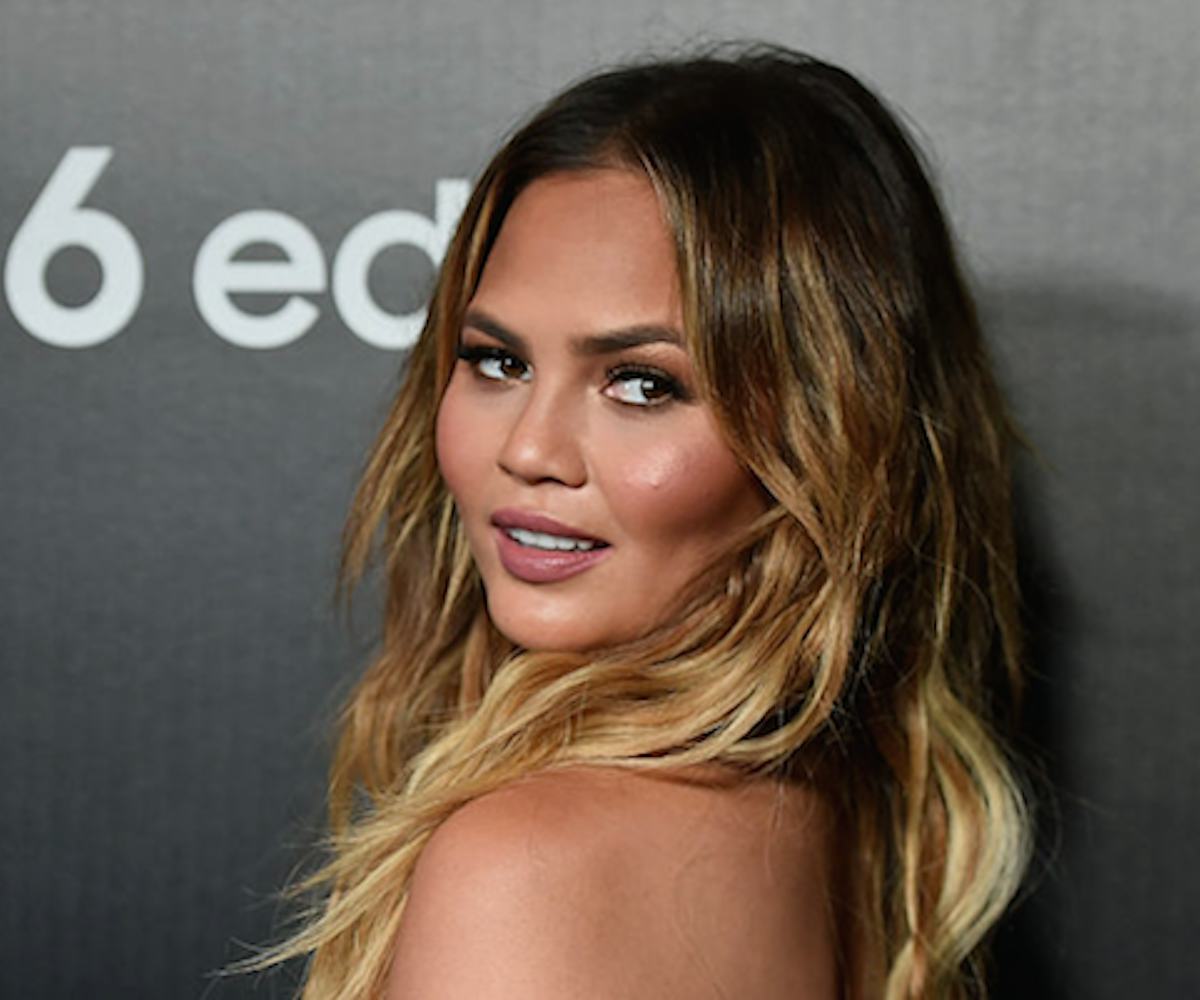 Photo by Alberto E. Rodriguez/Getty Images
The Mystery Product From Chrissy Teigen and Becca Cosmetics Is Finally Here
Following Teigen's "nudes" yesterday
Last year, Chrissy Teigen and Becca Cosmetics teamed up to create the immediately cult-favorited Glow Face Palette so that, we too, can achieve that perfect "Chrissy" glow. Now, the two have come together again to bless us with a new glowy product to fall in love with all over again.
After months of teasers, the beauty brand finally introduced the new BECCAxChrissy Glow Body Oil. Many people already speculated that the mystery product would be a body oil after several clues were dropped by Teigen and Becca Cosmetics on Instagram, and welp, they were on to something.
The first clue to the continuing collab was in April when Teigen shared a sneak peek on Instagram of her cooking up something at the Becca Cosmetics HQ, sporting a gold headband wrapped around her hair. Then, a cheeky post on Teigen's Instagram story yesterday revealed more. "Oops! John might be the only one to see my nudes but I have something even better coming your way… follow @BeccaCosmetics to be the first to know the deets!" she wrote on her story, following pictures of her glittery thigh and hand with a pixelated bottle of what we now know is the body oil.
Photo via @chrissyteigen Instagram
Over on the Becca Cosmetics Instagram, a video featuring a shimmery pool of gold body oil, accompanied with the caption "Something's GLOWING to you soon! Are you ready for it?", was posted.
Fans were definitely spot-on when they predicted the body oil, and now that it's finally been revealed, we're ready to get our body glow up this summer.
According to Becca, the new oil is "coming soon"—hopefully soon enough for us to hit the beach with this weekend!