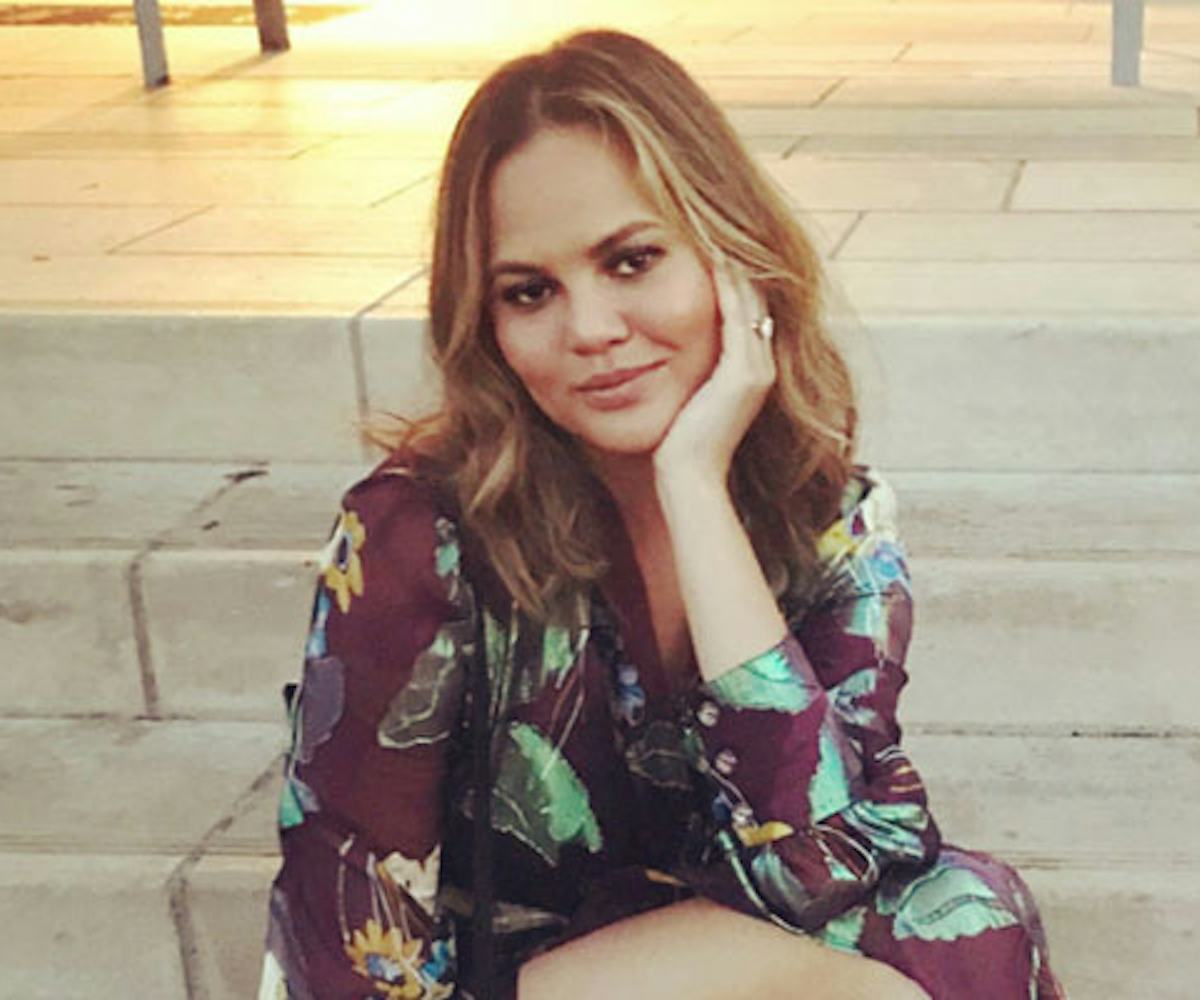 Image via Instagram @ChrissyTeigen
Chrissy Teigen Survives 8-Hour Flight From L.A. To L.A.
"So many questions and I have no answers"
Around 8:30pm EST last night, Chrissy Teigen tweeted from the first-class cabin of an All Nippon Airways flight from Los Angeles to Tokyo that she was experiencing a "flying first." Four hours into her direct flight, the plane was forced to turn around because there was a passenger who wasn't "supposed to be on this plane," Teigen tweeted. "Why...why do we all gotta go back, I do not know." And then those of us with insomnia spent the rest of our night following Teigen's 4-hour journey back home, wondering how this person got on the wrong flight. How did it take them that long to notice? What are ticket scanning machines even for? As Teigen said, "So many questions and I have no answers."
While Teigen was still mid-flight, Jensen Karp, executive producer of Drop the Mic, managed to find her flight path from LAX back to LAX. "This is my Twilight Zone," he wrote.
Despite being inconvenienced, Teigen actually found the whole ordeal pretty hilarious. "Lmao after all this I will have spent 8 hours on a flight to nowhere," she wrote. "Like we were all just havin a great time up here flyin in the sky watching gran torino time to go home now."
She was also very much living for the drama unfolding in front of her. "I won't be able to sleep until I know how this person figured out they were on the wrong flight," she tweeted. "That's all I ask. 150 people have been majorly inconvenienced, please, just tell me." 
Even journalist Yashar Ali started to investigate what happened on the flight. "Just reached out to my United sources," he tweeted. "Will report back when I know more." The passenger who mistakenly boarded Teigen's flight to Tokyo reportedly had a United ticket.
"So basically the boarding pass scanner is just a beedoop machine that makes beedoop noises that register to nowhere," Teigen wrote. 
After 8 hours and 20 minutes, Teigen, who was traveling to Tokyo with her husband, John Legend, for New Years Eve, was back in L.A., where she was questioned by police and detained in a nice airport lounge with ramen and Real Housewives.  
She and Legend eventually took off for Tokyo just before 5am this morning, but there are still so many questions. We expect a follow-up, seeing as the model-turned-cookbook author might dedicate the rest of her life to this.