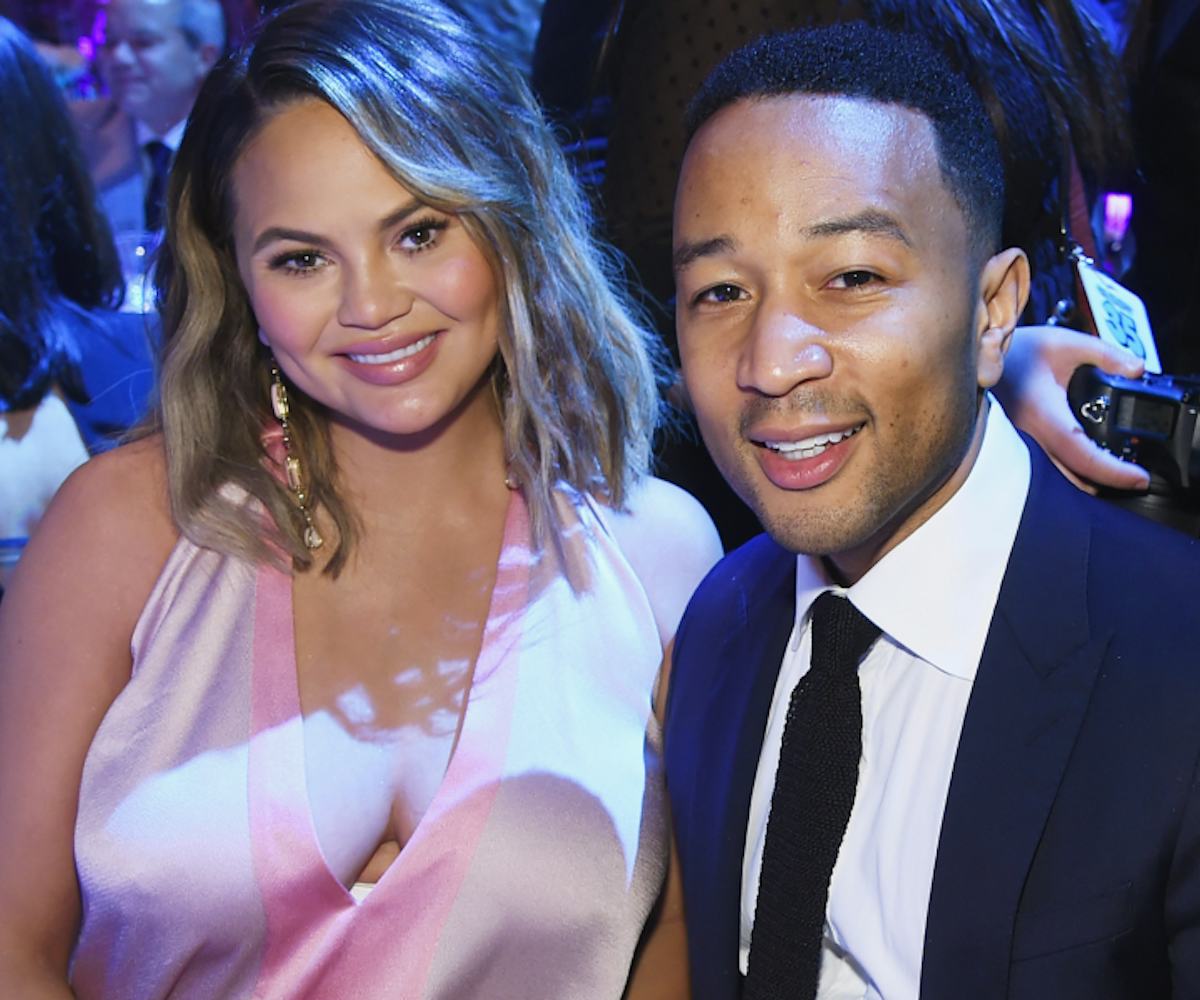 Photo by Jamie McCarthy/Getty Images for City Harvest
Chrissy Teigen Shares First Photo Of Her Newborn Son, Reveals His Name
If you've been paying attention to Chrissy Teigen's Twitter, you probably already know that she and husband John Legend welcomed a baby boy last week on May 17. On Thursday, Teigen tweeted "Somebody's herrrrrrre!" alongside two bottle emojis and two hugging smiley face emojis, you know, for good measure. But until now, we had no idea what their son's name was or what he looked like.
After Teigen announced that she'd given birth, fans naturally started asking about the baby. One Twitter user wrote, "Does he look like Luna?" and Teigen responded, "Same nose! He is a few weeks early so he's litttttttle and makes the teeniest noises. We are in love." 
On Sunday, Teigen finally revealed their son's name: Miles Theodore Stephens. She also shared the first picture of Miles on Instagram, and now we have confirmation that he's utterly adorable. (I mean, how is this baby already perfect at posing for the camera? A major heart-eyes-emoji moment.)
"Hello, world!" Teigen wrote in the caption. "This is Miles Theodore Stephens - We are drowning in his little peeps and nuzzles. Our household feels overwhelmed with love. Thank you for all your well wishes!"
And as always, Teigen has been keeping it real on her Twitter, sharing even the more gruesome details of pregnancy and childbirth and making us all laugh. 
"I can confirm postpartum life is 90% better when you don't rip to your butthole. Baby boy: 1 point. Luna: 0" Teigen posted on Friday. 
Childbirth jokes aside, all that's left to say is congrats, Chrissy and John—and welcome to the world, Miles!