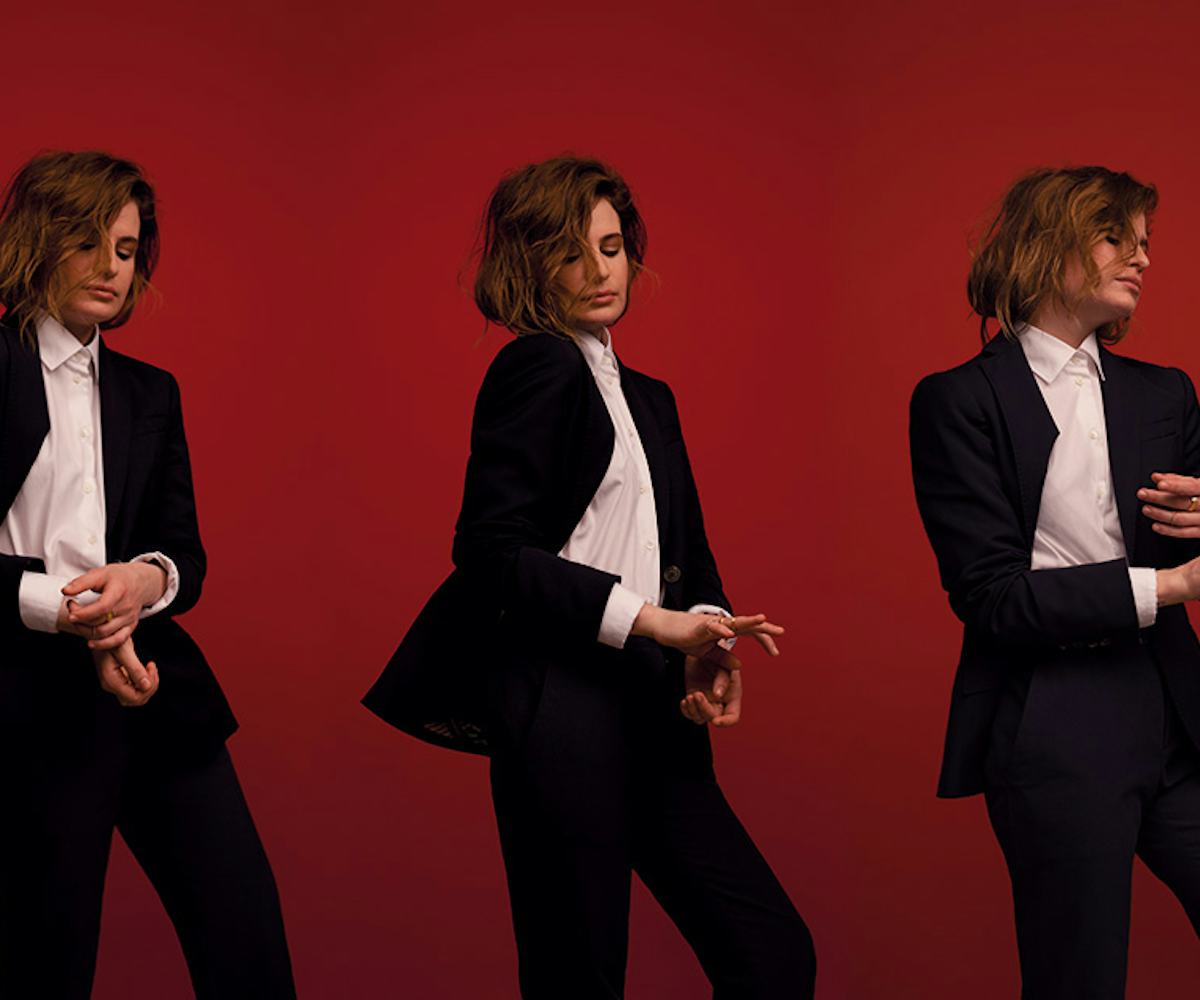 Photo by Jeff Hahn
christine and the queens on how 3 drag queens changed her life
and the importance of speaking out
by michael-oliver harding
Christine and the Queens has already taken home the French equivalent of the Grammys, been praised by Madonna, Mark Ronson and Lorde, won over legion of fashion followers with her suave menswear silhouettes, and has sold out shows from Paris to Montreal. Now, the 27-year-old performer, born Héloïse Letissier, is bringing her graceful, bilingual synth-pop and kinetic dance poetry stateside. We caught up with the elegant chanteuse at Montreal's Osheaga Festival last weekend, where she fearlessly mashed up French singer Christophe with the melancholy of Kanye's "Heartless," and paired her sensual Gallic pop alongside brash 1990s anthems of the "Short Dick Man" variety. 
You've talked about how meeting three drag queens at a nightclub in London's West End changed the course of your life—that without them, you wouldn't be standing before me today. How so?
Before meeting them in London, I was a stage director for theatre. I've always been obsessed with being on stage and putting shows together. I've always consumed a lot of music, browsed Pitchfork, and thought about soundtracks for plays, but I never used my voice. I hated it, actually. So, meeting these drag queens gave me the confidence I never had in my vocal ability. Through singing, I discovered a new way to speak. They really encouraged me, pushed me—sometimes like stern mothers—to sing louder, and to stop moping around and sing about the pain I was experiencing.  
You introduced yourself to Osheaga festivalgoers by paraphrasing Janet Jackson, reminding everyone that your show was a "free zone where you can be whoever you want to be." Why is it important for you to mention that?
That's pretty much how I feel on stage, like I can let go of all kinds of baggage, or even disappear and change outfits. I want to remind people that they can grant themselves the license to do the same. It's my gentle way of saying that I believe people can live their lives outside of prescribed boxes. Often, I'll see people's faces light up when I mention that, while a few others might not quite understand. 
Given the discrimination LGBTQ people still routinely face (and the massive string of anti-gay marriage protests in France last year), I guess that kind of statement remains as relevant as ever. 
Absolutely. The battle is far from over. Even in the U.S., where certain people in the trans community—like Caitlin Jenner and Laverne Cox—are gaining prominence, they're all people who've fully transitioned. We continue to disregard those whose identities remain more ambiguous, uncertain, or who refuse to make any kind of definitive statement. In France, it's even worse, because the dialogue around transgender issues is catastrophic, and the debates around gay marriage brought out lots of nastiness. As a bisexual person, I felt that what some people were expressing was really violent. So yes, lots of work remains to be done. And as an artist, I try in my own humble way to ask questions.  
You've never shied away from pointing out the sexism you experienced in the theatre milieu, and you also Tweeted your outrage at the judgment handed down earlier this year in a very high-profile French trial that sparked major riots back in 2005. Someone Tweeted back that you should "stick to your role as an entertainer." What did you make of that?  
It's a very good question, and that Tweet got me thinking about it. Typically in France, someone in my position should keep their mouth shut. I'm an entertainer, operating in the realm of pop, and it's often looked down upon for a pop artist to take a stand, to have convictions or opinions. But I don't think the two are incompatible or mutually exclusive. I have a position as a citizen, and I like it when other artists speak up. It makes them human. 
You allow your elegant synth-pop jams to breathe by incorporating little pauses within the rhythms, akin to the work of James Blake and the entire new school of R&B. What draws you to these spaces between the beats?
It's almost mise en scène, when you think about it, because silence gives greater importance to the notes you do play. This approach to minimalism is all over the music I listen to, from American hip-hop to James Blake, The Knife, and even Michael Jackson. Silence and breathing room are important components of dancing, too—in order for the rhythm to be right, it's got to breathe. I love this whole less-is-more philosophy, of which Michael was a master. Instead of piling things on, he'd strip them down. 
You also credit the King of Pop for inspiring your sinuous, angular dance moves, as displayed in your Madonna-approved, solo choreography for "Chaleur Humaine." Have you always been smitten by dance?
For as long as I can remember. I've always really been interested in observing people's postures, the way they speak with their hands, the way they communicate things with their body language. I'm fascinated by how dancing can redefine and transform you. I've also always loved Pina Bausch for her hand gestures. Her dancers always have very expressive hands—sometimes that's all they're doing. Again, it's the "less is more" approach. Only doing one gesture at a time, but doing it well. 
What are your expectations for the months ahead in the U.S.?
I don't know what'll happen, and that's quite exciting. After everything that's happened to me in France, to go back to the kind of setup where you have half an hour to convince people is a great thing. It keeps me on my toes. Spending time in the U.S. has also allowed me to meet new people, including two American artists who will be featured on my upcoming album, Perfume Genius and Tunji Ige. Those two tracks tie in the queer and hip-hop elements that are central to my work. And I'm also going to be opening for Marina and the Diamonds on tour, which is great.