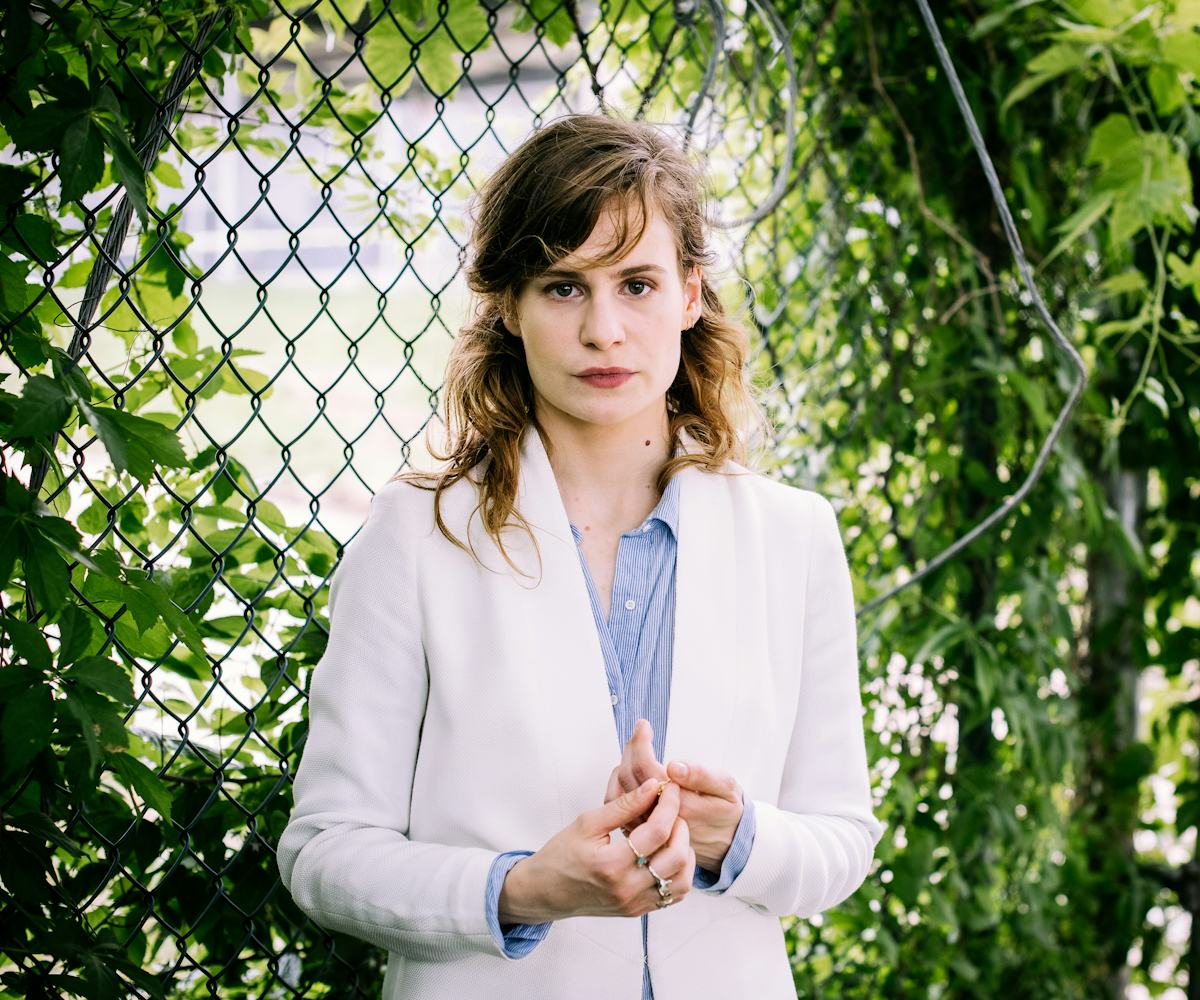 photo by Nina Westervelt
Christine And The Queens Is Challenging Gender Norms In Every Possible Way
The French singer talks style + music
Under the moniker Christine and the Queens, Héloïse Letissier has supplied both French and English speaking audiences with a soundtrack of empowering, self-assured anthems, and created an onstage atmosphere of acceptance and expression. With a penchant for traditional menswear staples and her exploration of opposing genres like hip-hop and synth pop, she has both purposely and inadvertently challenged the status quo. No matter which way you look at her work—from the music to music videos to live performances—it oozes originality. 
It only makes sense that Letissier is demanding that we reconsider the way we approach traditional gender norms. After all, she was encouraged to pursue her own musical career by three drag queens. Since then, she's motivated countless listeners to live their truth, and embrace sexuality and gender as it exists on a spectrum. Ahead, the artist talks about embracing her queer identity both musically and sartorially. 
How has your music evolved since you started Christine and the Queens?
It has definitely changed a bit. At the very beginning of the project, the music was more like a freaky, burlesque cabaret—a bit noir, a bit creepy. I used to make lots of loops of my own voice, and it was quite atmospheric and sometimes sad. The more I decided to produce stuff, work, and be on stage as well, [the more] I began to understand that I just wanted to dance and be really physical. My songs are actually getting tougher and tougher, and I think the second album is going to be really sweaty because, on stage, I want to be like that. 
When can we expect your second album?
In my head, the deadline is maybe 2017 if everything goes well. I've been writing a lot lately.
How do you feel that your personal style reflects your creative goals and intention?
The way I dress definitely helps me embody and actually change my way of behaving, and feel more confident. I think I used Christine, who is my stage character, as an excuse to finally be myself, as if I needed to say, "Oh this character is going to be the woman I wanted to be." I always knew I wanted to be a woman in men's clothing because I just feel good like that. I feel like I'm taking a different space; I move differently, I'm more at ease. I definitely feel like I'm trying to think of myself as a male rock star—just forgetting about being polite, pretty, and not taking up too much space. I'm always thinking, "What would a guy do in this situation? Can I be more like a guy as well, more in charge?"
There are lots of ways to be a feminist. Beyoncé, for example, is a beautiful example of feminine sensuality and is still really powerful. My character and my inner essence is more like an awkward 15 -year­-old boy, like a teenager backstage, like, "Yeah, what's up?" That's what I'm trying to channel.
Effectively, you explore feminist ideals by kind of offering a different perspective from the traditional stance—one that says it's not necessary to be feminine to be a feminist. 
When you're a feminist, you just wish to have equal treatment as a woman. I think my reflection as a feminist meets at my queer identity at some point as well. For me, it's just about not checking boxes. This is what I like to challenge on stage, and even myself, for example by saying, "I'm a man on stage," or for wearing men's clothes. This is my way of saying that I'm not checking any boxes. I could change my mind and wear a dress tomorrow if I feel like it. Identity is a set of codes you receive by society, and you get to play with that. I got that from the drag scene, as well. You actually get to play [with identity]. It's a game. 
Music has such a history with style. You think about glam metal, Alice Cooper, KISS, and all of these amazing musicians who were all about stage presence. That's very much reflected in not only your actual performance but also your music. What's the relationship between appearance and showmanship in your mind?
I think the two can be linked. I think the performance and stuff is more important than how you dress. On stage, I'm not always searching for the craziest outfits because I just want to be at ease moving. We go for a really simple T-shirt and pants with stretch so nothing breaks. Then just embody the rest: the dancing, the muscles. The performance shapes me. The more you perform and the more you actually love the stage and work the stage, the more you physically become what you give on stage. I became more muscley, I thinned out, my face changed by just touring—and I'm obsessed with that because I think it's quite rock and roll. I wish sometimes I could be like 45 and have 10 albums and lots of gigs behind me. You can tell by my face I actually did lots of stage. I want wrinkles and traces of what I did.
Have you noticed a difference in the way people treat you and interact with you since you started wearing more androgynous clothing?
Definitely. It's weird, and sometimes a bit worrying how much the way you present yourself can actually affect everything. That may be why I chose this outfit—for people to change their attitude. I definitely sometimes think that I'm one of the boys. It's interesting, though, because you get to be a shapeshifter and you get to explore the other side of it. I think it also changes because you change, as well. What you give to people affects how people give back to you. I'm definitely more confident than I used to be. On stage, I'm really confident. Out of it, I'm still quite shy, but wearing those clothes just shapes me a bit more; I'm more at ease with people. I'm socially anxious. 
I don't feel that from you.
That's because I'm in an interview. It's like Mr. Robot: I have a voice. 
What other artists are you excited about at the moment?
I'm quite interested by that cool L.A. scene that is embodied by The Internet and KAYTRANADA. They have quite smooth, funky productions, and a great energy as a band. The singer is amazing as well; she has a great attitude and a great voice.
It's been a long time since I saw a gig where the performer actually blew me away. The last shock I received was FKA twigs because she has a compelling presence and she's a proper dancer. She's intoxicating.