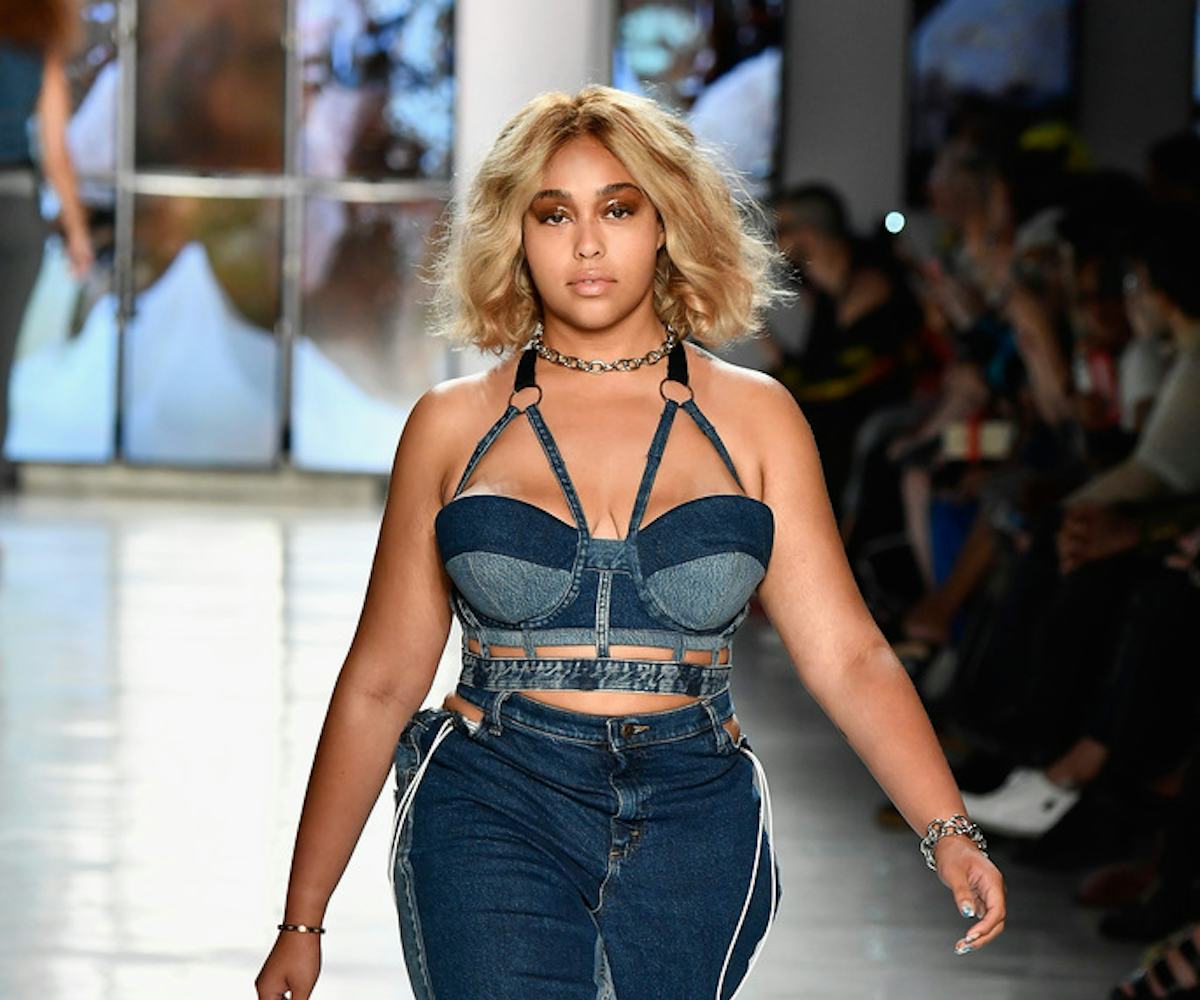 Photo by Frazer Harrison/Getty Images for Chromat.
CHROMAT Continues To Be A Champion For Body Positivity
Jordyn Woods made her fashion week debut at this season's show
There's a reason CHROMAT is one of our favorite shows season after season. Outside of the futuristic clothes and a runway that sheds the prim and proper mystique, designer Becca McCharen-Tran also makes it a priority to feature models of all races, sizes, and gender identities. There's no denying there's been a shift in the way we speak about different body types in the industry, but McCharen-Tran has been leading the charge since the brand's 2010 beginnings. And she shows no signs of stopping.
Trans model Leyna Bloom opened the Spring 2018 show this past Friday. The equally gorgeous trans model Geena Rocero walked as well. Emme, one of the first plus-size supermodels, made her first runway appearance, as did Kylie Jenner BFF and up-and-coming model Jordyn Woods. They were joined by a rainbow array of body types and models of different ethnicities clad in denim crop tops, one-piece bathing suits with safety pin belts, gold foiled dresses, and even pairs of anti-chafing thigh bands. "You don't have to be skinny, white, and blonde to be powerful and amazing," McCharen-Tran told us back in 2015. "That's something that we really hold true. It's beyond diverse—all the different varieties of plus-size, body size, gender—everything needs to be celebrated and we're just like that celebration of strong, powerful women in every form."
The collection as a whole was inspired by zen gardens salt baths, and healing crystals. "Following our AW17 Buoyancy collection—which was all about survival and keeping our head above water during the political upheaval—we felt the urge to cling to rocks," the show notes outlined. "To feel grounded. To practice self care and collective care of our community." Serenity (and more body inclusion) now! 
No thigh gap here.
Look back at it, girl.
Strike a girl boss pose!
An adult version of your childhood floaty.
Getting cheeky with Leyna Bloom.
Besos until next season, folks!