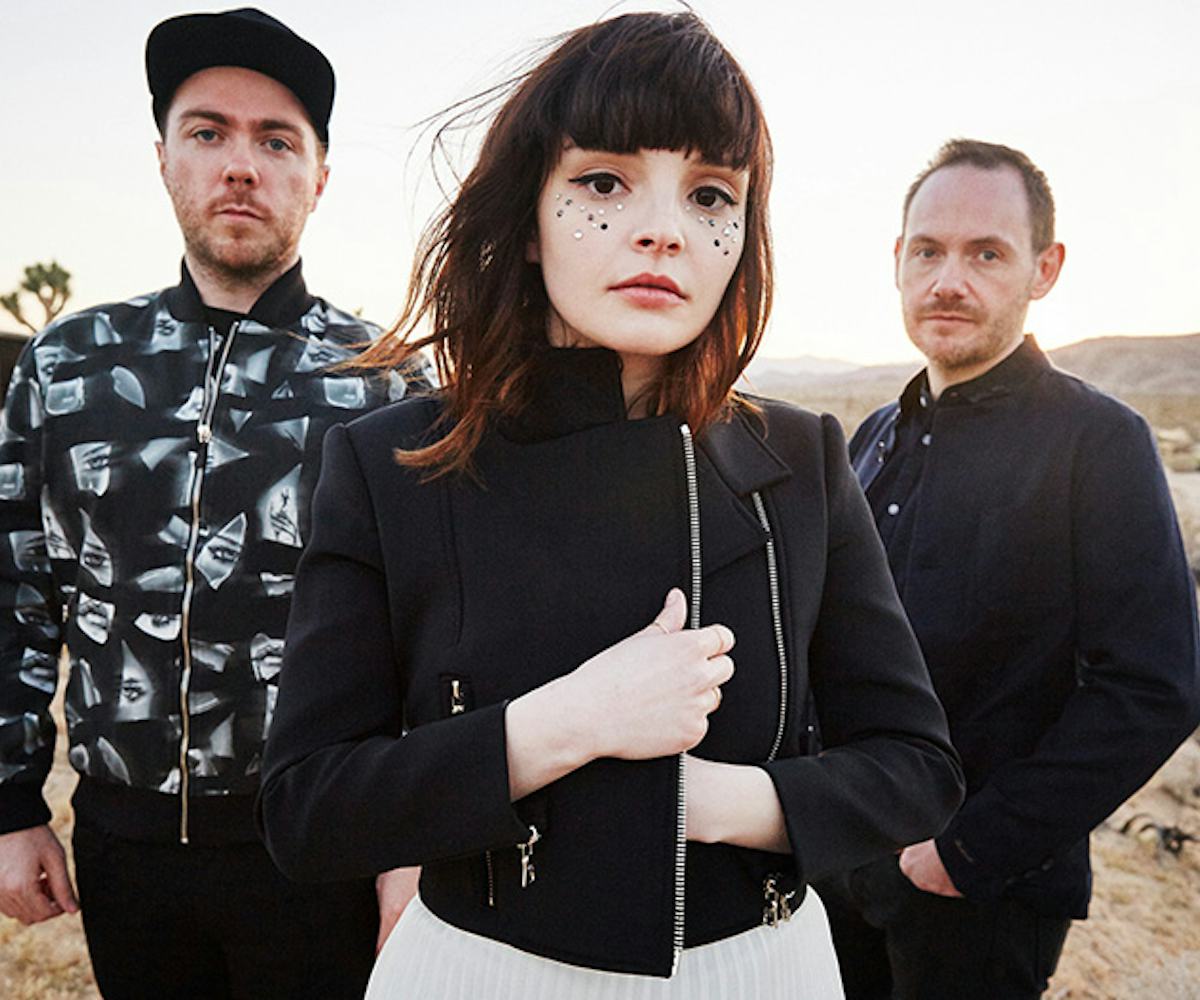 Photo: Danny Clinch.
CHVRCHES' New Album Is Relentlessly Defiant
"how about i prove i'm right and raise it over head?"
The buildup to CHVRCHES sophomore album Every Open Eye has been riveting, to say the least. The three tracks released before the album dropped September 25 were far from disappointing and showed the Scottish electro-pop trio had tuned its sound so finely, it appeared to be unbreakable. Its debut LP, The Bones of What You Believe, was stellar, and no one doubted the quality of its second project, but no one could have predicted how triumphant Every Open Eye actually is.
The fact is: Every Open Eye is, hands down, one of the best albums of the year. From beginning to end, CHVRCHES sweep you up in a hurricane of synths and soaring vocals that are as defiant as they are vulnerable. From prophetically optimistic songs like "Make Them Gold," where Lauren Mayberry sings, "We will take the best parts of ourselves and make them gold" to the audacious breakup track "Leave A Trace," themes of reclaiming ones own self run rampant. Iain Cook and Martin Doherty's production is fearlessly aggressive and robust, too. Just when you think the album is going to taper off and lose steam, they bombard you with melodies that knock you off your feet again. It's only until the album's final (and prettiest) song, "Afterglow," that the storm of sound settles. (Indeed, the final words of the album are "I've given up all I have.")
It's this fury of fluctuating harmonies and melodies that give Every Open Eye its power. Whatever happened to Mayberry (and it's a lot when you consider how vocal she's been about the misogyny she's had to deal with), she's not wallowing in it. Every Open Eye is about rediscovering your identity. Many (including myself) might read into songs like "Keep You On My Side" and "High Enough To Carry You Over" as tracks about waiting for the end of a relationship to come. But it's an album free of regret and full of poignant taunting. Mayberry is outside of whatever situation she's been in—be it a romantic relationship or something else—and speaking back to it, learning, and rebuilding. "We bury it! Bury it! Bury it and rise above," she belts triumphantly (in "Bury It").
Softer moments, like in "Down Side Of Me" are equally as powerful. "I'll believe that you're all that you said you would be if I keep you away from the down side of me," she sings, insightfully acknowledging her own self and effect on the storm around her. Though she asks to be met "more than halfway up" in the album's highest point, "Clearest Blue," Mayberry's aware she is equally to blame. The difference between her and her other (which, sonically comes in the form of Doherty on "High Enough To Carry You Over") is that she sees both sides clearly and places no blame. She does exactly what she says to do in "Bury It" and moves on and waits for the dust to settle…"the afterglow." Every Open Eye is a breakup album free of pessimistic indulging, whose intention is to get over it and move on in hopes of rising above, making things gold, and leaving enough of a trace to reflect on when the storm begins to circle—which it will—again.