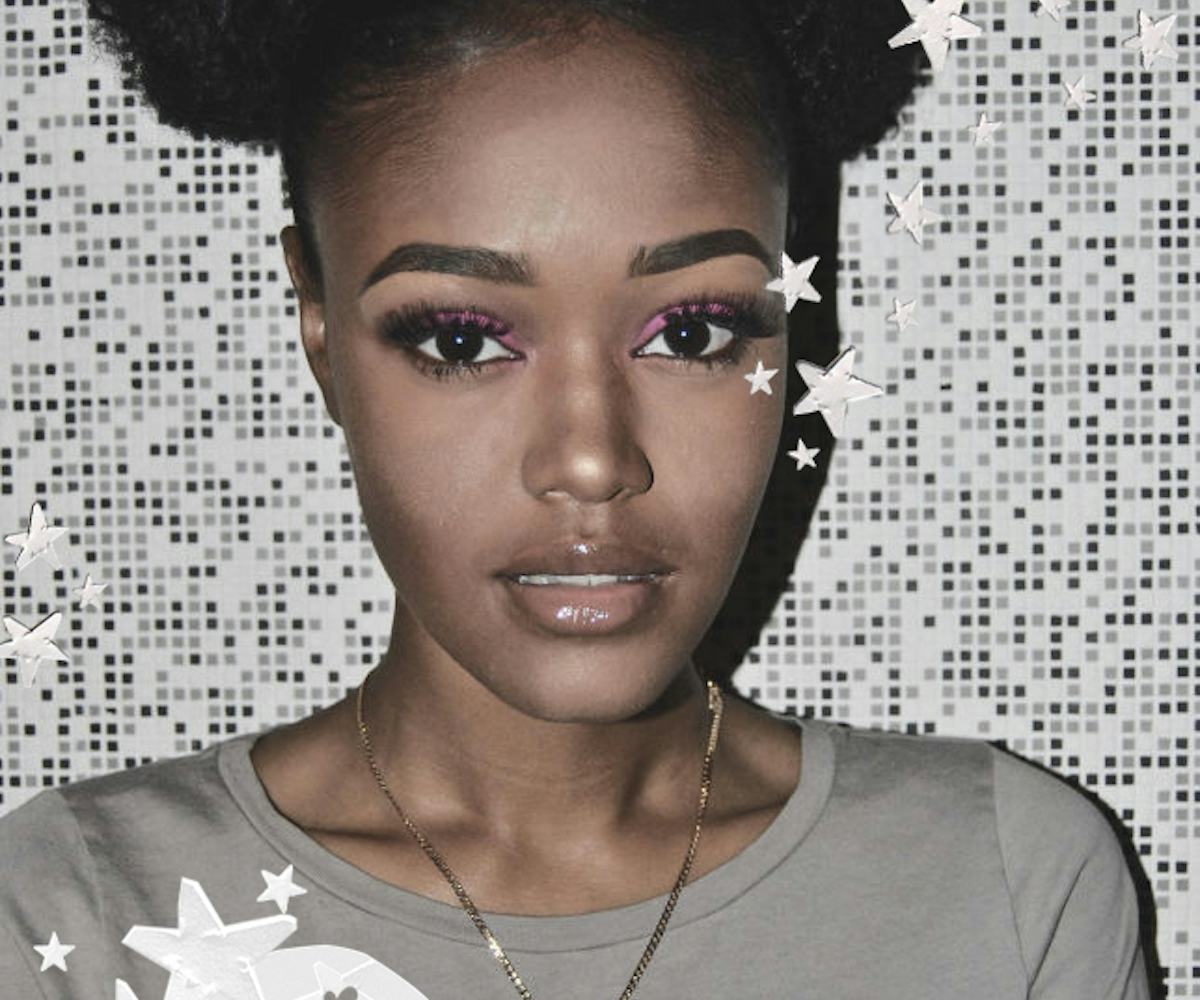 Photo courtesy of Chynna Rogers.
Chynna Rogers Is Breaking The Mold In Fashion And Music
and this is only the beginning
In celebration of Black History Month, NYLON is running a spotlight series called Black Girl Power... The Future Is Bright. Every day, phenomenal black women from different industries will be featured to tell their stories—revealing how they became who they are, showing what they have accomplished, and pinpointing how they navigated their careers. Black women deserve to be celebrated 365 days of the year, and we hope that this series will inspire everyone to believe in the power of #blackgirlmagic. 
Chynna Rogers is a 21-year-old rapper and model. Based in Brooklyn by way of Philadelphia, she was discovered by Ford Models at the age of 14. Over the past five years, she's grown close with the A$AP Mob, and even has a tattoo on her fingers in honor of the late A$AP Yams, one of her mentors. Toward the end of last summer, she released her I'm Not Here. This Isn't Happening mixtape via Soundcloud.
"My creative process is hardly a process at all," she explains. "Most of the time I write with no beats, at any given moment. I hate going to the studio without shit written. I'm anal that way. My vision is beyond rap. I'm writing my own videos at this point. I have whole storyboards and character personas and shit in the crib. I'mma be doing A&R and owning mad venues, but the rest is a secret."
Get to know Rogers more in the interview, below!
How do you maneuver your respective industries as a black woman?
As far as being a rapper, my race is of no concern. I'm black, but you know being a woman things get a lot more typical. Being a female artist has some negative connotations and has a stigma attached to it. Especially with how much attention is being placed on the sexual abuse in the industry. I get into a lot of heated debates. I also get asked if I write my lyrics and I'm looking like, 'What the fuck do you mean?' but then I remember that isn't uncommon and have to relax. It sucks. It feels like I'm working twice as hard for half the credit sometimes, but overall it's not too difficult. I'm making it happen and I've met some of the most solid people in the world doing this shit. I'm happy.
Fashion is quite different. It's difficult to break into the modeling industry as a woman of any color. A lot of companies are still whitewashed as hell. My music has actually been my main tool in fashion. Larger campaigns can be harder to land because I don't have an agency behind me. I enjoy being independent, though, knowing that everything I do accomplish was done on my own.
Could you describe a moment where you felt like you defied the odds or broke a barrier?
That would have to be all the work I did with DKNY. I walked for them, did some campaigns, and performed at some shows. I even did some creative direction projects that never came to fruition. I love them to death. I have a lot of tattoos and I heard a hunnit times it would be impossible. I was like, 'Fuck outta here.' And I did it. And it was worldwide. So fuck that. 
How did you grow into your black identity? (Or, if you're multiracial, how did you grow into your identity as such?)
It's not a matter of 'How did I?' as much as 'How was it?' I'm not going to say I grew up color blind and shit, but it never mattered to me. It seemed to matter to everyone else, and I've always felt strongly about the unnecessary hate, even within my own race. But how did I? I'm not sure. I've always lived my own way. I've always had family members and 'woke' friends to keep me educated as best they can on my culture and ancestry. However, the growth isn't complete and I've always been eager to learn more. Get the blood test and all that. Because being from America, you're getting the bare minimum of information, and it's probably all deluded.