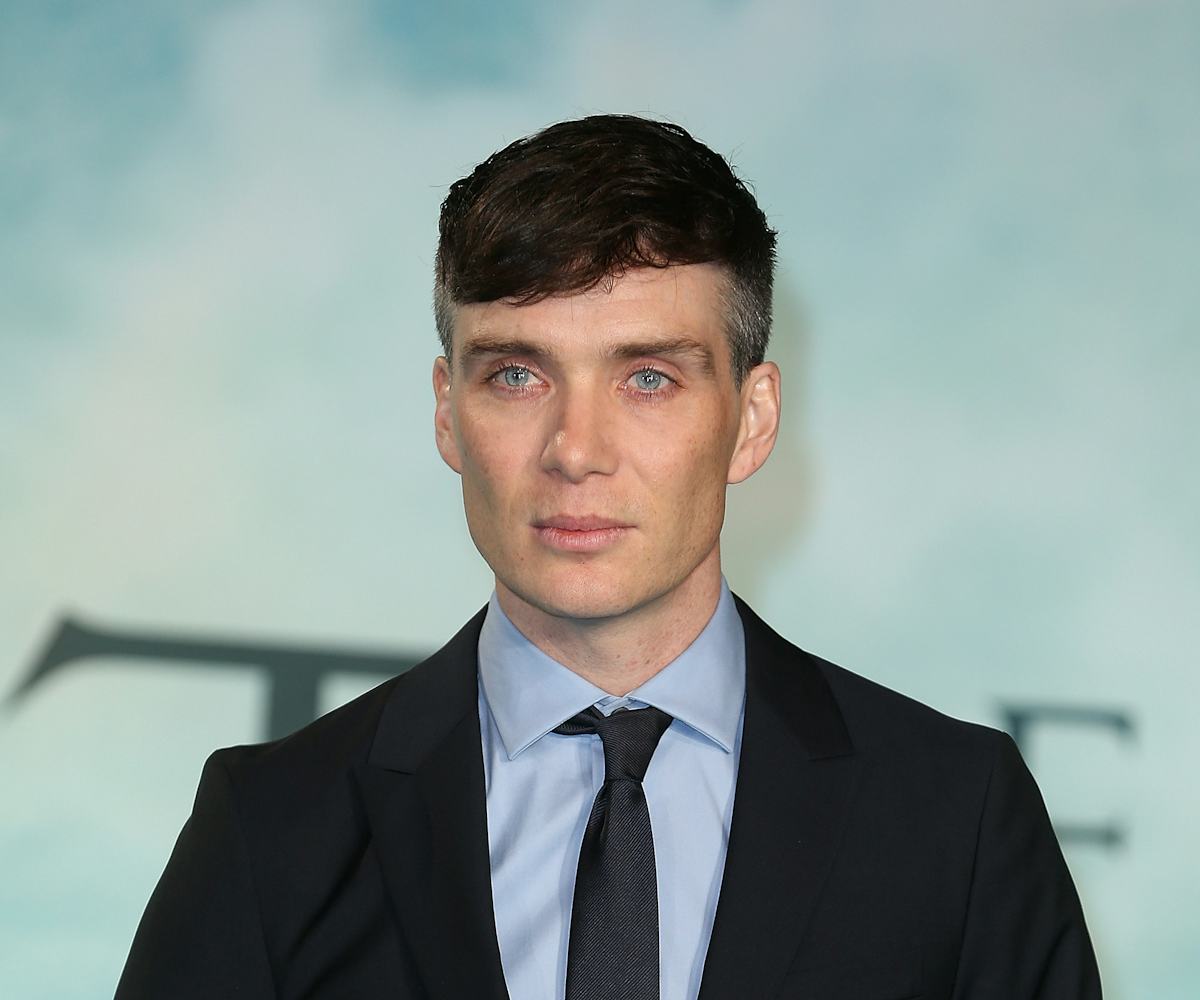 Photo by Fred Duval / Getty Images
Cillian Murphy On 'Anthropoid,' The Exhaustion Of Acting, And Working With Harry Styles
"I can't believe you asked that question"
Cillian Murphy is one of those rare leading men who can cycle between heroes and villains seamlessly. The same actor who was once humanity's last hope in the zombie apocalypse redux, 28 Days Later, terrorized the citizens of Gotham just a few years later as the Scarecrow in Batman Begins. And in his popular BBC series Peaky Blinders—the third season of which recently premiered on Netflix—Murphy plays a bit of both as the anti-hero, Thomas Shelby, a PTSD-afflicted gangster building an empire in post-WWI England.
For his latest role in the WWII espionage thriller Anthropoid, the 40-year-old Irish actor is going the good guy route, starring as real-life Czech rebel Josef Gabcík, who, along with Jan Kubis (played here by Jamie Dornan), ran an operation to assassinate Nazi General Reinhard Heydrich, one of the main people responsible for Hitler's Final Solution. We caught up with Murphy to discuss exhaustion from acting, war movies, and his work opposite Harry Styles in his other upcoming WW II epic, Dunkirk.
You don't go for easy roles, usually choosing characters that are emotionally complex or under an extreme amount of duress—this one being no exception. Why do you think you're drawn to those roles?
It's kind of what I like in film and literature. To me, a good man's life is not very interesting. In conflict there's drama, with contradiction there's drama, pressure is drama, duress—as you say—is drama. That's what I find interesting. It's always in pieces of art and cinema that I'm attracted to. I guess that's what I'm trying to emulate.
Is it ever too draining? Do you find there are days on set when it's too much?
Yeah. I'm a sucker for the immersive experience. I love it when you film and you have to cancel it all out because it's so consuming. Everything has to stop. I guess from the beginning, as an actor, it needed to be like that for me. That's all I've ever really known. For me, it's exhausting. If I don't feel exhausted, I don't feel like I've done it right.
Did you shut yourself off on this shoot?
Pretty much. We were shooting in Prague, which is a beautiful city. It's a really nice place to be. My family did come over for periods. Given the schedule, it was pretty intense, and we shot very, very fast. It was like eight weeks. It does take over your life, though.
Do you think that short time-span impacted your performance or the film at all?
No. It's an independent, mid-budget movie. Naturally, you have to shoot as quickly as you can, with availability and all those things. The atmosphere that [director] Sean [Ellis] established is very convivial. Jaime and I have a really good rapport. There's a lot of laughing. That allows you to explore the darker stuff easier because you're in a good place.
You work in film, TV, and theater. Do you purposefully maintain a presence in all three mediums?
No, it's not purposeful. For me, that's what acting is really about. The medium is secondary to the material. That's what I've always started off with. It's about the writing. Whether that be on stage, whether that be on television, whether that be on film, that's what I'm after. I'll be honest with you: I did a very intense play about two years ago, now. It was very unforgiving physically, and I said, "Alright, I'm going to give myself a little break from that to fall back in love with theater." Just to regenerate. I would go back to do it again. There are times where you go, "Okay, I'll put that on the backburner for a little while."
Given the rich history of World War II films and espionage thrillers, did you draw from anything for inspiration?
There has been a couple of films made on this topic. There's one Czech film that's apparently pretty good, and there's been another American one, I think. I deliberately didn't watch them because I wanted to come to it as fresh as possible. I find when I'm working, I tend not to watch film or television. If it's really, really good, you go, "Oh my god, we're never going to be this good!" If it's really, really shit, it's going to infect you. I tend to just read and listen to music and watch documentaries.
What do you think of war movies in general? They can be pretty culturally impactful.
Sure. I think some of the greatest directors have made their mark with war films. It seems like the great, great directors have to have a war film as part of their filmography. The Thin Red Line or Full Metal Jacket are two of the most powerful films I've ever seen in my life. Sure, it's a wonderful genre, and, again, it can make people think about stuff and question, "War, what is it good for? Absolutely nothing!" [Laughs] 
When you're playing a real person or acting in a specific historical time period, do you find there are different difficulties than working in fiction?
I don't know if I've ever played a real-life person before. I can't remember. I would imagine there could be a sense of paralysis if you're going like, "This person existed. They looked like this and walked like this and did this." Thankfully, with Jan and Josef we had very little material on them. We knew maybe where they came from and where they trained, but we knew very little about their personalities. Sean was able to create these characters from–pretty much–his imagination. Obviously, it's two-handed. The characters have to work in relief with each other. I think it's pretty clear in the film that my character is one way and Jaime's character is another way.
Is there something that attracts you to period works like this or Peaky Blinders or Dunkirk?
No. It's just a complete coincidence. For a while, there was a phase where I was doing a bunch of science fiction movies. People were like, "You're in a bunch of science fiction movies. What is it about science fiction movies that's attractive to you?" It was just the fact these good scripts happen to come along at the time. There's absolutely no plan. They just seem to materialize. I didn't know a year ago, when I was shooting Anthropoid, that I was going to be shooting Dunkirk.
You work with some pretty amazing people, like Sean and Chris Nolan. Do you look for anything specific in those you collaborate with?
Relationships develop. I'd love to work with Sean again. I think I met Chris Nolan twelve years ago or something like that. I never expected to make five films with him. It's just the way it's happened. I admire him tremendously. I suppose with people that you really admire tremendously, you hope it's reciprocal and you work together again sometime. That's how that develops.
Speaking of Chris Nolan, what has it been like working with Harry Styles on Dunkirk with the insane fan fervor around him?
I can't believe you asked that question. [Laughs] Nah, he's amazing! I have to say, he's a great kid and–above all–Chris Nolan is not going to cast somebody in his film unless he believes they're very, very talented. I trust Chris.