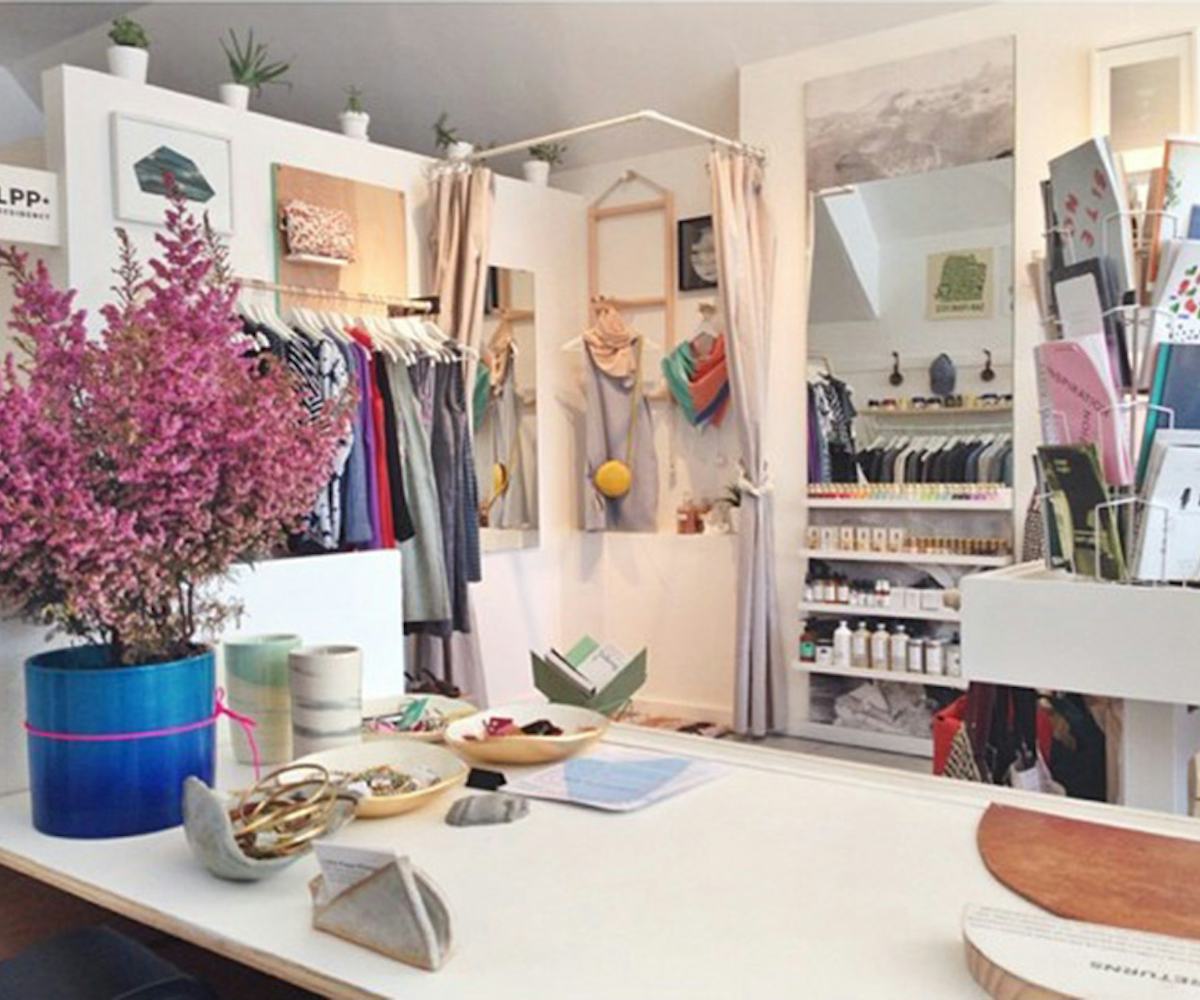 city find: little paper planes
the san francisco shop with more inspo than pinterest!
Thanks to Pinterest, we can now spend hours uncovering inspiration for our dream our apartment and save everything in one spot online. But there's one independent shop in San Francisco's Mission District that's actually discovering all of the coolest goodies we could ever need, (for atop our coffee tables and in between our books), IRL.
Located on Valencia Street, Little Paper Planes was opened by Kelly Lynn Jones in 2013. As an artist herself, it makes total sense that the multi-media creative has built an entire space that feels like it's part-gallery, part-dreamworld. How does she get the look? By covering the store's white walls with graphic design, sculptures, and paintings, all sourced from across the country and all over the Internet. Adorning the walls most recently, is the work of geometric abstract designer Elena Johnston, the latest resident artist to create exclusive prints for the shop.
Besides providing examples of how your place's bare spots can be filled with cool work, Little Paper Planes also sells dozens of colorful handmade clothes, potions (for all you witches), and zines like Return of the Haughty Bitches by Carolyn Alexander.
It's true, what you'll find inside this trove of indie treasures is so thoughtfully organized and aesthetically inspired, that you might just have a hard time discerning between what's art and what's not. Even better, the shop just extended their summer hours, which means they are now open seven days a week.  
So, yeah, now would be the time to take a break from "pinning" and head out to Valencia Street--but, just in case you're really that addicted to your MacBook, try perusing Little Paper Plane's awesome blog, which, itself comes with enough inspo to fill up an entire digital pin board.
Want to know abuot more cool spots around the U.S.? Subscribe to the NYLON Daily Newsletter in your city to get updates sent straight to your inbox on the reg!
Art by Cody Hoyt
Art by Sally England
Art by Allison Watkins
Art by Xochi Solis
Art by Rachel Howe
Art by Wildsam Field Guides
Art by Elena Johnston