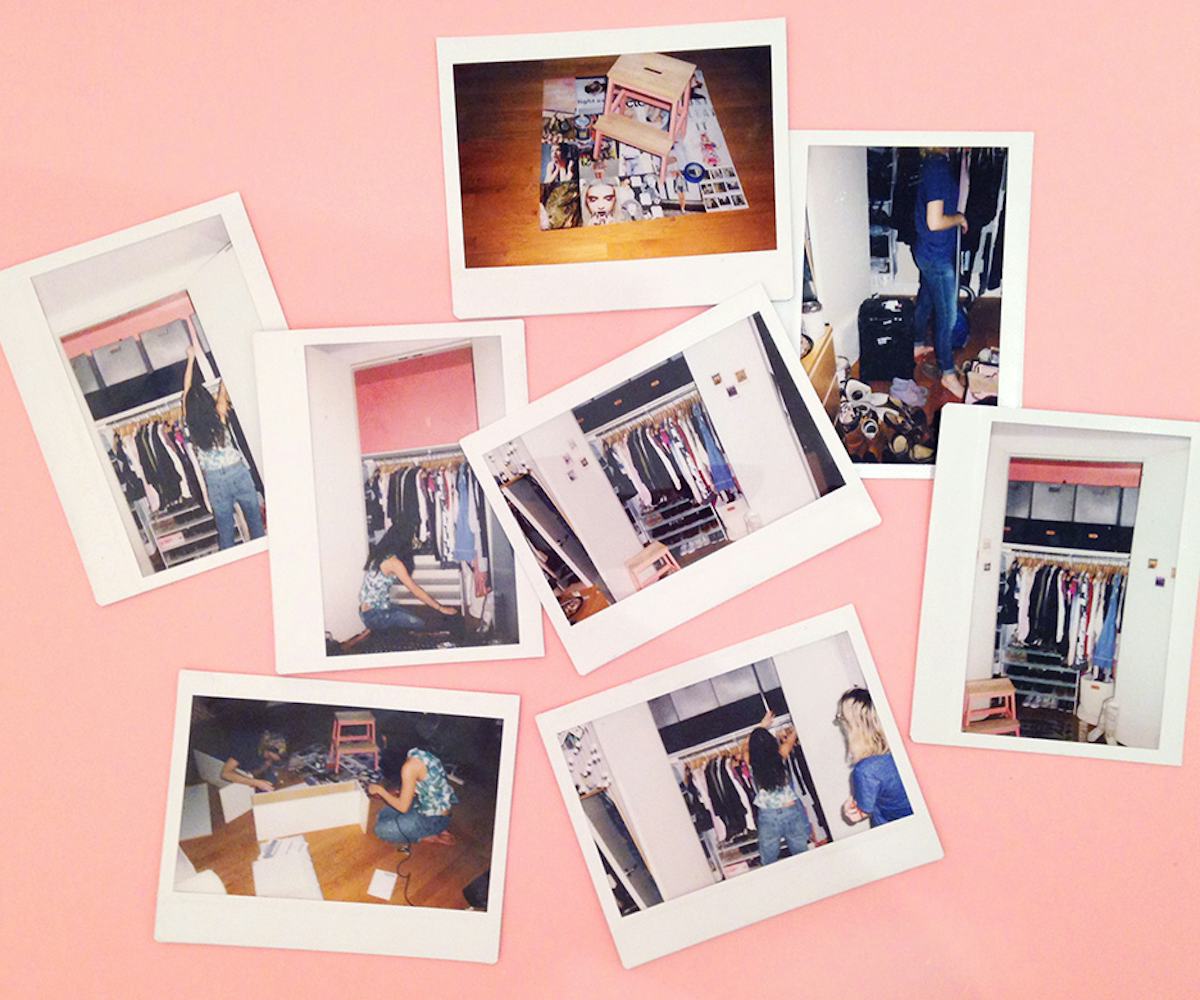 Photographed by Collins Nai
how to spring clean your closet in 7 easy steps
Spring is finally in the air, and while I'm truly happy to leave my vitamin D deficiency and seasonal depression behind, this also means two not-so-pleasant things: allergies and my "annual" closet clean. The truth is, my sneezing is starting to interfere with my relationships, and for the past couple of years cleaning out my closet has become primarily theoretical.
So this spring I decided to get real: I got myself a prescription and a netti pot, and enlisted the help of Tina Apostolou, an interior designer from Homepolish, to help with the closet sitch. The cool thing about Homepolish (besides being affordable), is that they'll set you up with a designer for a project of any size—even a closet makeover. Plus, they redid the NYLON offices so I knew I would be in good hands. Click through the gallery to find out how to spring clean your closet in a few easy steps!
1. Throw stuff out.
If you live in a city like New York, good closet space is rare and can vary from nonexistent to strange and impractical. One of the things about my current apartment that wooed me is the fact that all three bedrooms had their own closets. Unfortunately old habits die hard, and it seems the cleaning technique I developed as a child hoarder—throwing everything in the closet and forcing the door shut—is hard to leave behind. I've lived in my place for 4 years now, and have grown weirdly attached to many objects and items of clothing merely because: #memories. Clearly, I needed to do some purging. I tried to toss everything I hadn't worn in a year and didn't have some weird emotional attachment too. I've also been using my closet to hide my Christmas decoration addiction, a ton of arts and crafts supplies, partially used shampoo bottles, makeup I might want someday, and a bunch of random kids toys I ended up with from my nanny days. Half the stuff I didn't even know I had and most of it was easy to part with.
2. Add some color. Tina recommended adding a pop of color by either painting a portion of the closet or adding accents with washi tape, which is a really easy less permanent option. I opted to do both. I painted the back section above the shelf a super pretty shade of peach. At first I was skeptical—my room isn't super girly and it seemed like a lot o' pink for a small enclosed space—but I actually loved how it looked. It was super easy, too. I used less than a quart and just rolled it on.
This is the peach I used:
Benjamin Moore, Interior Paint, inPink Peach 2009-40, semi-gloss, $17.99/quart, available at Benjamin Moore
And a few other pretty shades:
Benjamin Moore, Interior Paint, in Red Tulip 2000-30, semi-gloss, $17.99/quart, available at Benjamin Moore
Benjamin Moore, Interior Paint, in Rose Quartz 2002-30, semi-gloss, $17.99/quart, available at Benjamin Moore
Benjamin Moore, Interior Paint, in Rosy Blush 2086-30, semi-gloss, $17.99/quart, available at Benjamin Moore
Benjamin Moore, Interior Paint, in Hot Lips 2077-30, semi-gloss, $17.99/quart, available at Benjamin Moore
3. Storage
Tina recommended adding bins to my shelf to keep things organized and out of sight—just what I like. We chose these two-toned felt bins from West Elm, because they're super tall and offer max storage and they're super cute. Tina also found these amazing customizable leather tags on Etsy, which we added to the bins to customize and to help with organization.
West Elm
, Felt Hamper, $34.99, available at
Nora Klotz
, Personalized Leather Tags, $9.61/three, available at
4. Face your Fears. Deal with your shoes. Confession: I don't take care of my shoes. Like at all. They were piled up on the floor of my closet in various states of disrepair and dustiness. After tossing the ones I never wear, Tina recommended a shoe shelf to maximize space and to keep them organized. I bought two cheap ones from The Container Store and decided to stack in order to leave more floor space for other things. Like laundry. And secrets.
The Container Store, 2-Shelf Shoe Stacker, $17.99, available at The Container Store
5. Add a stool! I'm not especially short—about 5'6"—but I still can't reach the top shelf of anything in my apartment. Tina recommended this cute step stool from Ikea, and whaddaya know, I already owned it, but had never moved it from where I unpacked it after my last Ikea trip. As an easy hack, we painted the legs using the leftover closet paint. 
Ikea, Bekvam Step Stool, Beech, $14.99, available at Ikea
6. Hanging Your Clothes While I previously had no method to my clothes-hanging-madness, Tina recommended organizing by length/style and arranging according to what you use most frequently. Because I stacked my shoe shelves, it made sense to hang my blouses and shorter items above them and go from there. She also recommended investing in hangers with a slimmer silhouette than my wooden friends seen here. It's probably one of the quickest ways to create more space in your closet.
Skinny Hangers: 
The Container Store, Platinum Huggable Hangers, $8.99/package of ten, available at The Container Store
7. Final touches To add some final touches of pizazz and love to my beautiful new closet, Tina used washi tape to create stripes of color along the shoe shelves. I picked a few of my favorite Polaroids and taped them to the inside of the doors, again using washi tape. We stood back and admired our work.
You are done! I absolutely love my closet "makeover" because it still looks and feels like my closet not some cold display at the container store (no offense, love you CS). It was easy and didn't cost me a fortune.
Here's what I learned from Tina:
Let go of the past - Pairing down is good for your closet and probably good for your soul.
Ask for help - if you're stuck in a rut there's no shame in calling in the pros, especially when a service like Homepolish exists. Take advantage!
Containers - Use them to organize, utilize your space and maximize storage.
Color - This is the easiest way to brighten your space and make it feel fresh and new.
Use what you have - "Making over" a space doesn't mean you need to trash everything - keep what works.
Personalize - you want your space (no matter who big or small) to feel like you - adding little details make all the difference.