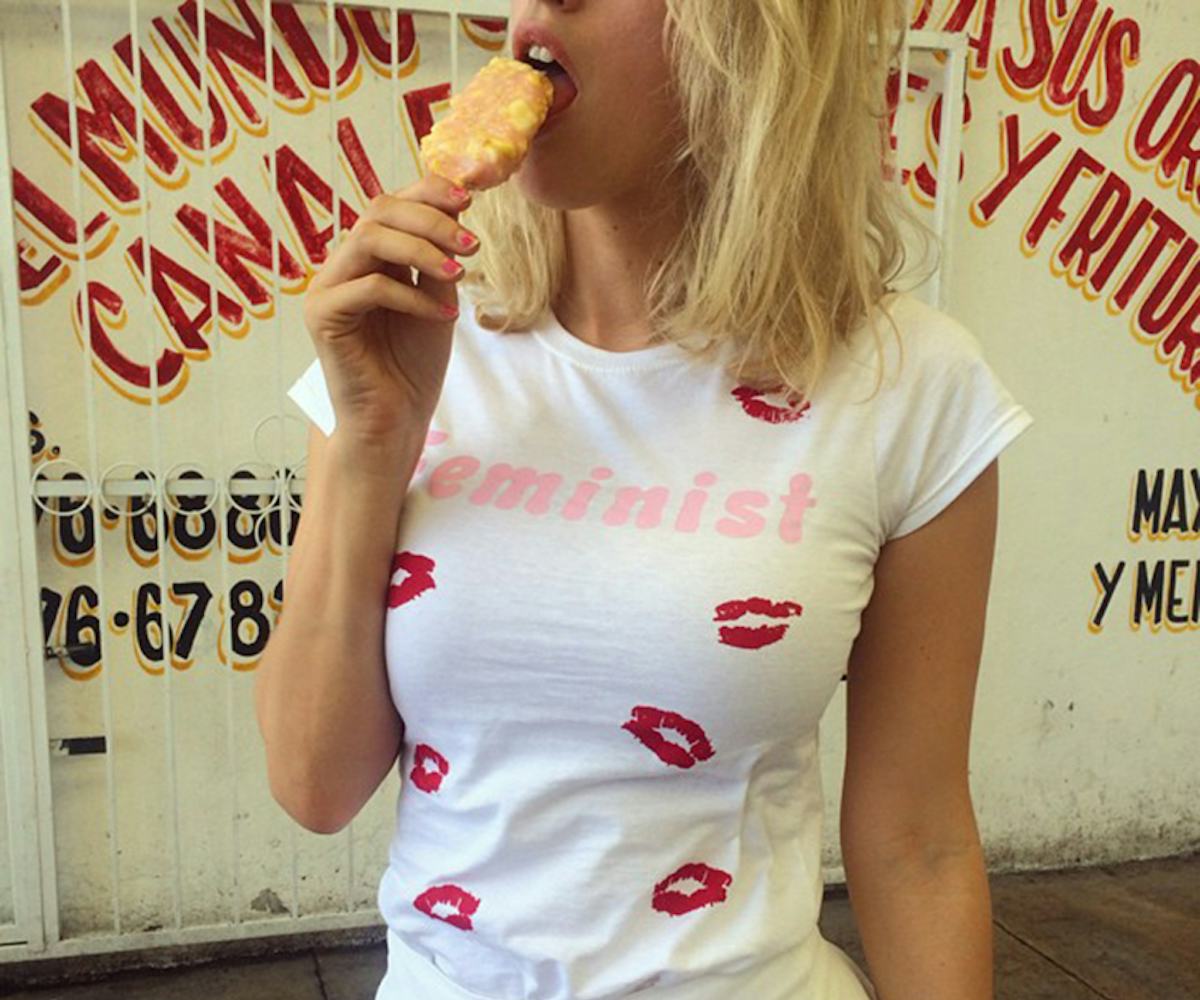 photo by @its_meandyou on instagram
insta files friday: the web's best clothing brands.
You've probably noticed that all of your favorite brands are putting their latest collections and newest products on Instagram. It's pretty awesome, because most of the time you get to be the first to know when they've got new stuff on their sites. Shopping new arrivals is easier than ever with the rad photo platform, and we've rounded up our favorite online shops whose Instagrams are ruling our feed and making it pretty hard to shop IRL anymore.
NUMBER ONE
Founded in late 2013, Clashist makes all of their digitally printed clothes right in Downtown LA, featuring patterns of all your favorite things. We're talking about With repeating objects from Wes Anderson films, drawings replicating Lena Dunham's nude moments on Girls, James Franco and Seth Rogen blazing up, and this Sam Jones power tee (featured in the NYLON Shop). This is one 'grammable feed you won't want to miss.
NUMBER TWO
Besides being a super rad accessories designer, Pamela Love is also the founder (along with stylist Heathermary Jackson) of an online vintage shop called Brownstone Cowboys. Follow their feed and you can expect to find the awesome throwback goodies like a T-shirt that says "All I want is peace and quiet. Give me a piece and I'll be quiet" alongside photos of '70s babes.
NUMBER THREE
We. love. Pom poms. This super-fun, Australian-based accessories line is serving up serious style by way of giant, fuzzy pom pom earrings, chokers, and rings. Yes, please.
NUMBER FOUR
California girl, Lily Ashwell's self-titled clothing line features sun-bleached ladies frolicking along the beach in her silky dresses and distressed denim. This girl is the master of California-cool.
NUMBER FIVE
London's Antonia Marsh recently started an art collective called Girls Only NYC. Out in her studio in Bushwick, female artists are welcome to a residency with Antonia to have a space to create their own work. It's basically like a girls-only summer camp, but better (and six-months long). Send Marsh one of your own tees and she'll print her signature Girls Only NYC logo onto it. The best part? It might just end up on her Instagram.
NUMBER SIX
If you're looking for classy food-inspired jewelry. Aussie, Lucy Folk has got you covered. With an eye for graphic design, each of her collections are inspired by something different from the culinary world (this season's "Appeteaser" is all about oysters) and is artfully snapped.
NUMBER SEVEN
Me + You is a feminist-inspired fashion line by artists Mayan Tolendano and Julia Baylis that we can't wait to get our hands on. Available via Instagram, silky pink nightgowns, like one with "Thank You for Shopping Here" printed onto it is definitely on our wishlist.
NUMBER EIGHT
If you thought embroidery was just for ladies in rocking chairs, think again. Cheeky Boom makes T-shirts, undies, and baseball caps with, yes, "cheeky" stuff embroidered onto them. Kiwi boobs, aliens, and Vegas signs are included.
NUMBER NINE
This is one brand that is totally revolutionizing the e-design game. You can upload literally any image in the universe and have it appear on one of their signature items. Want a T-shirt printed with Cheese Doodles? Check. A repeating pattern of Johnny Depp's single tear in Cry Baby? Yup, you can totally do that too.
NUMBER TEN
Alex Olson's latest fashion endeavor, Bianca Chandon, is probably the coolest skater gear you've seen in a while. Follow his feed for the latest designs and photos of cool kids on wheels.
via @lilyashwell
via @brownstonecowboys
via @pomsjewellery
via @biancachandon
via @printalloverme
via @cheekyboomparis
via @its_meandyou
via @antoniamarsh
via @lucy_folk
via @clashist