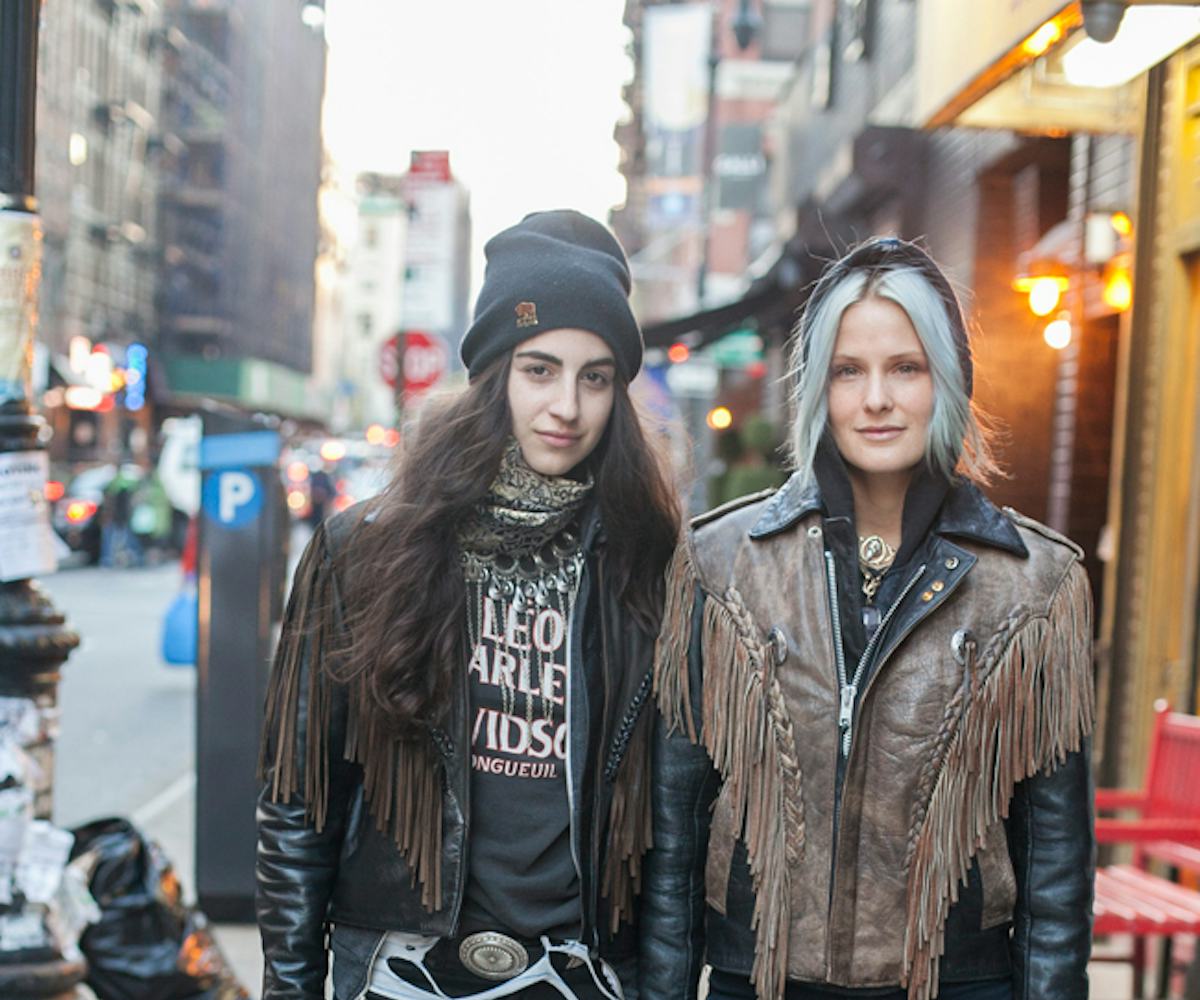 all photos by emily malan
the best street style from cmj
electric purple shawl for the win.
When you think of killer street style, one thing comes to mind: Fashion Week. Well, all the major fashion weeks came and went—New York, London, Milan, and Paris—and we conquered the street style scene. Oh, we conquered. But we also couldn't help but wonder what would happen if we decided to cover street style at another one of New York's biggest events: CMJ. So we sent our photographer, Emily Malan, to document the coolest looks from outside our favorite venues. Check out all the looks in the gallery and comment below with your favorite looks. And who knows, we may even catch you on your way to see Beach Day, First Aid Kit, Bear's Den, Jack + Eliza, and about 100 other bands. 
Mackenzie
The weather's got us feeling (and dressing) delightfully gloomy.
Sena
After a rainy day, this girl brought the rainbow.
Lina
You've got to be studious to memorize a lineup this massive.
Aziz
Shades of grey are fall's unofficial uniform.
Danielle of Shark Week
Is there any other print better than leopard? The answer is no.
Elizabeth
Black on black on burgundy.
Haley
Mermaid hair + camo = killing it. 
Kam of The Suffers
Colorful prints and shades are a match made in heaven.
Leilani
There's only one rule when it comes to denim: there's no such thing as too much. 
Leah
"If you want to destroy my sweater..."
Mitch
Great black hat. Great outfit.
Stella and Germaine
Stylish BFFs for the win.
Virginia
The cure for rainy days? Jewel tones and rubber boots. 
Krisi of The Lady K. Layering is everything.
You can't go wrong with piling on patterns.
Atafeh & Brittany
Matching in vibes on Rivington Street.
Sharilyn
A jaunty hat and some sassy shoes!
Jessi
Slouchy fashion sweats, a leather jacket, and a ginormous scarf—enough said.
Cassandra
Can gold ever do you wrong? 
Karey Myers
"I'm a genie in a bottle, you gotta rub me the right way..."
LA Witch
Three super cool girls, one killer attitude.
Tracee Owo
Moral of the story: Never leave home without your purple faux fur shawl.
Baby G
Layering is the name of the game.
Belinda
Totally effortless, but the deal is sealed with those red brogues.