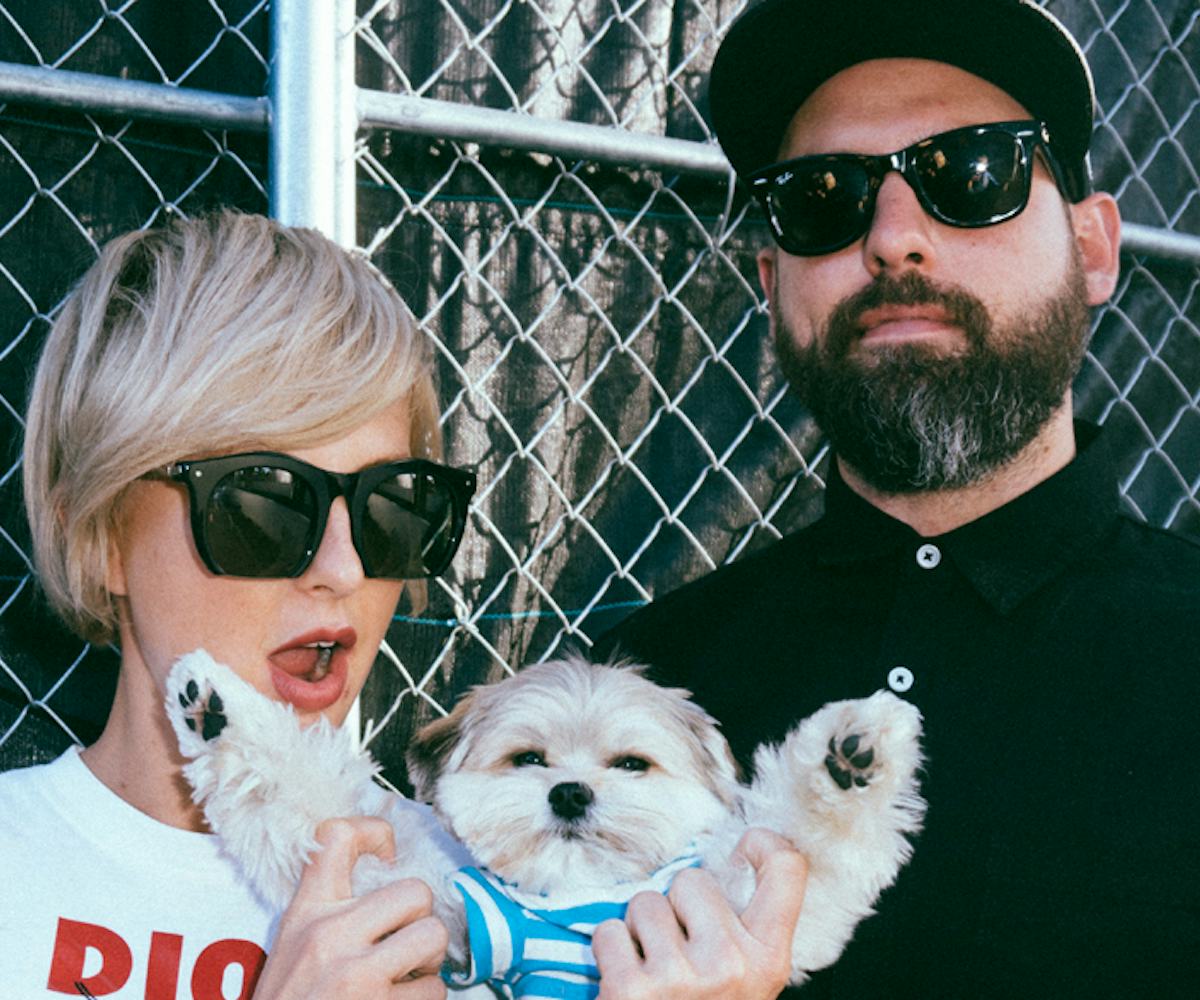 Photo by Lindsey Byrnes
The Weirdest Festival Experiences, As Told By The Performers
Work imitates life imitates art
Music festivals are weird. There's really no way around it. Build a couple fancy stages, commission large-scale installation art, rack up a killer array of food, and top it all off with an insane music lineup, and weird becomes inevitable because humans are weird and humans under the influence of... music are even weirder. For musicians, though, weirdness aka festival season is a part of the job. Their office is that fantastical playground, which makes for some pretty memorable anecdotes. You know, the ones that you'll be telling for years down the line because they're just that good? Well, we hit Coachella this year in search of those experiences; the more outrageous, the better. These are their stories. Dun-dun.
As one of New York City's finest DJs, Honey Dijon's Glastonbury experience left her feeling like a fish out of water, or rather, like a DJ in too much water. "I wasn't prepared for the mud situation," she said. It's really outrageous. I brought a really cute pair of boots because I was like, 'Oh, it won't be that bad. It's gonna be whatever.' And we literally had to go get trash bins to cover my shoes, and they still broke!" Talk about prep for New York's too-often rainy Governors Ball.
Sofi Tukker is riding the high of their recent Grammy nomination for Best Dance Recording and life on the road touring their stellar Soft Animals EP. Still, though, in the short time we had together, we learned they had their most bizarre festival experience in Hungary. 
Tucker Halpern described the setting as "weirdest thing ever." It was the band's first time in that kind of EDM environment. "There were people getting taken out on stretchers left and right," Halpern continued. "I mean it was wild." Sophie Hawley-Weld added, "I just remember feeling so overstimulated." That's one word for it! Yikes.
You know Phantogram. Their song "When I'm Small" is perennially cool, and they've got stories. For one, during their Sasquatch set last year as Big Grams (their project with Big Boi), Josh Carter's adrenaline over "beating the shit" out of a birthday piñata got the best of him.
"I was having a lot of fun with this big, metal industrial broom handle that you sweep the stage with as the piñata stick," Carter explained. After crushing the piñata and with the crowd cheering, Carter said he "chucked the handle into the audience and midway through, I realize something isn't good. Apparently, it smashed into a kid's face and broke his nose." (Phantogram's Sarah Barthel let out a "No!" at this.) Carter continued, "I called him personally and said, 'I heard you got injured.' He was just mad that they wouldn't let him keep the pole because he wanted me to sign it." Dope. 
Right now, they're taking their latest album, Three, on the road, where Barthel is adamant that no piñata will grace the stage again. "We are going to give you balloons."
It's never a bad time to listen to Little Dragon. They're effortlessly cool. The word "chill" is thrown around too often these days, but Little Dragon embodies it completely. And their newest album, Season High, will help you feel the same.
Yukimi Nagano told us about a weird but cozy experience the band had at an Italian festival. "It was kind of a festival, out in this yard where they had stones... it was very cozy." Erik Bodin interjected saying, "Wasn't that where there was a ballet show before us? The one with the 10-year-olds who had their end-of-the-term ballet show and were, like, the support act for our show?" "It was bizarre," Nagano said, "but beautiful."
Bishop Briggs had the luckiest Coachella experience, ever, this year. Her set got bumped to the golden hour, which means more festival attendees and larger audiences singing her music back at her, a nice hat tip to her most bizarre festival experience.
"We played WayHome festival in Canada," she said. "It was one of the first couple of festivals we had ever played, and people sang along; they sang 'Wild Horses' with me, and they sang 'River' with me. I was never expecting that. I'd say that was one of the most amazing and bizarre, exciting experiences."
Shura rules. When she's not fantasizing about being a fly on the wall in Bon Iver's festival trailer or working on the follow-up to her brilliant 2016 album Nothing's Real, she's advising against downing a whole bag of wasabi peas after a full day of festival'ing. "My weirdest festival experience was probably my first festival experience, which was Glastonbury, which is not dissimilar in size to Coachella, but very dissimilar in weather," she began.
It's basically like rolling around in the mud. It was my first night, and I was obviously having a lovely time, and drinking all the things—and maybe some other things as well—and got very hungry around 1am and decided to eat an entire bag of wasabi peas because I fucking love wasabi peas. Anyway, I woke up at about 6am not feeling so good. I was so hungover that the only thing that I could do was unzip the entrance to my tent, rotate around in my sleeping bag, stick my head out, and just throw up very spicy green vomit. I knew I'd done this all wrong. I was like, "Someone should have told me not to eat the wasabi peas.'"I don't think I've eaten one wasabi pea since, which is kind of really bittersweet because I loved them. But once you've thrown them up, that's it. Spicy vomit is not okay.
Röyksopp needs to introduction. They've been shaping the modern dance scene for years with highly emotive and four-to-the-floor productions. Having completed their six-album cycle in 2014, the duo just dropped "Never Ever" and its subsequent remixes. Before this all began, though, they did a gig in 1998 prior to even being Röyksopp. "We played the outskirts of northern Norway, like really far up in no man's land where electronic music was quite uncommon at that time," Svein Berge says. A little into their set, which took place around 3am, it started to rain, so the festival pulled a tarp over the crowd. 
"We could see seven people," Torbjørn Brundtland said of the hundreds in the audience. "One of the guys climbed up from beneath the tarp and entered the stage, grabbed a microphone that was standing there, and started to quote Jim Morrison's Doors stuff over our music, which was very odd and quite a big of a mismatch," Berge continued. Apparently, another big man got on stage and started to fight the other guy. "These people just started fighting while we were playing our really mellow, nice electronic music," Brundtland said. "Very odd, indeed."