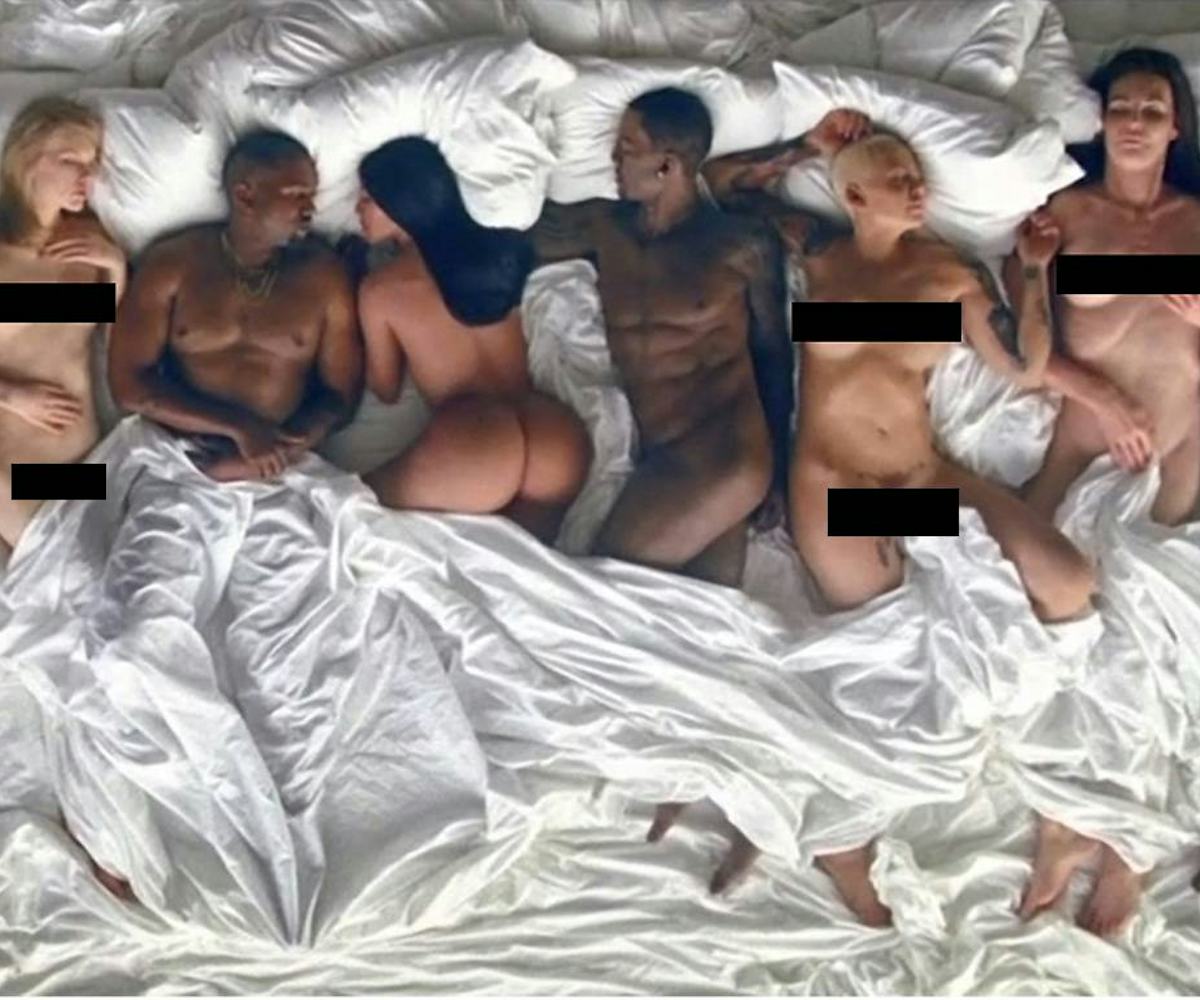 The 14 Most Controversial Music Videos Of All Time
It's not all pure shock value, although there is a lot of it
When Kanye West announced that he would premiere the video for his song "Famous" on a 100-foot screen at the L.A. Forum, it was pretty clear that it was going to be something big. After all, everything the rapper has done in his career—especially lately—has been unapologetically vexed. Thirty seconds in, those who were watching the broadcast in person and streaming it on TIDAL started to guess what the visual would say. Cutting between interview soundbites, static, and what appeared to be footage of a mock sex tape, it seemed as if it was either going to be some sort of look into West's reality or a perspective on the new type of fame that he and the Kardashian family have created. Instead, what the public found was a nearly 11-minute clip of figures that West has found himself sharing headlines with. It was pure shock value—and, quite obviously, it was successful.
While we debate whether or not it holds a higher purpose, it's important to reflect upon music's relationship with controversy, and the visual aids that have accompanied its incendiary lyrics and figures in the past. At the end of the day, music and film are forms of artistic expression. MTV may be pumping out reality shows nowadays, but it created an environment where artists could combine both mediums to make some sort of grand statement. While there's certainly a lot of bullshit out there clogging the airwaves and YouTube's servers, there are a lot of music video moments that have changed the course of policy and people's perceptions.
Ahead, we visit the most controversial music videos of all time, and the messages they were trying to present.
Lady Gaga + R. Kelly - "Do What U Want"
Choosing to perform a song with a man who has been accused of engaging in pedophilia multiple times is a very poor judgment call—whether or not a jury somehow found him innocent. Choosing to perform one that's about sex—one where the main hook is the lyric "Do what you want with my body"—is, well... let's just say that it's something that Lady Gaga did back in 2013. Then, the two filmed a music video together. Not only was it directed by Terry Richardson, the infamous photographer who has continuously been accused of sexually abusing and coercing models and subjects into sex, but its subject matter was even more disturbing. While the singer, who has publicly spoken about her own rape, had the good sense to pull the video's release, footage obtained by TMZ shows a video of Gaga being pulled around while naked on an operating table after being administered a sedative by R. Kelly. According to reports, in the video, R. Kelly also said, "I'm putting you under and when you wake up, you're going to be pregnant." 
Madonna - "Like A Prayer"
Always one to embrace controversy, Madonna's "Like A Prayer" video makes a statement on religion, sex, and race. While it certainly doesn't seem as inflammatory now, it met massive contention when it was released in 1989. The Pope publicly condemned her, and Pepsi eventually dropped her as a spokeswoman after religious groups boycotted the soft drink company. The singer most likely knew that singing in front of a field of burning crosses wouldn't end well, but that's what makes the video all the more compelling. 
Justice - "Stress"
Directed by Romain Gavras, Justice's video for "Stress" followed a group of kids running around, wreaking havoc on the streets of Paris. While all of the vandalism, violence, and abuse was staged for the video, the fact that it was shot documentary style adds to the tough, convincing atmosphere of the seven-minute clip. Add to that the fact that all of the members of this Justice-jacketed gang are either black or appear to be Middle Eastern, and it provides an open statement on the perception of race. Not surprisingly, the video was never meant to be broadcasted on MTV or television itself. Instead, it premiered on Kanye West's website.
t.A.T.u. - "All the Things She Said"
This song and video put t.A.T.u. on the map. The visual followed the Russian duo as they were rebuked and imprisoned for expressing their love for each other. At the time of its release, its focus on lesbianism sparked discussion. The video took on later meaning and debate as it was revealed that t.A.T.u.'s members weren't actually lesbians, even though they publicly claimed to be in a relationship together. Even more controversially, in 2014, singer Julia Volkova said that homosexuality isn't "natural," commenting that she wouldn't accept a gay son, although she would a lesbian daughter because "lesbians look aesthetically much nicer than two men holding her hand or kissing." Double standards and ignorance aside, the video's message is still as poignant as ever, in both foreign countries that condemn those who are true to themselves and in the U.S. where homophobia is still rampant.
Smashing Pumpkins - "Try, Try, Try"
"Try, Try, Try" follows a drug-addicted couple, one-half of which is pregnant, as they go through their day. Along the way, they steal food, prostitute, drink, overdose on heroin in a dirty bathroom, and lose their baby. As frontman Billy Corgan said, the band knew that the video would meet controversy and its uncensored version wouldn't be shown on most platforms aside from their website. "We talked about it, and I said, 'If the worst thing is we have to submit edited or censored versions, that's fine,'" he told MTV. "Because we should know that a) we're making great art and b) we'll be able to put it on the website so anybody who wants to see it uncut will be able to, and, of course, someday when we put [out] some sort of video compilation it will be on there as well."
M.I.A. - "Born Free"
Not unlike Justice's "Stress," M.I.A.'s "Born Free" video—which was also directed by Romain Gavras—depicts senseless violence in a hectic, intimate manner that can only be described as deeply disturbing. Within hours of its release, the U.S. version of YouTube went so far as to drop the video. The nine-minute graphic shows American troops rounding up redheads, transporting them to a concentration-like camp in the desert, and torturing them with the possibility of making it out alive, The Most Dangerous Game style. While seeing a young boy getting shot and teens getting blown up is perturbing, it's the persecution of minorities and imposition of wrongful institutional control that feels so relevant at this time.
Serge + Charlotte Gainsbourg - "Lemon Incest"
A play on the similarity between the words "zest" and "incest," pretty much everything about the father-daughter duet was destined to incite anger and criticism. The lyrics themselves are provocative, not to mention the fact that Charlotte was 12 years old when they recorded the song. The track takes on both incest and pedophilia, two triggering topics which inspire conversations about the manipulation of power, health, and innocence. Given the controversy of it all, the song rose to the top of the charts and spent 10 weeks in the French Top 10, although it was publicly denounced by the Pope and censored from British radio. While Charlotte has acted in many contentious films, she insists that she was in full control and aware of the song and its video (which showed her sprawled out on a bed in an oversized shirt next to her shirtless father). "The song is very pure and the words are very pure," she told Financial Times. "The lyrics say, 'The love that we'll never do together.' Of course, there's a provocation, but there's a lot of honesty too. It's a real love from a father to his daughter, and from a daughter to her father. I'm very proud of the song. There's nothing to be ashamed of." 
Nirvana - "Heart Shaped Box"
Conceived by Kurt Cobain and directed by Anton Corbijn, nearly everything depicted in Nirvana's "Heart Shaped Box" was a symbol for something larger: cancer, society's hatred for each other, religion, drugs, and, perhaps most obviously, Courtney Love's vagina. Shot in color, transferred to black-and-white, and then hand-painted to look like Technicolor, Corbijn has gone on record to say that the saturation of color was most likely the reason why MTV didn't censor the video, which features an old man being crucified, a child as a member of the Ku Klux Klan, a naked woman with organs painted on her body, a fetus in a blood bag, and a decrepit man lying on a hospital bed. 
Robin Thicke - "Blurred Lines"
Not surprisingly, the fact that three grown, entitled men paid models to frolick around topless while pandering to the male gaze and flipping their hair about to a song title which calls the lines between consensual sex and rape "blurred" is unacceptable. Still, it's pretty hard to deny that the song and its video are some of the most recognizable musical byproducts of the current decade.
2 Live Crew - "Me So Horny"
While the video counterpart to 2 Live Crew's "Me So Horny" doesn't seem so salacious nowadays, it incited an extremely large amount of outrage when it was released in 1989. A judge actually declared its album, As Nasty as They Wanna Be, obscene (another judge later determined it not to be). Because of the manner in which it so overtly expressed its focus on sex, many television stations were unable to play the video and the band had to release a more "clean" version to make it on the likes of MTV and VH1.  
Pearl Jam - "Jeremy"
Based on the story of Jeremy Delle, a teenager who shot himself in front of his sophomore high school class, Pearl Jam's "Jeremy" video depicts the torments that Jeremy endured. Offering criticism about the way culture declares bullying "harmless," the video eventually shows Jeremy putting a gun in his mouth and then cuts to shocked classmates covered in blood. A few years later, a lawyer argued that this music video—which was eventually censored to remove the gun for viewing on MTV—inspired a middle schooler to shoot his classmates.
Marilyn Manson - "(s)AINT"
Even if you're not familiar with his music, you're probably aware that Marilyn Manson has never been one to shy away from self-expression. Of course, his brand is one that many find grotesque and repellent. The "(s)AINT" video is inarguably his most graphically provocative. In the four-minute clip, Manson snorts cocaine (at one point off a Bible), masturbates, cuts himself, engages in cunnilingus, and partakes in S&M. The video doesn't really offer a criticism on society or larger world issues, but it does provide an image of a more alternative version of sexuality and sexual preferences to a widespread audience. 
Kanye West - "Famous"
Inspired by Vincent Desiderio's Sleep, Kanye West's clip for his already inflammatory song "Famous" slow pans over a bed containing wax figures of people who West has come into contact with in some controversial way.
There's Taylor Swift, whom he famously disrespected twice (although there are claims that the second incident, involving the song in question and its lyric, "I feel like me and Taylor might still have sex / Why / I made that bitch famous," is a false outrage). Then, there's his frequent collaborator Rihanna, whose likeness lays next to that of her former abuser and all-around garbage human being Chris Brown, who also teamed up with West on his song "Waves." There's Bill Cosby, whom West has gone on record to say is innocent of drugging and raping people over decades, despite claims from 57 women. There's Donald Trump, the idiotic somehow presidential candidate, and former president George W. Bush, who West said "doesn't like black people" during a Hurricane Katrina PSA. There's Anna Wintour, who has offered her support to West on multiple occasions and helped him establish himself in the fashion industry. We see a figure of Caitlyn Jenner, West's recently transitioned stepfather-in-law who has come under fire for supporting politicians and policies that are unfriendly to LGBTQIA rights. There's Amber Rose, West's ex who has become a symbol for female empowerment in her criticism and dismissal of West's misogynist claims. And then there's his wife, Kim Kardashian, who lays next to a figure of her ex, Ray J, the man with whom she made the sex tape that ultimately catapulted her to a new level of fame. 
Honestly, it's hard to see a bigger purpose to this video other than the obvious shock value it holds. Perhaps it's a commentary on the exposing, removed nature of fame. Perhaps it says something about the incest of the entertainment industry itself. Either way, it's disturbing to see figures who most likely didn't consent to the video sprawled out naked, especially since the only ones fully shown nude are women. 
FKA twigs - "Video Girl"
Directed by Khalil Joseph, the "Video Girl" visual finds FKA twigs dancing in a room while a man on death row receives a lethal injection. Seeing as the artist's videos typically showcase some sort of sacrifice, and the fact that twigs isn't someone who cares much for shock value, there's clearly a bigger purpose at work other than a criticism of the prison system. Still, that's what people saw the video as when it was first released.