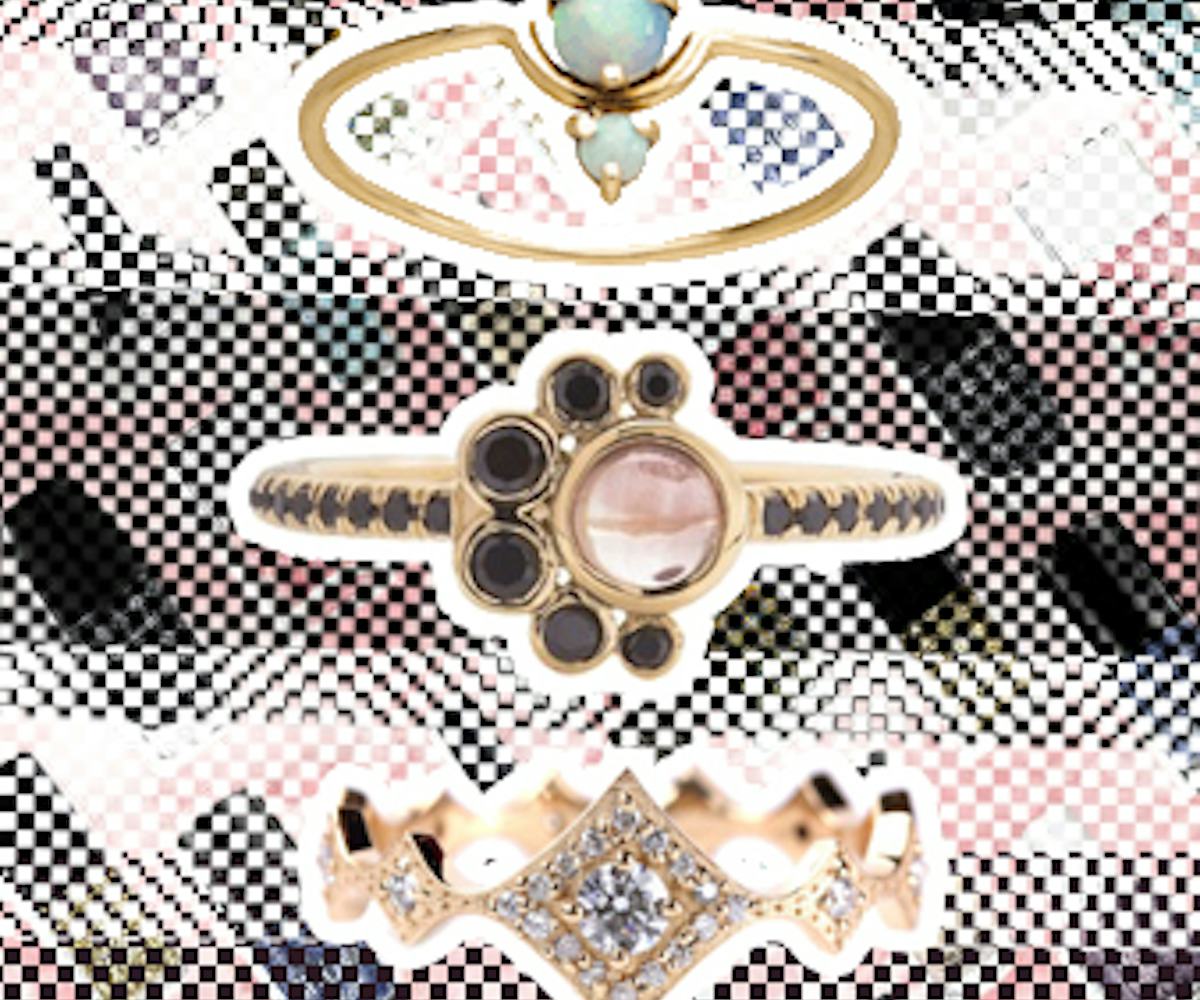 16 Coolest Engagement Rings For The Unconventional Bride
because not everyone dreams of a diamond solitaire
When it comes to planning one's big day, not all of us are the white-wedding-dress-platinum-diamond-ring types. More so than ever, today's brides are looking to break the mold and go a more unconventional and unique route when it comes to planning their nuptials. This holds especially true when it comes to picking out engagement rings—where the size of the rock isn't as important as it used to be.
Today's engagement ring options are much more interesting—whether due to shape, type, or color of the stone, they're certainly more of a conversation piece than just a token of commitment. The more eccentric or edgier, the better. Diamond alternatives, from opals to rutilated quartz, can add some serious color and flair to your setting—not to mention, cut the cost. Besides, if you'll be wearing it forever (or, at least, have the intention to), it should be something you really love that reflects your personal style. 
We rounded up some of the coolest shapes, stones, and styles of engagement rings that aren't exactly traditional—for every budget, of course—to help inspire you to find the ring of your dreams. Click through to the gallery to see our picks.
Anita Ko, Pear Diamond Chain Ring, $2,375, available at Anita Ko.
Anna Sheffield, Hazeline Solitaire Ring with Blackened Rutilated Quartz, $2,500, available at Anna Sheffield.
Catbird, Opal Teardrop Ring, $198, available at Catbird.
Digby & Iona, Raziel Ring, $3,180, available at Digby & Iona.
Erica Weiner, Deco Acanthus Engagement Ring, $1,600, available at Erica Weiner.
Finn, Pear Rose Cut Ring, $1,375, available at Finn.
Jennie Kwon, Sapphire Mini Deco Point Ring, $375, available at Jennie Kwon.
Katie Diamond, Leighton Ring, $2,164, available at Katie Diamond.   
Macha, Rockwell III Ring, $325, available at Macha.
MANIAMANIA, Divine Ring, $220, available at MANIAMANIA.
Meadowlark, Mini Hex Engagement Ring, $1,629, available at Meadowlark.
Megan Thorne, Asta Ring With Blue Zircon, $2,710, available at Greenwich Jewelers.
Mociun, Sunstone And Black Diamond Crescent Ring, $1,656, available at Mociun.   
Satomi Kawakita, Hexagon Ruby Ring, $585, available at Satomi Kawakita.
Kathryn Bentley, Tanzanite Summer Triangle Ring, $450, available at Stone Fox Bride.
Wwake, Nestled Opal Ring, $445, available at Wwake.