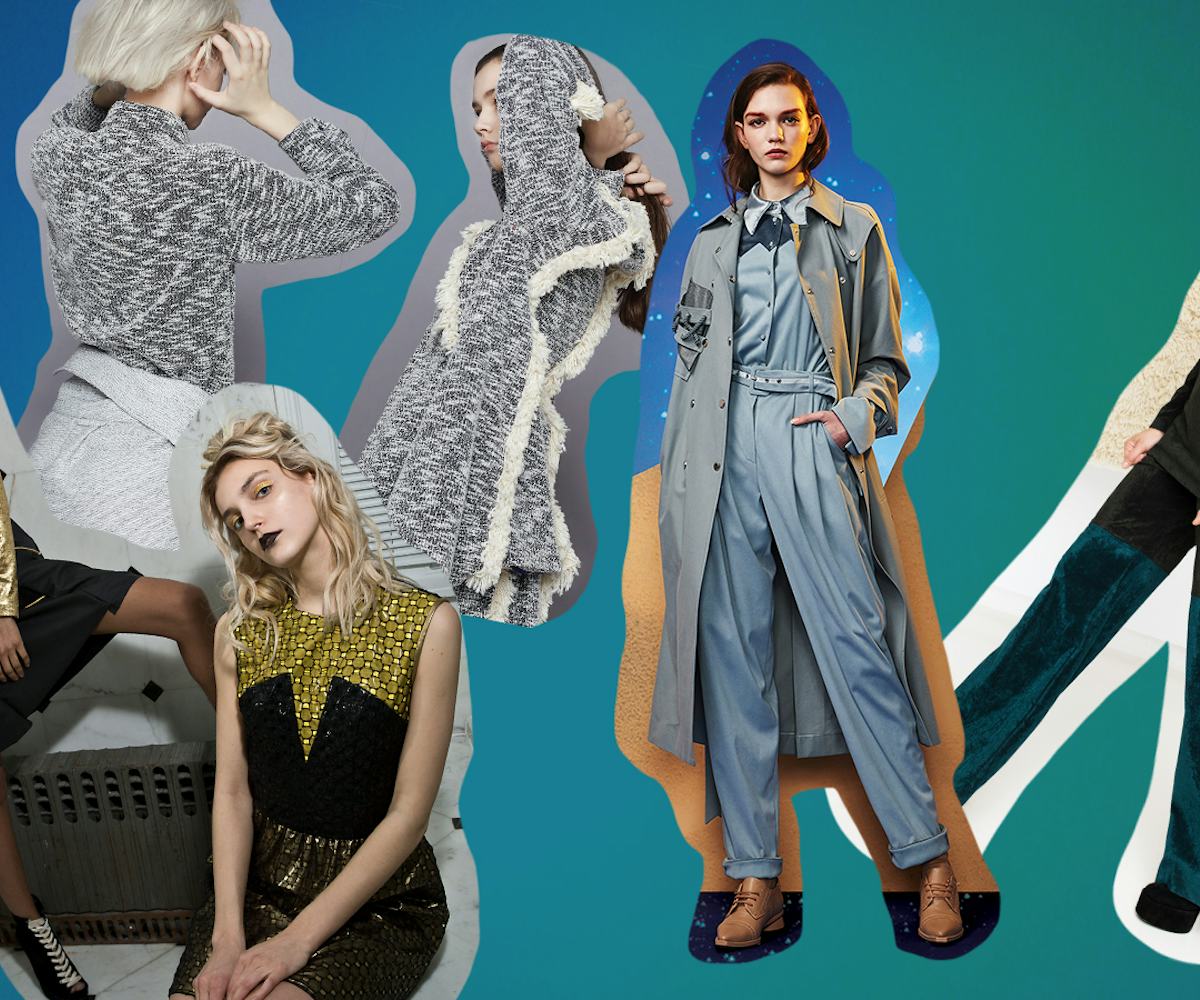 8 Brands From Coterie That Are About To Be Huge
You'll want to keep these up-and-comers on your radar
It's tradeshow season here in New York, with a number of major fashion conventions taking over some of Manhattan's largest spaces over the next few weeks. While tradeshows may be more of an industry thing—filled with buyers and trade editors, and not the market editors and influencers of Fashion Month—they typically are how many up-and-coming brands are discovered and subsequently placed into our favorite shops and boutiques.
Coterie, one of the larger women's apparel, accessories, and footwear shows to take over the Jacob Javitz Center next week, is up on the "who's who" in the retail game and has an eye for brands on the rise. Its TMRW section, specifically dedicated to showcasing "tomorrow's premier brands" curated by the show's VP and her special team of scouts, focuses on the fresh and most interesting talent who are bound to be the next big thing.
Below, meet the eight you should keep on your radar. From ethically made Peruvian knits of Stella Pardo to the city chic neutrals of LEHA, we're almost certain we'll be seeing these brands everywhere in the coming seasons.  
LIE
If you're looking for masterful mixing of patterns, shapes, and textures, then Korean-based label LIE is for you.
Designer, Chung Chung Lee, is no stranger to the fashion game—his own parents are the brains behind major Korean fashion house Lie Sangbong, which shows during NYFW. However, he's been busy designing and creating for his own label LIE for the past six years alongside his sister, and launched a successful London-based menswear label previous to that.
We definitely see his playful and beautifully quirky designs launching off into street style stardom in the coming seasons. The brand already has a permanent spot in the Lie Sangbong flagship store here in NYC, so it's only a matter of time before Lee's tailored take on wardrobe basics with a twist are everywhere.
Stella Pardo
Ethical fashion brands are trending, and Stella Pardo is certainly one to know. Taking one look at the Paris-based label's dreamy knits will have you falling in love. Designer Cinthya Guerrero designs romantic and feminine—yet carefree—pieces in the purest and most ethical way possible.
Inspired by her Peruvian grandmother, Guerrero spent more than two years immersing herself in the culture of the country's textile workshops. While she taught herself the basic fundamentals of the practice, she spent time tracking down the best knitters in the region to learn as many skills from them as possible.
While Guerrero now designs her line from Paris, every piece is hand-produced by a collective of knitters in Peru.
Stephanie Rad
One word to describe designer Stephanie Rad's namesake label? Well, rad. The trouser-focused brand is all about elevated staples for the modern woman, so you can expect everything from color blocked trouser-and-top sets and velour pantsuits to accent-pocketed button-downs.
Rad describes her brand as known for its two-tone hardware, sleek silhouettes, and collectability—and we definitely agree. We predict the street style savvy collecting these gorgeous staples for their fashion arsenals, season after season.
Amehl
Experimental label Amehl is certainly not for the faint of fashion heart. Designer Amanda Mehl's pieces are bold, even "out there"—it's really no surprise that she also works as a contemporary interdisciplinary artist.
Her use of the unconventional can be seen throughout her wild and playful pieces, incorporating textures and materials of all sorts. She's one to experiment, known to incorporate hardware store products such as rubber flooring, Astroturf, shower mats, and more into her clothing.
"What sets me apart from others is my strong and confident aesthetic," she says. "My analogy to fashion is the superhero costume—you put it on, feel confident, kick butt, and own the night. I also embrace the superhero aesthetic that is sharp, sexy, bold color, graphic lines, and structured but flirty." Her more recent collection represents her excellent eye for color blocking, mixing materials, and use of quirky embellishments.
Hagahi
It's all about the details at Hagahi, whether it's a ruffle-embellished shoe, a fringe-encrusted top, or an ice cream patched coat. Designer Gahee Ha runs her Korean- and NYC-based label on the philosophy that fashion is a means of communication between artists and the public, so you can expect creative—and unexpected—throughout her collections.
"The passion, perseverance, and creative vision of emerging artists are at the heart of the vitality and uniqueness of Hagahi," says Ha. "Through collaboration with young artists, we integrate original artistic prints with fine textiles and fresh silhouettes. We believe that each of our pieces encapsulates the fun and energy of our creative collaboration process and present a new approach to creative fashion for your everyday look."
Not only can we see Hagahi become a cult favorite amongst editors and influencers, but we are fans of the collaborative process Ha uses when designing each piece.
LEHA
If neutrals are your thing, prepare to swoon over Korean-based label LEHA.
Designer Lena Yoo's use of neutral shades—from soft blushes and beiges to navy, gray, and dark wash denims—are a color minimalist's dream. However, while LEHA is certainly understated, it's still full of feminine details. Ruffles and pleats of all sorts adorn her pieces, alongside more structured shirting and separates for an overall self-described "city-chic" vibe.
Katharine Kidd
L.A.-based designer Katherine Kidd creates avant-garde fashions that you can actually wear. Her line of separates is here to bring your street style game to a whole new level.
Through her use of novelty fabrics, color blocking, and dramatic ruffles and sleeves, she's catapulted her once cocktail-heavy line to an assortment of day-to-night statement pieces with serious couture vibes—yet prices that remain accessible. Her full fall 2017 campaign (and online shop!) are launching soon, so stay tuned.
House of V
Hong Kong-based label House of V is a line of womenswear that draws inspiration from architecture and simple geometry, with designer Vickie Au guiding her work based on the most basic unit in design: lines.
"Every detail in each piece is carefully crafted and curated to achieve sartorial harmony," says Au. The "V" in House of V is meant to represent Au's philosophy in using simple lines to create subtle depth. Her sophisticated yet simplistic pieces have a slightly androgynous feel with "the sharp fashion taste and self-assured attitude of the new modern ladies."