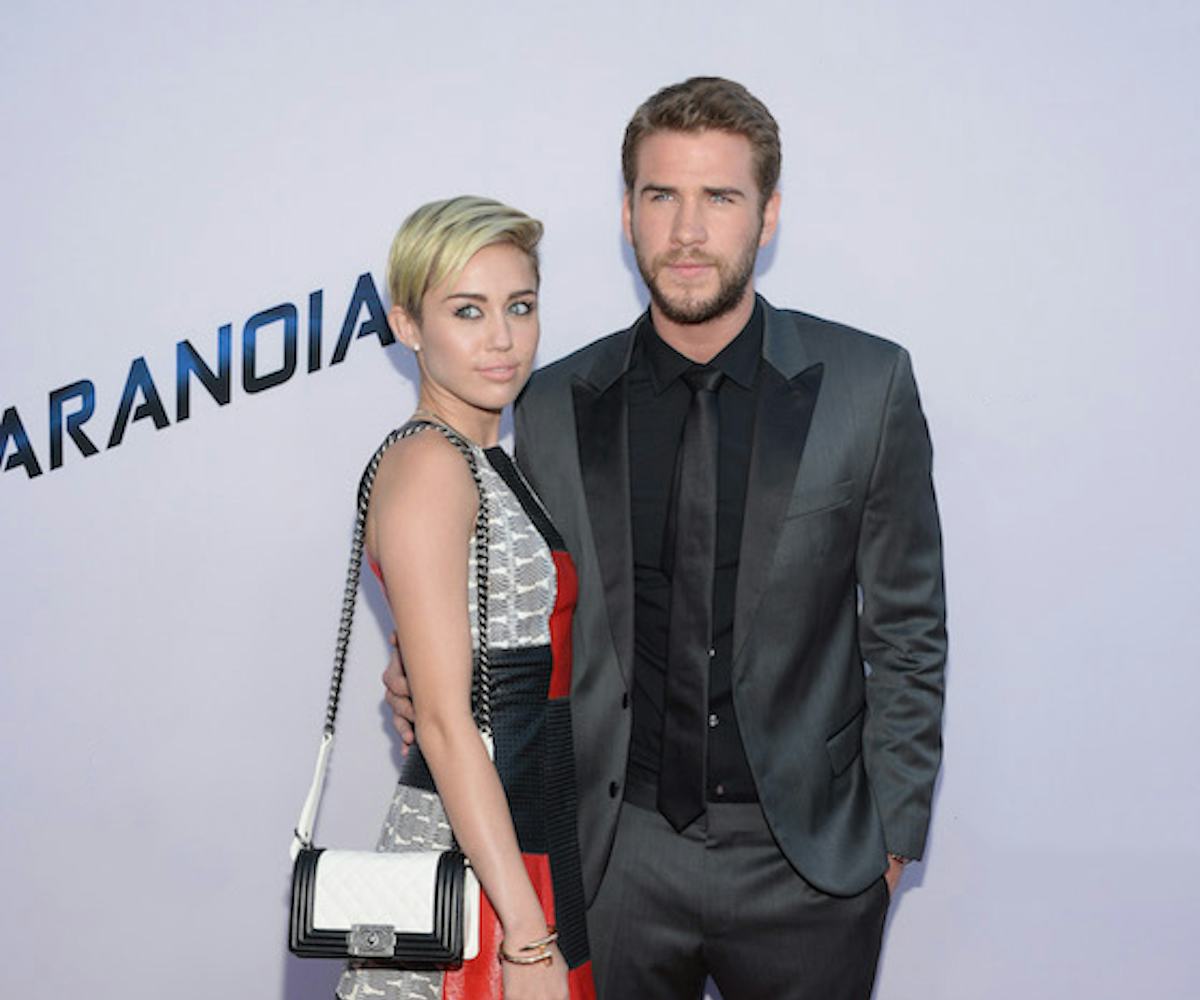 Photo by Jason Kempis /Getty Images.
8 Couples Who Rekindled Their Flame
celebrities: they're just like us!
In the grand scheme of day-to-day life, not much can compare to the intensity of a breakup. Before the words "We need to talk" are even uttered, it's an anxiety-ridden affair filled with feelings of regret and essentially every emotion you never wanted to experience. And yet, they happen every day. Life goes on, new experiences are had, and new relationships are forged.
But sometimes, whether it be after the span of a few months or a few years, a once-couple decides to give it all another shot and rekindle their previously extinguished flame. It happens in ordinary life and, as fate would have it, in the glittery, highly-publicized entertainment world as well. 
They say that breaking up is hard to do, and one may even argue that making up is even harder, but as tabloid bait from Miley Cyrus and Liam Hemsworth to Emma Roberts and Evan Peters shows, sometimes it's all worth it in the end.
Emma Roberts + Evan PetersIn indie Young Hollywood, there never seemed a more fitting pairing than Emma Roberts and Evan Peters. The two actors, who have co-starred on American Horror Story and Adult World, began dating in 2012. But then, in 2013, Roberts was arrested after a fight between the two became violent. In a statement, the two said, "It was an unfortunate incident and misunderstanding. Ms. Roberts was released after questioning and the couple are working together to move past it." Although they became engaged a few months later, they split up in June 2015. Now, though, it appears that the two are together, as indicated by their complimentary Instagrams. 
Justin Timberlake + Jessica BielIn 2011, as confirmed by their reps, Timberlake and Biel broke up after a four year relationship of coordinating outfits and hikes. During their separation, Timberlake told Vanity Fair, "She is the single-handedly the most significant person in my life. In my 30 years, she is the most special person, O.K.? … I don't want to say much more, because I have to protect things that are dear to me—for instance, her." The two reunited a few months later, became engaged in 2012 and had a secret wedding ceremony in Italy.
Adam Levine + Behati PrinslooThe couple officially announced their relationship by making their first red carpet appearance in October 2012. But in May 2013, it was reported that Levine found a new love in Nina Agdal. But, as they say, you can never extinguish the flames of true love, and the two were back together again and engaged in July. 
Prince William + Kate MiddletonYes, it seems not even the royal family is immune. Before they were betrothed and were given the titles of Duke and Duchess of Cambridge, the two reportedly broke up in 2007. According to Marcia Moody's Kate: A Biography, after they broke up, Kate busied herself with numerous art events and William took a trip to Mahiki, where "he leaped on to a table, shouting 'I'm free!', before slipping into his version of the robot dance." They got back together a few months later, and were married in 2011. When asked about their time apart by the UK Press Association, Kate said, "I think at the time I wasn't very happy about it, but actually it made me a stronger person, you find out things about yourself that maybe you hadn't realized. I think you can get quite consumed by a relationship when you're younger … I really valued that time for me as well, although I didn't think it at the time!"
Gabrielle Union + Dwayne WadeThe actress and basketball player may have one of the most complicated celebrity relationship timelines of recent years. When they first met in early 2007, both were in relationships. A few months later, Wade filed for divorce from his then-wife Siohvaughn Funches, and rumors circulated that Wade and Union started a relationship of their own. After a few years filled with lawsuits and custody battles, Wade and Union decided to take a break in early 2013, during which time Wade impregnated another woman. Wade and Union were back together within four months. When asked about their time apart on The Tonight Show, Wade said, "This was a big year for us in our relationship from the standpoint of she was shooting her show Being Mary Jane [and] I was dealing with my injuries, trying to win a championship. We kind of took a step back. We supported each other, but we took a step back for a little while. At the end of day, we came back together and said, 'Listen, we want to continue this. We want to try to continue to get better each day.' She's been with me and I've been with her all summer long. We're going strong now." The couple is now married.
Bella Hadid + Abel TesfayeDirectly after the holidays, there were reports that the supermodel and musician broke up. The Weeknd released three new songs, and Hadid spent time with her family. Yet two days later, the two seemed to address and shoot down the rumor in their own way, by posting a video of them partying in Miami, bathing themselves in dollar bills, and pointing their middle fingers to the air. Were they broken up? Were they always together? Ah, Young Hollywood, so fickle, so unpredictable, so mysterious. 
P!nk + Carey HartAfter the singer and motocross racer met at the 2001 X Games, they began a long on-and-off-again relationship. In 2005, P!nk proposed to Hart and they were married in 2006. They then separated in 2008. In a public blog post to her fans, P!nk wrote, "The most important thing for you all to know is that Carey and I love each other so so much. This breakup is not about cheating, anger, or fighting. I know it sounds like cliché bullsh–, but we are best friends, and we will continue to be... One never knows the future, but mine and Carey's just might involve beach babies and sunshine one day. Just not right now." They reunited a year later and now have a daughter, Willow Sage Hart, together.