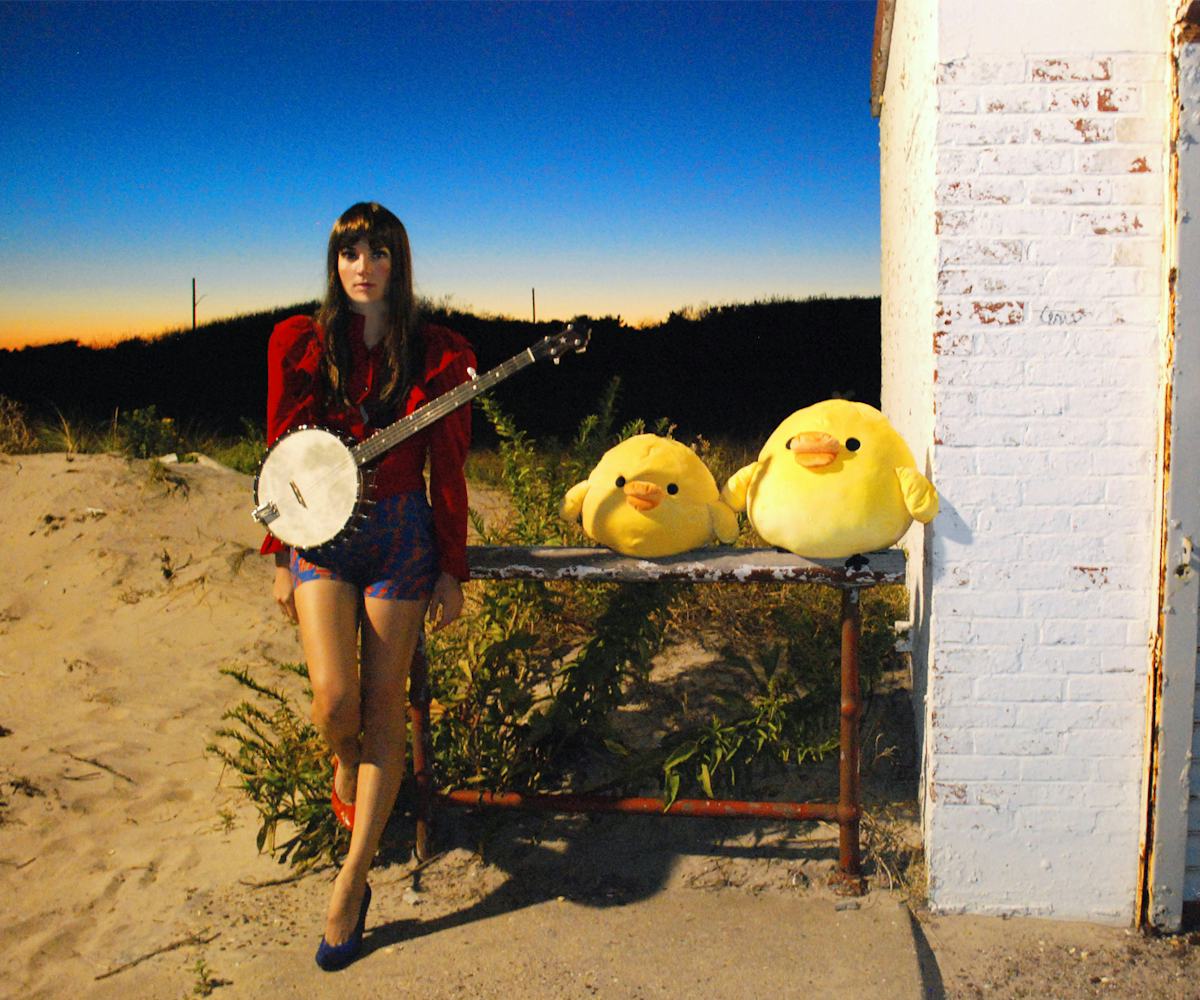 Sayard Egan
artist in residence: cynthia daignault
the new york painter tells us what makes her tick.
We first learned about Cynthia Daignault thanks to her recent works on Exhibition A, but turns out, that's only scratching the surface of the Brooklyn-based artist's talents. Seriously, this girl does everything. Along with that starkly captivating portrayal of Andy Warhol's "Screen Tests,"  our new art crush is also a banjo player, a writer, and is prepping a forthcoming exhibition at New York's Lisa Cooley Gallery. "Which Is The Sun and Which Is The Shadow" opens September 8, but for now, see our favorite pieces and get to know the musician/painter/all-around cool person below. 
1. If I had to explain to a stranger about my work, I'd say... I make paintings of stuff. "About what?" you say. "Well, they're about the inevitability of death and the transcendence of love," I answer. (Really paints a concrete mental picture, huh?). Then I resort to listing: minimalism, modernism, LSD, doubt, humanism, kittens, Beckett, Impressionism, still-life, freeze-frame, slow-motion, psychedelic singularity, white, light, sky, imperfection, astral projection and death. I make sure to bracket with death, as that really helps keep conversations with strangers light and carefree. 
2. Three things that have inspired me this week are... bourbon, kissing & trees. Wait-- that's every week. Does that still count?
3. My ultimate muse is... my heart, which alternately breaks, mends, empties and overflows. If the work can't move me, how can I expect anyone else to care? It has to be about everything or it's about nothing at all. 
4. My studio soundtrack includes...I play a lot of songs to the paintings on my banjo. Paintings are like plants; you have to sing to them or they don't grow, and mostly I sing the paintings songs about animals. As to other stuff, my 2011 solo show at White Columns was painted exclusively to the TV show Friday Night Lights. (I'm a true counter-culture bohemian). This most recent show at Lisa Cooley was a lot of Faulkner (on tape), Paul Simon (Obvious Child on repeat) and the Talking Heads (aka "music to paint to"). 
5. The weirdest thing that's ever happened to me on the job was....I was doing a collaboration for one of my CCTV paintings and the collector left me alone at his apartment with an expensive bottle of scotch and his smoking hot girlfriend in a thong. Wait - that wasn't weird - that was awesome. This was weird - this week a hummingbird flew into my studio and got caught in a massive spider web. He flapped around for a while and then gave up, totally limp. He was really twisted and I thought he'd broken a wing. I'd never seen a hummingbird stay so still. He was beautiful. I mean - time stops when a hummingbird rests. I held him and he froze. I felt his heart stop. I wanted to cry. I untangled the spider web from his little feet. I thought they might break under the clumsy action of my wide and imprecise fingers. It took forever. The webbing was very sticky. I finished and I stepped outside to lay him in the grass, but when I opened my hand, he just flew away, instantly distant, straight into the sun, such that I couldn't see him anymore when he left the earth for the sky. 
Learn more about Cynthia Daignault here! 
Sky Clock (Marfa), 2013
Any Morning, Any Evening, Any Day, 2012
Sky Clock, 2013