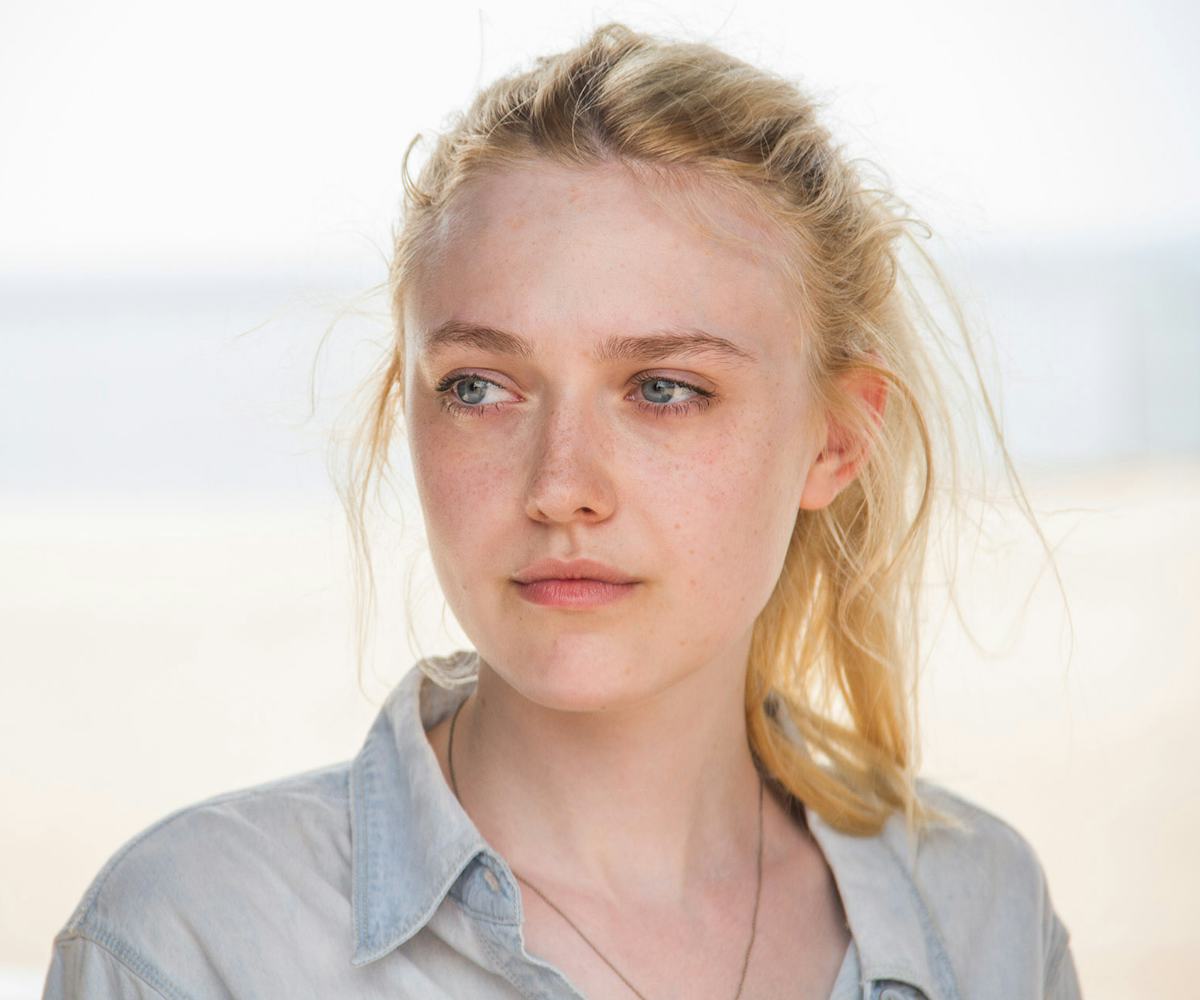 the insider: dakota fanning
on very good girls, skinny dipping, and being bff with elizabeth olsen.
One of the coolest parts about the new movie Very Good Girls is the awesome chemistry between its two stars, Dakota Fanning and Elizabeth Olsen. But turns out, this friendship isn't just acting, because as Fanning told us over the phone recently, the two actresses are actually pals in real life (they went to high school together, no big deal).
Which, if you ask us, is all the more reason to grab your own best friend and watch Naomi Foner's coming-of-age drama when it hits theaters this Friday. Before you do that, though, read our exclusive interview with Fanning below, where she fills us in on the film, her favorite ice cream spot, and that skinny dipping scene....
Hey Dakota! So maybe it's just us, but it feels like we've been hearing about Very Good Girls for forever. Are you excited that everyone can finally see it? 
Yes! We filmed it two years ago, so it sort of has been a while. You're always happy when a film is coming out and it's always exciting, but this one is especially great. 
Was this movie as much fun to make as it seemed? 
It was so fun, and everyone in the cast and crew hung out a ton. I mean, I had known Lizzie [Olsen] for a long time--we actually went to high school together!--so we have a lot of mutual friends.
Wait, really?
Yep, it's such a small world. So the whole experience was basically like hanging out with your friends, which was great. We filmed it in New York during the summer and the whole thing was such a cool experience--Naomi Foner, who wrote and directed it, is wonderful.
We have to talk about the skinny dipping scene where you and Lizzie run straight into the ocean naked...
[Laughing]  It was actually such a fun day! We just kept going into the water and all of us were laughing and screaming...the experience was completely real and natural. We were genuinely having a good time, so it didn't even matter that we were there the whole day. 
Let's talk about Lily's costumes, since her outfits seem surprisingly real (which can be rare in movies). 
Exactly, many times in movies I see people wearing wearing things and I'm always like, "I don't think they can afford that," or "It looks too expensive and you're supposed to be working in a grocery store!" People are trying to make things hyper-designer, which I don't think is right. I wore the same shoes throughout the entire movie for Lily, along with maybe two pairs of jeans and a couple of tops. It was like she had gotten rid of all of her clothes just before she went to college, and that's how she wanted to be.  
Since this movie is all about summertime adventures, what would you say is your most memberable summer? 
Hmm....summer is such a weird thing because you even when you're in college you feel like things are changing. There's really no comparison to those summer swhen you're in high school and you know that you'll be seeing your friends in two months and things will be the same. I think my most memorable summer was the one right after I gradauted high school--I don't wish to go back to it, but it's basically the last time before you're living on your own. Now that I'm living on my own in a different state and my family is across the country, it's more complicated.
Very Good Girls is one of those movies that's filled with life lessons no matter how old you are. What are you hoping people take from it?
In this movie, there's a lot of things about perspective and truth, and just about how important it is to have both. That's the only way to have a relationship with anyone, really, and is something you don't find in films often. Lily and Gerri fight because there's miscommunication between the two and they lie to each other...if you think that someone is lying to you, that's no way to have a relationship.
Speaking of New York summers, what's your go-to favorite summer spot in New York?
I love the Big Gay Ice Cream Truck! I've pretty much had everything off the menu. One fall my best friend and I went through the entire menu, and we planned out exactly which flavor we would get so we could share. My favorite is the Salty Pimp, but I also love The Mermaid, which is vanilla with key lime and graham crackers. 
What about shopping? Do you like to go vintage shopping in New York?
I normally don't have enough patience for vintage shopping, actually. [Laughing] My sister is normally the vintage shopper in family, so sometimes I just tag along with her!
Very Good Girls opens in theaters Friday.