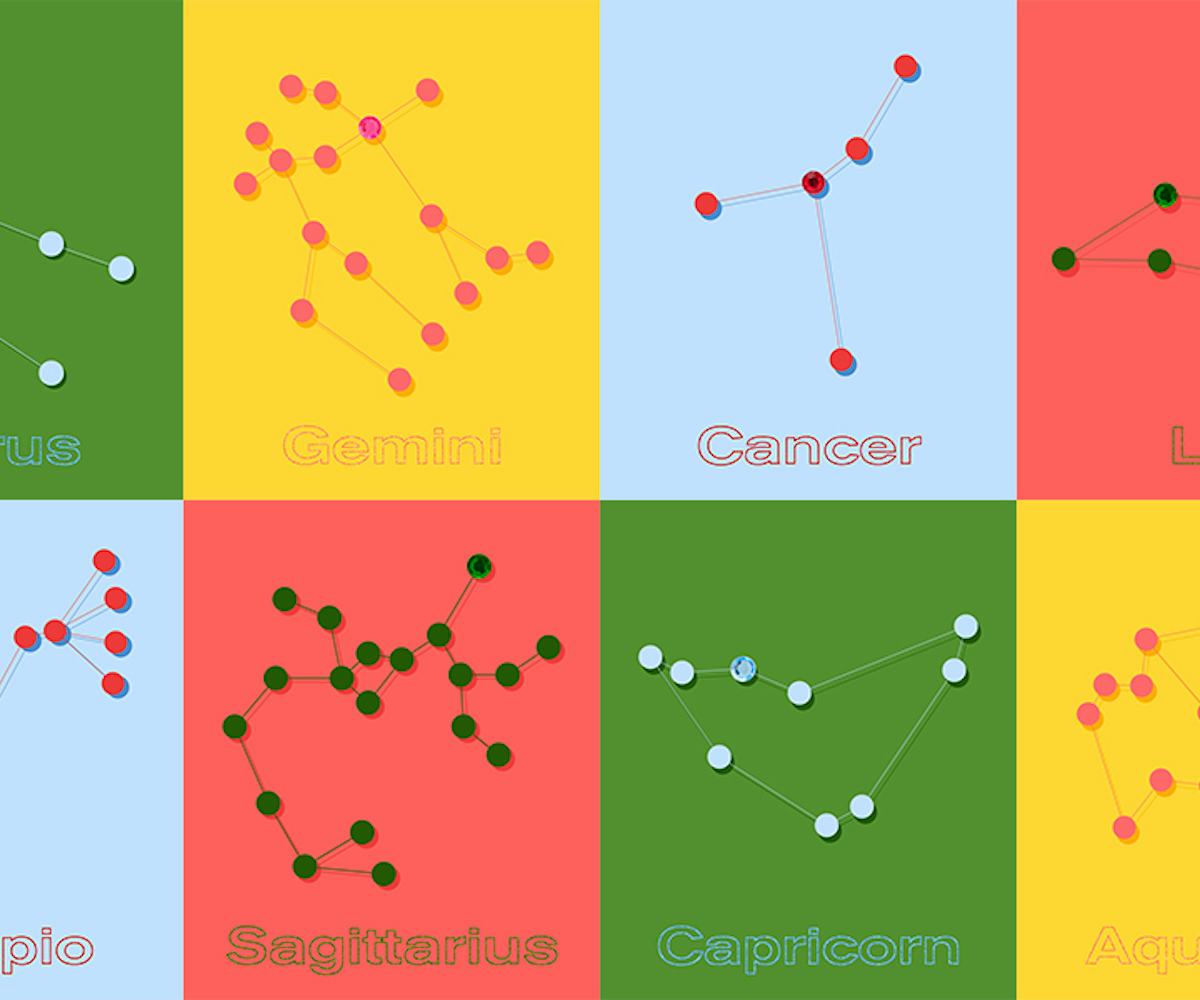 Your December Horoscopes Are Here
What the stars have in store for you this month
The world grows darker and colder in the Northern Hemisphere in December, and as a result, our human family is drawn closer together in solidarity under the stars. Despite differences in views or life experience, our intimate connections and shared similarities in the human condition breathe essential life into our most important relationships, ultimately weaving a useful web of support to be called on when we need it most.
At the top of the month, Mercury, quicksilver ruling planet of communications and technology associated with Gemini and Virgo, will stake his claim in serious, business-minded Capricorn on December 2. Making headway on important business agreements and legal negotiations are set to excel for most signs during the first weeks of December, especially for Taurus, Cancer, Virgo, Scorpio, Capricorn, and Pisces. Air signs Libra, Gemini, and Aquarius, along with fire signs (Aries, Leo, Sag) might meet difficulties mustering the patience to move slowly through a crucible of details.
Days later on December 7, Venus, the goddess-planet ruling romantic love, physical beauty, material luxury, and carnal pleasures, will shimmy into worldly Aquarius, throwing our relationships on an unexpected path. Aquarian energy is electric, strange in its eccentric, offbeat methods of expanding our social reach and developing unexpected friendships. All 12 signs will see the value in a diversified social group this December, cultivating an atmosphere of conviviality, teamwork, and camaraderie at work and play.
A glorious full moon in gregarious, affable Gemini on December 13 is bound to bring a hotly anticipated conclusion to an emotionally charged disagreement or event, either at work (all earth signs), home (Cancer and Scorpio), with family (Pisces), or your love life (air and fire signs). Mars, the fiery, red planet associated with action, victory in battle, and direct assertiveness will match up with cool-headed, spacey Pisces in an unlikely duo on December 19, forcing all signs to take a new tack, replacing aggression with peace, love, and understanding. Nothing can be taken by force when Mars is in Pisces, requiring more inner strength than brute persistence in remaining calm and peaceful in the fight. Signs like Taurus, Cancer, Virgo, Libra, and Pisces will have an easier time with this new strategy, in contrast to the sharp frustration likely to mount in fire signs (Aries, Leo, Sag), as well as for Gemini, Scorpio, Capricorn, and Aquarius.
Mercury, that tricky aforementioned dictator of communication and tech, will turn back time and enter his retrograde sleep from December 19, 2016, to January 8, 2017, demanding that all signs pump the brakes and come to a full stop before the calendar turns over into another year. Negotiations, litigation, and contractual agreements must be put on pause until mid-January 2017, along with any forward-moving progress on important projects. Take a mental vacation (or an actual one) during these weeks. Carve out plenty of time for meditation and reflection—most of us will be ending the year with a pensive, thoughtful aura raising compelling all 12 signs to assess our progress and reevaluate our most precious personal goals and values.
Warm friendships and family time will provide the ultimate respite from your own mind during the holidays, particularly with a new moon in cozy Capricorn on December 29. Balancing your studying and scheming with human contact is essential during the Northern Hemisphere's darkest hours of the year. Besides, you never know what brilliance friends and relatives might fire off during festivities. With so much good cheer and joy flowing freely, there's no limit to what universal lessons you could absorb. What you learn now could be the missing keys to elevating your life to its pinnacle of potential in 2017. Cheers!
Aries: All Together, Now!
Harmony reigns gloriously through the peaceful month of December for you, Aries. Despite a few cosmic road bumps along the way, your sign can look forward to a pleasurable end to a tumultuous year in a glittering and festive social season. Love and gratitude overflow, especially when it comes to friends and family, after December 7 when gracious Venus enters scene queen Aquarius. Chances are you'll have more than your fair share of hot holiday party invitations, so say yes—and don't shirk your (many) opportunities to show your face at the season's most stylish shindigs. You never know, your social exploits this month could lay a sturdy foundation for success in 2017, so rub those elbows and smile relentlessly.
Mercury, ruler of communication and technology, moves into studious Capricorn on December 2, at once giving your sign the edge in clear negotiations while demanding saintly patience during the first weeks of the month. You may not be known for patience, Aries, but you are known for your strength, so call upon your determination and tenacity to wrap up legal or contractual negotiations by December 13. A victorious Gemini full moon in your chart's messages sector indicates almost inevitable success—that is if you can master your silver-tongued sales pitch in those initial weeks. Do not sign anything after or on December 19 (seriously) when tricky Mercury will become temperamental and enter a retrograde period lasting until January 8, 2017.
Double-dealing Mercury brings a blessing in disguise in the last two weeks of 2016: Forcing a complete slowdown for reflection. Your focus? Career and professional development, since Mercury will be headed backward in your 10th House ruling professional ambition and vision. Through the first week of January, your mental energies are best spent reassessing your goals in climbing the professional ladder, meditating on how much you've achieved and imagining how far you'd like to go in the coming year.
Your ruling planet, Mars, will glide into peaceful Pisces on December 19 as well, initially trying your nerves and confusing your focus. Thankfully, this aspect will also cloak a calming mantle around all your public-facing endeavors. Friends will be there to supply a sanctuary of love, and you may opt to spend the holidays with them, possibly blending your pals into a traditional family gathering. A new moon in dutiful Capricorn in your career sector might distract you with visions of future glory. Even if you're busy working on the preliminaries of a massive project at month's end, take care to balance due diligence with a healthy dose of fun and play.
Taurus: Crazy Like a Fox
As per usual, you are all about your business this month, Taurus. Major career gains are ahead—you can confidently look forward to a December filled with professional satisfaction and lively celebration of your achievements. Ready or not, you're training for 2017 and it's time to build those professional muscles! Mercury, ruler of communication and technology, will be graced by sibling earth sign Capricorn giving you a leg up in business negotiations after December 2. Assertive Mars, who's currently lending support in your career sector, mingles with rebellious Uranus on December 6 flooding your imagination with unconventional, solution-oriented innovations sure to catch the attention of some powerful influencers at work.
Upwardly mobile Taureans: The first weeks of December are best used for getting your message across clearly and executing your new ideas confidently. No matter how ridiculous it may feel, victory is almost absolutely guaranteed when you leave your comfort zone. Your gracious ruling planet, Venus, now in affable Aquarius, will illuminate your career sector with sparkling praise for your achievements from colleagues and VIPs. What's better than praise to you, Taurus? Crisp, green monetary compensation, of course. The gregarious Gemini full moon is poised to make it rain all over your earned income sector on December 13, likely with a generous holiday bonus or salary raise. Self-employed and entrepreneurial Toros have the green light to increase rates or launch a new product or service. Move quickly, though—Mercury will enter its three-week retrograde period on December 19, putting a halt to all forward movement in your (utterly successful) professional campaign until January 8, 2017. Consider this a forced reset—you have to sleep sometime this month!—backed by a disciplined Capricorn new moon on December 29. Think about your personal brand. Meditate. Rest and recharge now before re-launching yourself back into the thick of the business game mid-January, 2017.
Gemini: Make or Break It
Partnerships with a capital P take priority this month with powerful developments surfacing in your business and personal connections. Using your words, both verbally and in contractual negotiations, will be challenging this month and require sharp attention to every detail. Stern Capricorn will penetrate your ruling planet, Mercury—which also commands communication and technology—on December 2, testing your patience in getting your points across. Slowing down isn't your strong suit, but moving at a snail's pace will be the only strategy in collecting all the pertinent information. Missing one small but crucial piece of the puzzle might seem like a non-issue in December, but a tiny error now could blossom into a massive, gangrenous wound in 2017. Don't shoot yourself in the foot with haste, Gemini.
Saturn, tough love planet of responsibility and consequence, will come face-to-face with the Sun—considered by astrologers to be the ultimate ruler of behavior and the overall self—in an aggressive aspect to your Seventh House of Partnerships on December 10. Saturn moving into a new house in your chart tends to set off a bombastic explosion of change in that area of your life, resulting in some sobering lessons and realizations. Twins involved in unhappy unions, either romantically, domestically, or in business, will be prodded relentlessly during this transit, ultimately testing the mettle of your partnership's bond to stand the hurricane. Meanwhile, the Sun will shine its healing if unforgiving light through the cracks of your relationship's foundation, assessing how much you've built as well as the multitude of repairs your union's structure requires still. By the time Saturn's done shaking things up with the Sun, you'll know once and for all whether or not your alliance is something worth fighting for—or if a complete demolition is the savviest choice. A critical conversation or negotiation may come to a head on December 13 when a full moon in your garrulous sign binds you to your commitments. There's a good chance that your discoveries during this rocky transit will be positive, the tests ultimately proving your collective strength. This full moon may ask that you deepen your bonds, maybe with exclusivity, cohabitation, co-parenthood, or an engagement. This is more likely with business alliances than romantic couplings, but be extremely selective with whom you hook up with (in any sense) during this transit: Connections made under Sun-Saturn rulership are long-lasting and tremendously difficult to break. Be sure you're ready for such a commitment. The alternative is shedding unhealthy relationships; like ripping off a Band-Aid, do it quickly to allow for a swift and healing recovery in the weeks (or months) ahead.
Financial and business negotiations will need to be put on pause on December 19 when Mercury enters its stressful retrograde period. Until January 8, 2017, you're stuck in a holding pattern, so make the most of it by recharging your spiritual batteries. A new moon in Capricorn on December 29 makes for a cozy end to a thorny year. Work can wait.
Cancer: Reconstructive Therapy
Life has become more expensive than usual, raising your stress levels to the red zone this month. Mars has been aggravating your financial sector since November, increasing red tape, obnoxious mail, and creditor calls. Although you may feel frustrated to tears with the hassle, you're set up to have your fruitcake and eat it, too. Capricorn, an earthy powerhouse of business, will be wheeling and dealing in Mercury, ensuring that you'll have the razor's edge in relentlessly negotiating a settlement or financial dispute after December 2. You won't come out of the battle completely unscathed, though; you'll need to pony up the dough to foot a collateral expense (think: legal fees, a heady insurance or medical bill, loan repayment, taxes) lurking beyond the conclusion. Don't worry—you'll be far from financial dire straits, thanks to luxuriant Venus, planetary ruler of money, beauty, and sensual delights dancing into your Eighth House of Shared Resources on December 7. You might have to work your charms a bit, but Venus has your back when it comes to having enough resources—financial or otherwise—to wriggle out of your binds.
Amidst the drama, you may experience an electric surge in your sex drive when a full moon in outgoing, airy Gemini shoots an air of flirty freedom to your libido. Committed Crabs might be tempted to stray from their relationship's boundaries in a lapse of judgment or festive intoxication. Be careful: Mercury will begin its stifling retrograde phase in your Seventh House of Relationships on December 19, throwing a monkey wrench into your ability to move forward beyond a major conflict. Even faithful Cancers could reach an impasse in a skirmish, become mired in unfinished arguments, or worse, opening half-healed wounds. Though this might seem like a special kind of masochism (you Crustaceans are so darn good at self-torture), go ahead and rip out half-assed sutures during Mercury's retrograde period. Breaking up scar tissue is essential to healing—a calming Capricorn new moon on December 29 supports this measure in reconstructive therapy.
Leo: Fortune Favors the Bold
A newfound sense of harmony and appreciation between you and your partner bathes December in an exciting, electric energy, leading you on romantic adventures beyond anything you've imagined. Active Mars set up shop in your Seventh House of Partnerships back in November, perhaps flooding your world with opportunities for an affaire de coeur. Bet on basking in the Red Planet's light of love until December 19 when he cools off and the world seems to come grinding to a halt (more on that date later), but until then take advantage of war god Mars' assertiveness and luck.
After December 6, your self-confidence will only be amplified when luxuriant Venus, planetary ruler of love, beauty, and money (among other pleasurable things) unifies with her cosmic lover—Mars—in the part of your chart dictating relationships. Thrill-a-minute surprises are around every corner, so strike out spontaneously and seize every opportunity to steal away and have some fun with your boo. Not only are you and your sweetheart seeing eye to eye harmoniously, a sizzling full moon in adventurous Gemini sends your libido into overdrive on December 13, leaving you hot-to-the-touch. You simply won't be able to keep your hands off of each other! What's more, December 13's glorious full moon will fall in your 11th House of Friendship, sending your spirits soaring and good cheer plentiful among your social circle throughout the holiday season. Expect to be tighter than ever with your buds, even after December 19 when tricky Mercury enters retrograde in your chart's work sector, slowing everything to a less-than-exciting pace. This aspect, along with a new moon in workaholic Capricorn on December 29, points squarely to one thing: You desperately need a vacation. Even if you can't get away to an exotic locale, use the next three weeks as a regenerative period for recharging your batteries. Once Mercury stations direct on January 8, 2017, there'll be no time to rest; it's game time.
Virgo: Band of Angels
Connections with your coworkers, colleagues, or classmates are highlighted throughout December, providing a surprising safety net and support system on your climb to the top at work. Although you're not the most social sign, somehow you've managed to weave an invaluable network of peers who genuinely want to see you succeed. Best of all, your colleagues and teammates appear to be more than willing to lend a hand, rather selflessly, in bolstering your personal success this month. Forging friendships and deepening bonds with coworkers will become effortless once communicative Mercury moves into friendly fellow earth sign Capricorn on December 2.
Venus, love goddess and planetary ruler of sensual pleasures, beauty, and money, shimmies into your Sixth House of Work and Daily Routines on December 7, further magnifying warm feelings of camaraderie and a family atmosphere on the job—just in time for holiday soirées. There'll be no lacking in glittering tinsel and good cheer, but this newfound appreciation and familiarity are best channeled into group projects, teamwork, and collaborative efforts. Not only will you blow execution of any assignment out of the water together, you'll be fostering each other's strengths, ultimately creating an ideal work environment for all. Don't squander these first weeks of December, no matter how reclusive or anti-social the dark descent into wintry weather (in the Northern Hemisphere—I imagine the Southern Hemisphere is melting sluggishly into the sweltering summer heat) may make you feel. Put your best face forward and follow one simple axiom: Work hard and be nice to everyone—and I do mean everyone; a super-social Gemini full moon on December 13 almost ensures that your teammates are clocking serious face time with VIPs, likely reporting back on your overall performance. They could laud you as indispensable or gossip about your icy disposition—only you can determine what they talk about. But don't panic—the chances of gaining a promotion from positive side talk far outweigh any opportunistic backstabbing. Remember, these folks are your friends.
Your fast-moving planetary ruler, Mercury, will turn retrograde on December 19 in the part of your chart governing true love, pressing pause on all your professional progress for three weeks. If you're going on vacation or taking time off during the holidays, don't be surprised if your festivities are clouded with wistfulness for an old flame. Single or attached, the generous Capricorn new moon on December 29 has a high probability of presenting you with a (rare) opportunity to rekindle your passions. Tread lightly, my dearest Virgo: Tempting as this instant gratification may be, the consequences of your hot-blooded actions could turn messy once Mercury stations direct on January 8, 2017. Don't start the New Year with a bruised conscience—or a broken heart.
Libra: Turning Heads
Lady luck has been on your side in matters of the heart since action-packed Mars lit up your Fifth House of Romance last month, and December will be no different. Your gilded good fortune is about to get even better this month, Libra, beginning on December 7 when your ruling planet, Venus, links up with her cosmic lover in your Fifth House. Venus is personified in astrology by ancient love goddess Aphrodite, the elegant and glamorous deity of carnal delights, sensual pleasures, and beauty (among other lovely things), so anticipate a heaping dose of her blessings, both in the boudoir and with your self-confidence. Don't be shy about indulging in a spa or beauty treatment during this time, or treating yourself to a shopping spree to update your wardrobe. Venus is shining her glorious light on you, Libra, illuminating the potential of your physical beauty as well as your personal style. Single Libras will have no problem catching plenty of dates throughout the month, but bae'd up Scales will enjoy a special period of peace and harmony with their partner(s) over the holiday season.
A full moon in sibling air sign Gemini on December 13 may bring a long-awaited conclusion to a legal dispute or negotiation, delivering yet more tranquility to the atmosphere and your overall vibe. Alternatively, you could be graduating with a new degree, completing a training course, or publishing a book—regardless, these accomplishments are sure to elevate your future status, both professionally and financially.
Mercury slips into retrograde on December 19, causing all forward progress to halt to a creaking pace. Domestic matters may lose stability, and thanks to Mercury's tough three weeks technical glitches and miscommunications with family members flourish. You sense that your dream home is just beyond the immediate horizon, and on December 29 during the enterprising-yet-practical Capricorn full moon, you'll be awarded a brief glimpse of domestic paradise. The future promises rewarding possibilities in creating your vision of an ideal home, but slow your roll, Libra: Signing contracts and making real-estate deals is a strict no-no until Mercury regains sensibility on January 8, 2017. Exercise patience and graceful restraint.
Scorpio: Master and Commander
There's not a minute to spare this month, Scorpio—you'll be far too busy feathering your nest and making strident (happy) changes to your domestic setup. Whether you're breaking ground on home renovations, moving into a new place, or just revamping your old pad, everything will seem to glide along effortlessly, making things feel extra easy, significantly synchronistic, or even predestined by divine fate. Calling this winning streak a lucky break is dismissive; celebrate your good fortune and consider your creature comforts reflections of your achievements and trophies of hard work. You earned this, Scorpio.
Elevated Scorps will recognize their strength and revel in a major confidence boost, stifling indecision and compelling you to make swift, direct calls about what you want—and what you don't want—in your life on a dime. This is a great strategy for nabbing housewares and decor, which might have a unique, eccentric twist, especially since Mars, one of your dual ruling planets, influenced by unconventional Aquarius after December 7. But watch out: This newfound freedom could cause you to lose track of your finances, spending willy-nilly on creating domestic paradise. Expenses for electrical repairs, utilities, and household gizmos are most likely to add up this month, so make sure you're prepared with ample funds to handle everything quickly and smoothly.
Meanwhile, if you've been seeing someone romantically, conversations around taking your commitment to the next level may reach a serious apex with the quick-witted Gemini full moon on December 13. Maybe you've decided to move in with your partner, or perhaps you're finally becoming exclusive. This full moon is in a glorious position for introducing your special someone to your family and friends for the first time. You may even decide to host a holiday party in your luxe new digs—the perfect atmosphere for such a significant affair! This full moon is duplicitous, though, demanding that you split your energy between celebrating and de-tangling a financial matter. Luckily, this lunation will bring this stressful burden to a close, which could be anything from paying off a student loan, settling a credit card debt, or organizing your books for the upcoming tax season (every Scorpio knows that it's closer than you think). On December 19, trickster Mercury, ruler of communication and technology, will turn retrograde in your Third House of Communication. Although negotiations will be stymied and life, in general, will seem as slow as molasses in, well, December, this transit period will allow you to put a pin in hastening important decisions and making regretful commitments. Instead, revisit long-held philosophies that may no longer apply to your lifestyle or goals that don't reflect your newly evolved values. The cozy Capricorn new moon on December 29 helps bring the year to a peaceful close, inspiring you to return to an unfinished creative writing project or memoir. Spend time alone. Exercise saintly patience when trying to communicate your new ideas until Mercury's veil of confusion on January 8, 2017.
Sagittarius: Emotional Victories
December has traditionally been your month to shine, Sag, since most of you celebrate your solar return—or personal New Year—this month, with Centaur birthdays overflowing from the last week of November (and we all know how you love to extend the party!). This season's festivities take on a tender tenor, though, bringing you closer to your partner than you've been in a very long time, if ever. And though the aspects are poised for some sweet romantic developments throughout December, a fresh intimacy and renewed trust between business partners is also possible, a truly lovely note to end 2016 on. Issues that were too thorny and divisive to discuss before will suddenly become easier to dissect together, thanks to sensual Venus—ruler of love, romance, carnal pleasures—brightening up your chart's messages sector.
From December 7 through the end of the month, your sign will enjoy Venus' influence, polishing up your already-silver tongue. Communication is the foundation of all thriving relationships, so don't hold back when it comes to finding resolution together. Just be sure to wrap up any contentious issues before the holidays; Mercury, trickster planet of communication and technology, will be in retrograde from December 19 until January 8, 2017, threatening miscommunication and discord.
But before the dreaded "bad three weeks" of 2016's last Mercury retrograde phase (and 2017's first, technically), Luna blesses you with yet another bright spot—literally. On December 13, a shimmering full moon in your polar-opposite sign Gemini illuminates your Seventh House of Partnerships, bringing healing closure and a deep sense of fulfillment to your love life. Your ability to say what's on your mind clearly and eloquently to your sweetheart is your superpower now—a key element in your many emotional victories this month, Sag. Business wise, this charming Gemini full moon is just the ticket to winning over execs and sealing major deals with potential clients. Alternatively, you may select a new partner to align with, perhaps to launch a new and exciting venture in 2017. Relationships and intimate, one-on-one connections of all kinds are highlighted this month and will likely be extra gratifying through December.
If you can, block out the last weeks of December (beginning on the 19th) from anything excessively stressful and use the time to review your finances over the past year. Mercury will be retrograde in your Second House of Income until January 2017, and a studious Capricorn new moon in that same area of your chart on December 29 will encourage you to revisit your budgets. Draw a careful eye to any discrepancies that might've been bleeding you dry for the past year and stamp them out. Making money won't be as vexing an issue in 2017, but muster every bit of your patience—with Mercury in retrograde, progress won't pick up until late next month.
Capricorn: You've Come a Long Way, Baby
Stacking up cash—and putting it to good use accruing interest or smartly invested—is the name of the game this month, Capricorn. Although December might sound like business as usual, you've got a royal flush when it comes to your planetary hand, presenting you with a multitude of opportunities to maximize your income. Negotiations flow along the path of least resistance in the first few weeks of the month, and thanks to Mercury, planetary ruler of communications and technology, setting up shop in your business-savvy sign on December 2, your powers of persuasion are a force to be reckoned with. Even better, Venus—love goddess and ruler of material luxuries and money—will join the party on December 7, sliding into your Second House of Income and making you very persuasive indeed. Belligerent Mars has already been camped out in this part of your chart since November, but Venus' sensual influence cools the aggravation on your bank account and fills you with the confidence to succeed, no matter the odds.
Thinking about launching a new business or offering a service you've never marketed before? The days surrounding an expansive full moon in Gemini on December 13 are perfect for testing the waters before any official launches in 2017. If you've been working on a high-level professional project or have been on the hunt for a new position, the Gemini full moon places your sign in the seat of success and (even better) will ensure that you're awarded heartily for your time and efforts. A robust holiday bonus or even a healthy, new salary appears to be on its way to you in the weeks before 2017, all in appreciation of your stellar talent and your many indispensable abilities. Good on you!
Make sure all your important meetings are wrapped up by December 19 when trickster Mercury will enter his three-week retrograde period, negatively impacting progress with communications, negotiations, and tech. Since Mercury will be moving backward in your sign, you might notice that your temper is shorter than usual and your patience quickly expiring from frequent misunderstandings. The best strategy to avoid undue stress and frustration is to spend time alone, reflecting on your accomplishments of 2016, setting new personal goals for 2017, and scheming up new strategies to achieve success next year. A tranquil new moon in your sign on December 29 brings a peaceful end to a stormy year.
Aquarius: Simply Irresistible
December might as well be wrapped in a satin bow and addressed just to you, Aquarius—a well-deserved break in an otherwise maddening and stressful 2016. It's as if the weight of the world has been training you all year, and suddenly, now you've got the muscles to move through the chaos and come out unscathed. Using the electric atmosphere to your advantage won't be hard this month for Water Bearers, thanks to agitator planet Mars transiting through your sign and granting you dogged tenacity in every single one of your endeavors. You've got an incredible will for manifesting success, and your dynamic enthusiasm and sheer courage to champion your goals is certainly earning you some admiration.
Luxurious love goddess Venus, planet of romance, sensual delights, and beauty, will add her charms to the festive cosmic cocktail, sambaing into your cerebral air sign on December 7. Thanks to Venus' influence on your already effervescent personality, you'll have no problem charming the pants off anyone—especially major influencers and investors willing to help you get your dreams off the ground. Social graces and bombastic confidence combine in the perfect storm for romance with this aspect, as well, setting you aglow with a sexy ferocity and allure. Don't be surprised if you notice a little more attention thrown your way in the love department—you're simply irresistible, Aquarius! Even better, a gorgeous full moon in sister air sign Gemini adds intellectualism and intrigue to your Fifth House of Romance on December 13. Already committed Aquarians can look forward to a closer bond with your partner or S.O., and singles can expect to rack up a few new numbers. Once Mercury, quicksilver ruler of communication and technology, moves into its retrograde phase on December 19, reconnecting with family and spending time reflecting on the year takes precedence, backed by a grounded new moon in Capricorn on December 29. Close up shop until Mercury stations direct on January 8, 2017, if you can—you deserve a rest.
Pisces: Launch Pad
Your personal life has been on display a little more than you private Pisces are comfortable with in the past weeks, and your urge to solidify boundaries on your privacy will become more pressing as December wears on. When sweet Venus, planet of love, romance, and sensual pleasures, moves into rebellious Aquarius on December 7, there's a good chance you'll go to unconventional measures and take matters into your own hands, especially when it comes to stamping out irritating gossip and rumors. Maybe you just need a personal reset, something coupled Fishes will feel collectively. The first weeks of December are ideal for stealing away with your sweetheart for a weekend away or a simple day trip into nature to rejuvenate your soul. Single? Book a spa or beauty treatment and prioritize self-care. If the holiday season has sunk you into a melancholy state regarding your love life, take advantage of this period to interview and hire a therapist or counselor to walk you through your recovery. Prioritizing your mental health now will surely set you up for success and personal peace of mind in 2017.
Family relationships are highlighted on December 13 when a powerful full moon in Gemini delivers emotionally charged news from a relative. The aspects at play suggest the news will be positive overall, but brace yourself—you'll be bowled over by the power of this news! Perhaps an engagement or pregnancy will be announced by a loved one (probably not you, though). Alternatively, this full moon is perfectly poised for success in real estate, so you could sell your home or wrap up negotiations and finally move on to new digs. Nostalgia and sentiments will be very saccharine despite the good news and positive changes, so keep your tissues ready, sensitive Pisces! December 19 will be an impactful day with tricky Mercury stationing retrograde and aggressive Mars, planet of battle and victory, moving into peaceful, pacifist Pisces. Others might be stymied by this odd-couple aspect, but for you, the news couldn't be better. With Mars' muscle on your side, you'll have what it takes to get lucrative new endeavors off the ground with little effort or financial investment. Moving mountains won't be a challenge for your dreamy, supernatural strength, thanks to Mars, but you'll have to be patient; Mercury won't begin moving forward until January 8, 2017, putting a pin in executing all your big plans until mid-to-late January. Don't be discouraged by this brief holdup in progress. Instead, use these three weeks to make a solid plan. A diligent new moon in calculating Capricorn on December 29 is in your corner to devise an ironclad strategy to success.