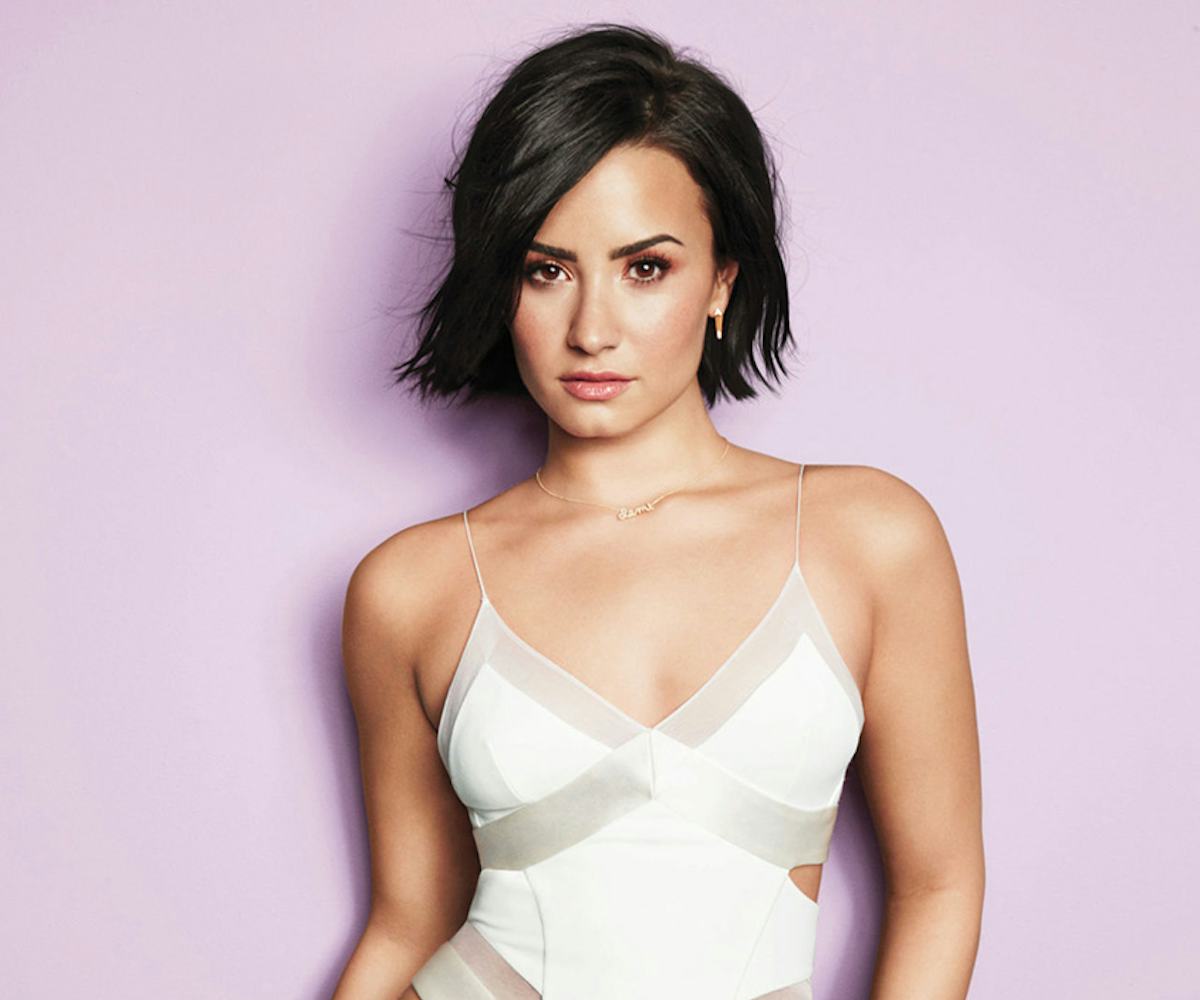 Photo via Tesh/Cosmopolitan
demi lovato talks about her relapses + wilmer valderrama
on the cover of 'cosmopolitan'
Over the past few years, celebrities have decided to utilize their public profiles to propogate discussion about body image, addiction issues, and mental illness. At the forefront of that movement was Demi Lovato, who, since entering a rehabilitation facility for her bulimia, self-harm, and addictions in 2011, has spoken openly about her own experiences and insecurities. Now, the pop star is using her latest Cosmopolitan cover to speak more in-depth about her journey to self-love and the setbacks she's experienced along the way.
While speaking about her relationship with her boyfriend Wilmer Valderrama, she admitted that she has relapsed since first seeking treatment. "The only times we ever broke up were when I was relapsing, whether it was drugs or in a bad place and rebelling against everybody, not just him...," she admits. "People say that relapses happen before you use. Your mind starts setting up the relapse before you take that drink or that first hit. The times we'd broken up, I had already gone to that place of, 'Yeah, this is what's happening.' I didn't realize it at the time, but I just wanted to sabotage everything around me so that I could sabotage myself."​
Although it hasn't been a seamless road to recovery, having a sturdy support system in place has helped her cope with her issues. As she has said before, Valderrama has been a huge factor in her new lifestyle. "We started dating when I turned 18… Right after that, I went to rehab," she said. "People told him, 'You should probably leave. She's on a spiral, and you're going to be sucked down with it.' But he was like, 'I'm not leaving. This is somebody I really care about.' We relate on a lot of levels. I've seen a lot of shit. Shit people don't know about. He's seen a lot of stuff, too."​
Music has also been a huge outlet for Lovato, who was diagnosed bipolar in 2011. During the interview, she also voiced her frustration with the current pop-music landscape. "There are a lot of girls in pop. They have badass lyrics, but I feel like I'm the only person other than Rihanna and Nicki Minaj who isn't afraid to say, 'Try something on me and I'll fucking beat your ass,'" she says. "There are people who can dress up and play the part, but their music doesn't say it."
(via Cosmopolitan)