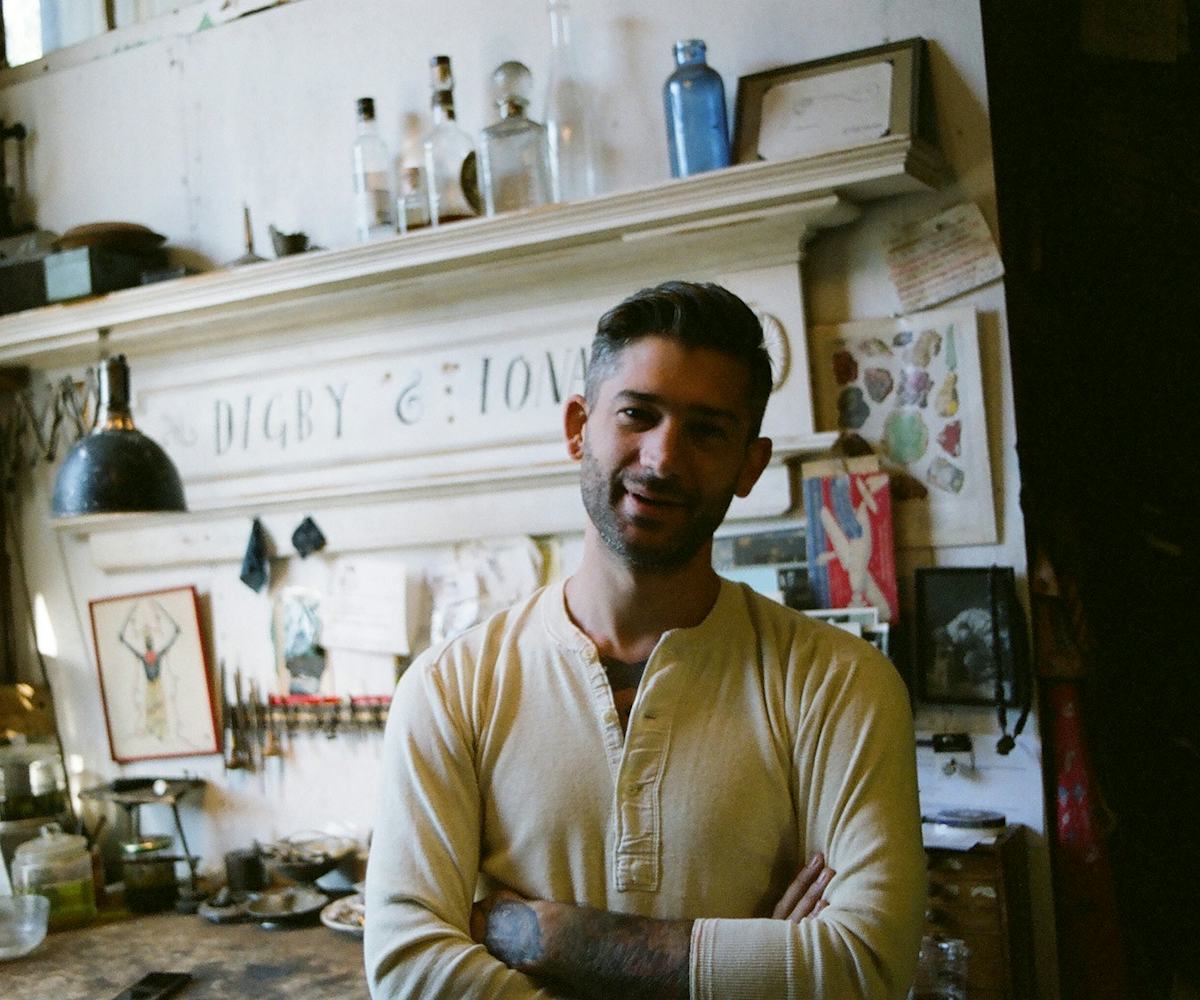 photo by steff yotka
work it out: digby & iona
enter the world of jewelry designer aaron ruff.
The image of a tattooed dude is not the picture that usually comes to mind when you think of what a jewelry designer looks like, but Aaron Ruff isn't your typical jewelry designer. Born in Maine to a craftsman, Ruff studied furniture design at Parsons before creating his jewelry brand Digby & Iona in 2006. What sets his intricate and detailed pieces apart is their sense of history, nostalgia, and not-too-dainty nature. With symbolism drawn from nautical culture, historical tales, and even measuring instruments (the ruler ring is one of the coolest pieces), Digby & Iona is a brand with a backstory built right in. 
We popped over to the Brooklyn studio that houses Digby & Iona to find out how Ruff is making it as a jewelry designer and to get him to share his tricks of the trade with us. Aspiring artists and designers take note, this is not a story to miss. 
Jump In:
I began my design and construction career as a carpenter in Maine. Then I came to New York City to kind of refine that into furniture, where I went to Parsons for furniture design. I took one class in jewelry--just a basic intro class--and I liked it a lot. After I graduated I had a high-end furniture shop with a couple other guys, and after that fizzled out I had a chance to be poor for a while and just focus on trying to do jewelry. I already had the beginnings of a line in some stores and it was going well, so I figured I'd just throw myself into it. It was scary! I was going from making furniture to being in a proper fashion career. It was definitely a little daunting; thats why I came up with a brand name. I would have used my own name, but I didn't want people to think it was just me, I wanted to trick them to think there was a lady involved who knew something about accessories!
You Can Go Your Own Way:
I think that the way that I make jewelry would probably give pause to a lot of classically trained people. I kind of figured out a lot of stuff on my own and it's definitely not the "right" or civilized way to do it, but I guess that would be my style as far as craftsmanship goes. The execution and the style is also sort of childish and playful, and also very antiquated historically based stuff.  To me the beauty of jewelry is you don't need that much space to work and you can find ways to build up your collection of tools over time. I was also lucky that a lot of people passed on a lot of hand-me-down stuff to me so I was pretty well equipped from the beginning.
Tell Your Friends:
I hate to date myself, but it was a really different time back when I started Digby & Iona in 2006. It was pre-blogs and the print market was huge. I can remember trying to guess editors' email addresses, at NYLON even! It was a very organic way of spreading the word to people. It was good for me because it was pre-Etsy too, so it the market wasn't yet flooded with handmade items.
Be Your Own CEO, But Don't Freak Out If You Don't Know How:
Managing a business is certainly something they don't teach you at all in design school. I learned by trial and error, pretty much. I had no idea what I was doing, which was probably my greatest asset. I was too dumb to know I didn't have any business trying to run a business!
A Day in the Life: 
My day is spent between sitting in this stool at my laptop 50-percent of the time and doing stuff around the workshop the other 50-percent of the day.The first thing I do is come in and check my orders. Then, I sort of have adult ADD, so I jump between a lot of different stuff, like managing my intern, working with an engraver, filling current work, and planning future work. If I get some time to design a few new pieces during the day, then it's a real good day. 
Don't Be Precious: 
Self editing is really difficult, especially when you're running your own company. You've got 15 pieces in a collection, five of them have to go, and there's no outside input. It's really easy to go off on your own little tangent. Honestly that's the hardest part of my job, not being too precious with things. 
Living The Dream:
The creative process and having the freedom to just get up and do usually whatever I want is the absolute best part of my job. 
Diamond Dogs: 
In the last 12 months I've started working on more high-end pieces like custom engagement bands, so playing with diamonds is definitely my new favorite part of the job. The phrase, "I'm going uptown to buy diamonds," is my new favorite phrase, because when the fuck did I ever think I was going to get to say that when I was a crusty woodworker!? The high end stuff is a completely different process, too. I design everything around the diamond or gemstone, so it's a totally opposite way of designing for me.  
Get Inspired: 
What inspires me is nature, history, literature, or anything that inspires a sense of nostalgia. Nostalgia has always been at the heart of my design, whatever I've been doing. I read so much and I spend a lot of time researching old quotes--they really factor into my work. As you can see I spend a lot of time collecting stuff, too. I spend way more time than I should out antiquing going to estate sales and stuff. It's under the guise of research, but I don't know if it actually is. I do feel that being surrounded by stuff you love puts you in the right headspace to design.
Man Muse:
It's kinda geeked out, but I wouldn't mind seeing my designs on Jonny Depp. That dude's kind of got that gypsy, Navajo kind of style I like.
Wear Your Heart On Your Sleeve, Or On Your Ring:
I just I hope each piece I design resonates with a personal story, either a childhood moment or an inside joke. To me a good piece of jewelry, or art for that matter, is just something that stirs a feeling inside of you. I hope that people get that out of my pieces.
Never Look Back... And Take a Business Class:
This is something that I didn't do--and I probably still wouldn't--but if I was going to give advice that I wouldn't take, I would say take a business class. If you won't do that, honestly I think the way I had most of my success was just barreling forward and not being afraid to be poor for a while. Just go for it. If your not going to go the smart route of educating yourself than go the blissfully ignorant route of just doing it!