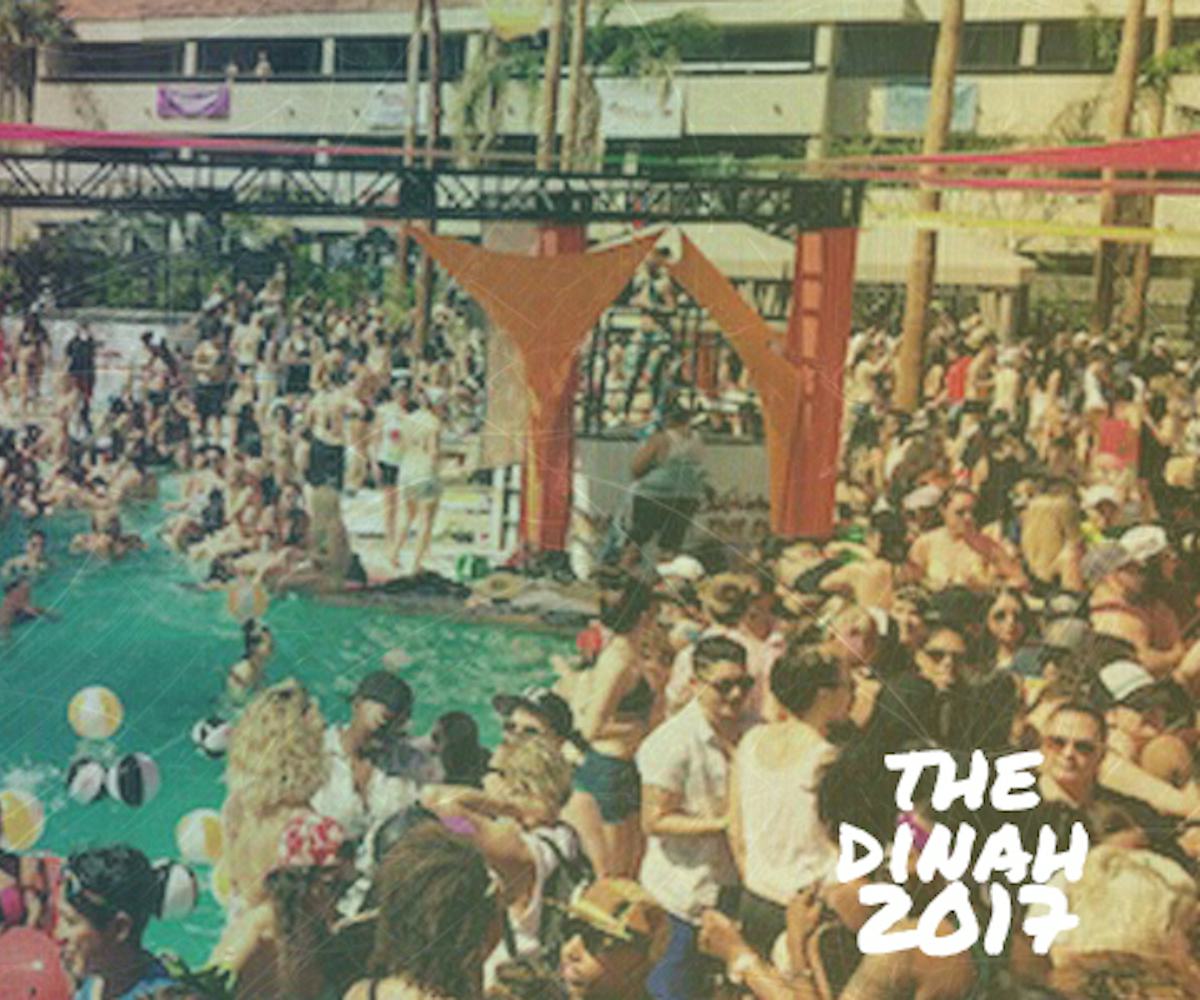 Photo courtesy of The Dinah
What It's Like At The Largest LGBTQ Music Festival In The World
The Dinah is like no other party you've been to
Sitting on the plane to LAX, I wondered what I'd gotten myself into. Here I was, about to take a group of queer women along with me to experience the world's largest LGBTQ music festival, The Dinah aka Dinah Shore, yet all I was thinking about was if I'd be able to get any sleep this weekend among the throngs of young women partying the night away. Having just been in Milwaukee for a conference, I was starting my trip with depleted energy resources—a real drain on an introvert like myself. And as a sober 33-year-old, it was hard to get psyched up for what I was expecting Dinah Shore to be. But I settled into my seat as we took off from D.C., trying to stay positive and meditated on what the long weekend at Dinah Shore would bring.
When Meg Cale of Dopes on the Road and I decided to team up to take a group of queer women to Dinah Shore, we had no idea what to expect. Meg's a seasoned traveler, whereas I know how to craft a party experience. I'm the co-founder of The Coven and produce queer-centric events in the D.C. metro area. Together, we knew our skill set could be the key to the ultimate Dinah experience. Meg's been to Dinah six times, whereas, before 2017, I'd only been once. However, even though we were both Dinah veterans, this was the first time we'd be designing a trip experience for other women, LGBTQ-identifying women from all over the world who were brand-new to Meg and me. Our main focus of the Dinah Shore trip was to provide an opportunity that would foster a community among queer women. 
In some queer women's minds, Dinah Shore, the longest running and largest party for queer women in the entire world, which takes place in Palm Springs, California, is synonymous with a wild "lesbian spring break." While Dinah is certainly fun, it's so much more than its pool parties and club nights. On our trip, our travel group would meet in the room Meg and I shared to all eat breakfast together and bond. We went on adventures together, checking out East Jesus and Salvation Mountain, which helped all of us to really connect. Together, we created our own tight-knit clan of queer women in an environment filled with a palpable energy of love and support. This trip was essential for all of us, and each woman there gained access to an entirely new supportive network of friends. We still keep up with each other on a Facebook group chat! To give those friendships to other women, as well as develop my own new ones, was a gift I could've used when I first came out of the closet about six years ago.
Dinah gave me the chance to feel connected to our queer community as a whole. I relished being able to meet other women like myself in a space where I could engage without being questioned and feel completely accepted. Dinah Shore founder, Mariah Hanson, summarizes the magic of this event: "The Dinah is a unique destination for lesbians because it brings women together for one big giant celebration of the community and women in general. It's about sharing a mutual respect and understanding for the different lives we as women live, the struggles we face, the obstacles we've overcome, the battles we won, and the successes we have accomplished." Despite its well-established history in lesbian pop culture, thanks to its depiction on The L Word, it's crucial to note that queer people of all sexual and gender identities celebrate together. Community is more important now than ever, especially in the decrease of designated queer spaces, and Dinah is one of the few places we have left that is going strong. 
In February 2016, D.C.'s only ladies bar, Phase 1, was mysteriously closed down after a strong 46-year run. There are a number of reasons for why Phase 1 shuttered its doors, but a variety of odds are stacked against spaces for queer women-identifying people, beyond just the usual small business woes. And business closings like this are a call to action for the queer community to pay attention and start demanding that we have space to join together in and be seen—something that's done by supporting queer establishments. As Hanson says:
Spaces are disappearing because they are not supported. In the face of the current political climate, I think LGBTQ people will find it important to have places where we can be with other LGBTQ people as our challenges are unique to our community. Events help us to recharge. The other problem is that it's become incredibly expensive to own bars and face the rising costs associated with the ownership. So we'll see a rise in promoters using bars to present LGBTQ themes nights. It is key for us to support them. We have to stand together and create a sense of community by helping one another.
The performers at the festival felt similarly about taking action in maintaining queer spaces and making sure their voices are heard in a time fraught with political tension. Cuban-American artist Lady Cultura believes in the power of reaching out directly to local government. She says: 
It's really as easy as calling your local councilman. Those things actually make a difference. In theory, if everyone here at Dinah made a phone call about something they didn't like, it would really make a difference. Whatever you don't like, whatever you do like, just say something to someone that can do something about it directly. Say something directly to those people. Besides picketing and marching—and I've been to all of them, and I go to all of them—speaking directly to your local people is super effective, more than you think. Constituents have way more power than they realize they do.
Black, self-proclaimed "Fat Feminist" and soul singer Lizzo agreed, saying: 
Everybody feels under attack, and for the first time, it's everyone in history, everyone has felt repressed in a certain way by law. Black people couldn't do a lot of shit; legally, queer people couldn't do a lot of shit. Only recently have we got the actual laws changed in our favor, and I think it freed us up. But now I think we're so legally free, we realize that it's not just the laws that were repressing us. It's the culture, it's the system, which is beyond the legal system. It's the system that was put into place by cis, rich white men to keep us at a certain level. We couldn't realize how great we are. And I think that everyone's job right now is to not isolate yourself from anyone else's struggle. I think that the struggle that Black Lives Matter feels is the struggle that people affected by the Muslim ban feel or the same struggle that Mexican-Americans who have come over undocumented feel, and it's the same struggle that the queer community and the trans community feel. There are different instances, and everyone's story is different. But I think that for so long we've been so compartmentalized, and we've been so separated, we need to realize that it is all the same struggle. That hurt, that betrayal is the same. We're being betrayed by the same thing, and we just don't realize it. I think that everyone's job is to unify. I mean with a president like Trump, I think it's becoming way more easy to come together and realize that we're all in the same boat.
Hanson captures the essence of Dinah, saying, "The Dinah has always stood for living out loud in celebration of our unique and incredible lives. This year we definitely brought that message up a few notches." What the Dinah represents, then, is the importance of preserving queer spaces for our communities, in a time where gentrification and politics stand to threaten safe, inclusive places for us to thrive. The Dinah allows us to network and strengthen our bonds as queer women and reminds us of the need for more opportunities and more events that focus on queer women-identifying people. And also? It's just one hell of a party.