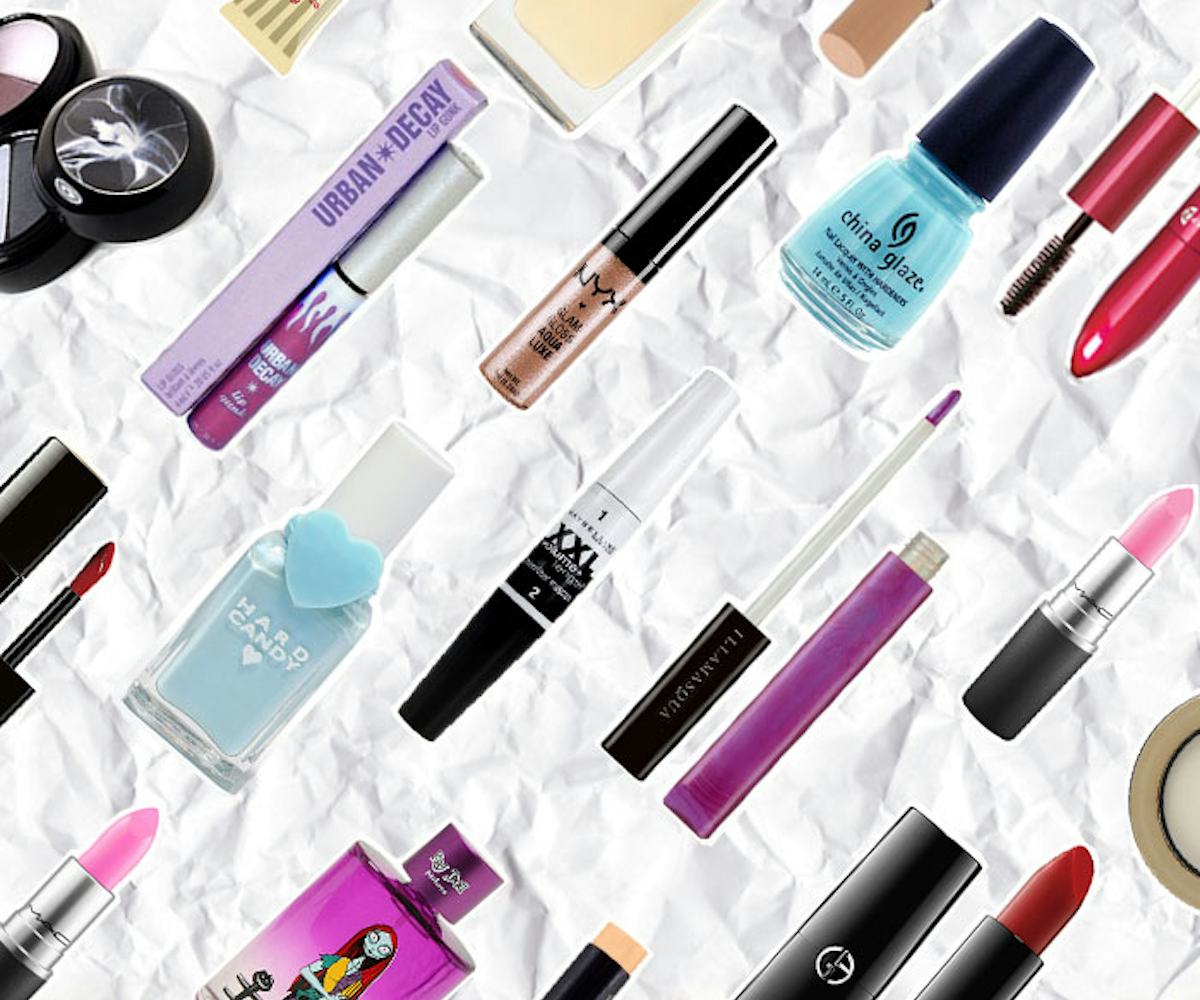 10 discontinued cult faves and their modern twins
you won't miss the real thing
"Sooner or later in life, the things you love you lose," quoth Florence + The Machine, and it has never been more relevant than in the realm of discontinued beauty. It's like the Murphy's Law of makeup: Just when you find a great product that seems irreplaceable, you have to start thinking about a replacement, because chances are it won't be around very long. In other words, if you love something, let it go—before the company ceases production.
Read on for 10 life-changing products that left us too soon and their most-suitable replacements, so closely matched you won't miss the real thing (too much).   
The Old: Hard Candy Nail Polish in SkyThe New: China Glaze Nail Polish in Moody Blue
True '90s girls will remember saving their allowances for these super-cute polishes with the plastic rings. This year, several shades from the original lineup made a limited comeback for the brand's 20th anniversary—and the 20th anniversary of the movie Clueless—but any die-hard Hard Candy fan knows the Wal-Mart brand is a far cry from what it used to be. Sky, an Alicia Silverstone favorite, was a baby blue crème with a faint shimmer, very closely matched by China Glaze Nail Polish in Moody Blue.
China Glaze, nail polish in Moody Blue, $7.50, available at Ulta.
The Old: Urban Decay Lip Gunk in AsphyxiaThe New: Illamasqua Intense Lip Gloss in Boost
Before Urban Decay became a mainstream makeup phenomenon, the brand was the true embodiment of beauty with an edge, from the apothecary-style nail polish bottles to the knife-slash logo. Among their offbeat offerings was Lip Gunk, one of the best glosses to grace our beauty stash. Thick and pigmented with a PVC-like finish, Lip Gunk was a world away from the naked shades that are currently de rigueur. Asphyxia was a unique shade of chemical lavender with blue shift, one of the absolute hardest hues to recreate. Luckily, Illamasqua has since stepped up with Boost, a slick and shiny blueberry violet that's almost identical.
Illamasqua, intense lip gloss in Boost, $24, available at Illamasqua.
The Old: Chanel Rouge Allure Laque in DragonThe New: Giorgio Armani Rouge d'Armani in 400
A "power red" by definition, this liquid lip color was the creamy, well-balanced red of our dreams—a universal red lacquer if there ever was one. Sworn adherents of the discontinued Dragon are sure to find love with Giorgio Armani Rouge d'Armani in 400, a deep, blue-based red that's ultra-pigmented, ultra-luxe, and uncannily similar.
Giorgio Armani, Rouge d'Armani in 400
The Old: The Nightmare Before Christmas Rag Doll PerfumeThe New: Hanae Mori Butterfly Eau de Parfum
With notes of strawberry, black currant, jasmine, sandalwood, almond, and ylang-ylang, this scent was the perfect marriage of depth and sweetness, which we loved to wear while painting our nails black and contemplating our unrequited loves. Even though Hot Topic has released several updates since the early 2000s, none have matched the original in scent formulation and quality (and honestly, we miss the frosted glass bottle). With added notes of bilberries, Bulgarian rose, and praline, Hanae Mori's Butterfly is the closest we can get today to smelling as sweet as Sally.
Hanae Mori, Butterfly Eau de Parfum, $75, available at Nordstrom.
The Old: Benefit Cosmetics Black Orchid Highlighter in It Was The Perfect AlibiThe New: Sally Hansen Natural Beauty Highlighter in Pink Luster
Once upon a time, Benefit Cosmetics blessed us with Black Orchid, a dark, dramatic line inspired by the modern femme fatale. This highlighter duo featured glitter-free pink and white shades in a pearly cream base, ideal for imparting natural-looking dimension for day or night—contouring before that was a thing. Sally Hansen Natural Beauty Highlighter in Pink Luster is its current counterpart, which promises to lend a blendable, believable glow.
Sally Hansen, Natural Beauty Highlighter in Pink Luster, $6.99, available at Amazon.
The Old: Maybelline XXL MascaraThe New: L'Oreal Double Extend Beauty Tubes
Thickening base coat on one end, super-black mascara on the other—how this perfect pairing got put out of commission is anyone's guess. While most mascara formulas today are two-in-one, we know there's nothing like a microfiber primer to amp up lashes. For divas that miss the double-edged sword, L'Oreal's Double Extend Beauty Tubes, featuring a primer on one end and a lengthening top coat with lash-tubing technology on the other, are one step shy of the falsies.
L'Oreal, Double Extend Beauty Tubes, $9.99, available at Ulta.
The Old: MAC & Nicki Minaj Lipstick in Pink FridayThe New: MAC Lipstick in Snob
Only available online for four consecutive Fridays, Nicki Minaj's album-titled lipstick was certain to give eBay a sales boost the moment it was unveiled. The bright bluish-pink had superfans ordering multiples before it promptly sold out, never to be seen again. Not to worry, however—Pink Friday is almost an exact replica of MAC's Snob, a cool, creamy pink with a satin finish that's not leaving anytime soon.
MAC, lipstick in Snob, $9.99, available at MAC Cosmetics.
The Old: Essence Circus Circus Lip Topper in It's MagicThe New: NYX Glam Lip Gloss Aqua Luxe in Disco Playground
A good gold gloss is hard to find. So, when Essence brought us this bright, glittery 24-karat top coat that transformed any lip color into a gilded masterpiece, it was love at first sight—and tears of sorrow when the limited-edition run came to an end. Luckily, NYX's Disco Playground is a readily available replacement, imparting gorgeous, golden glory by itself or over lipstick. Bonus: This time, we get a doe-foot applicator instead of the messy squeeze tube.
NYX, Glam Lip Gloss Aqua Luxe in Disco Playground, $6, available at NYX Cosmetics.
The Old: Clinique City StickThe New: Manic Panic Vampyre's Veil Foundation Sticks
For when we needed something between foundation and concealer, full coverage but not quite, Clinique's City Stick came to the rescue, banishing blemishes, dark circles, and imperfections in a single swipe. Sadly, City Stick is no more, but Manic Panic Vampyre's Veil Foundation Sticks, featuring a unique cream-to-powder formula and SPF 18, come in a wide range of shades and cover what you need while leaving your skin looking like yours.
Manic Panic, Vampyre's Veil Foundation Sticks, $20, available at Manic Panic.
The Old: Giorgio Armani Rouge d'Armani in 400Essie Nail Polish in Starry Starry NightThe New: Colors by Llarowe Nail Polish in Twinkle, Twinkle Little Star
The mythical unicorn of nail polish, so well known it's abbreviated as "SSN" on beauty blogs the world over, Starry Starry Night was Van Gogh's masterpiece in a bottle—before it left the world too soon. While rare bottles of it can go for upwards of $200 on eBay, Colors by Llarowe Nail Polish in Twinkle, Twinkle Little Star, reminiscent of the night sky suspended in a jelly-blue base, is such a close match, you'll forget all about the original—and save your money for the art print.
Colors by Llarowe, nail polish in Twinkle, Twinkle Little Star, $12, available at Llarowe.